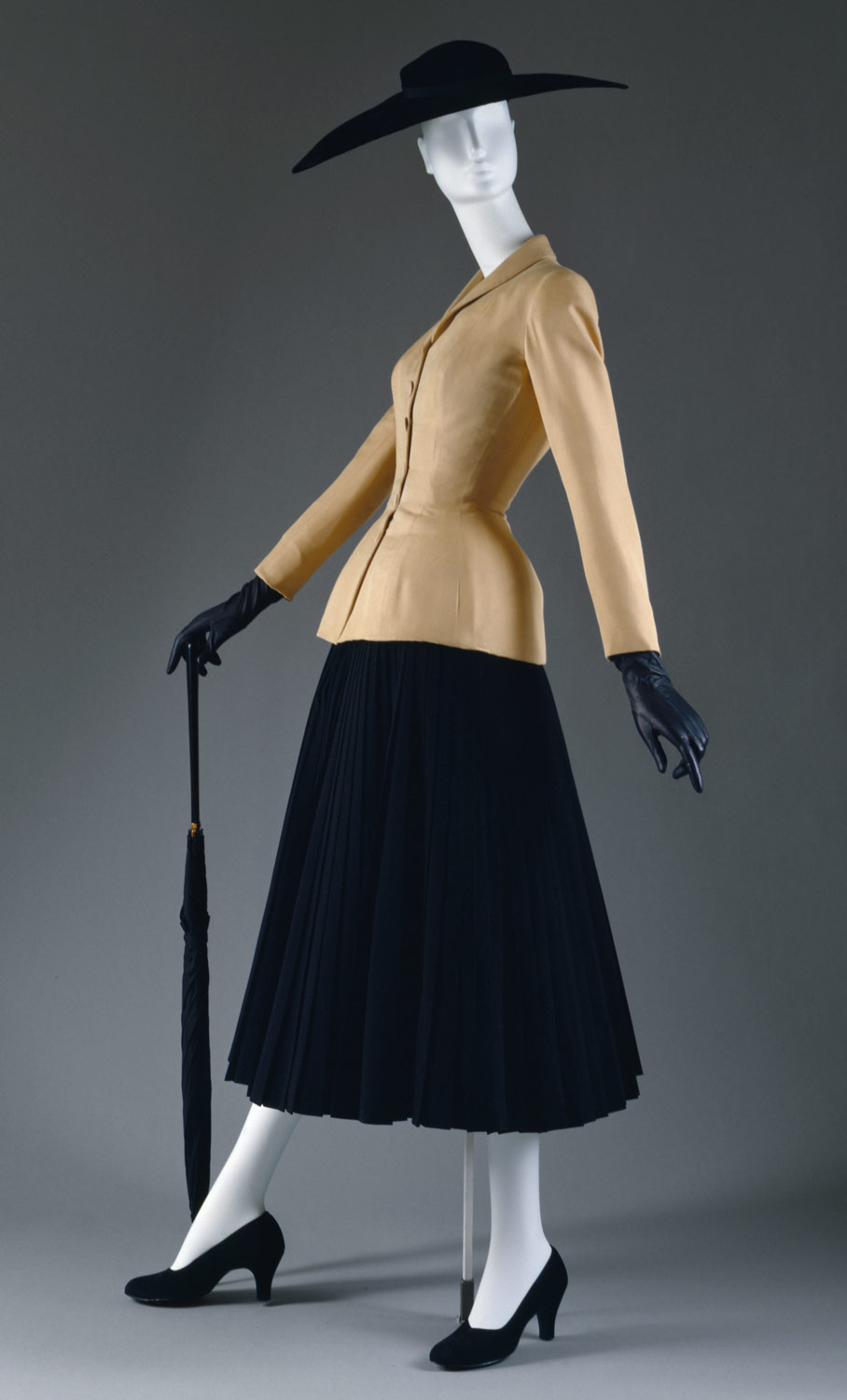 "Bar" suit and jacket, spring/summer 1947
Christian Dior (French, 1905–1957); Christian Dior Haute Couture (French, founded 1947)
Silk shantung

Gift of Mrs. John Chambers Hughes, 1958 (C.I.58.34.30)
Skirt, executed in 1969 from a 1947 design
Reproduction of a skirt designed by Christian Dior (French, 1905–1957); reproduction of a skirt designed for Christian Dior Haute Couture (French, founded 1947)
Wool
Gift of Christian Dior, 1969 (C.I.69.40)
Christian Dior's "Bar" suit is the iconic New Look ensemble, featuring as it does the sloped shoulders, articulated bust, nipped waist, and padded hips. This silhouette required myriad underpinnings, which in the case of Dior's designs were built in rather than purchased separately. A repudiation of the styles of the 1920s and '30s, it was also clearly indebted to the styles and body-shapers of the late nineteenth century. Although it would seem that the heavily structured silhouette of the 1950s would allow for some relaxation of the management of the body underneath, fashion magazines dictated strict diet and control. In 1949, Vogue introduced "Diet X," a 750-calorie-a-day regime to be followed for ten days, and published several versions of it in the 1950s. A 1953 editorial in Harper's Bazaar noted that people who failed to maintain a good figure "don't have a good enough opinion of themselves to want to look their best." This emphasis on internal control may be the reason that the nineteenth-century carapace of undergarments was not revived along with its silhouette. The waist cinchers that were introduced as an underpinning in the 1950s were barely four inches wide. The Merry Widow corset of the 1950s simply did not impose the force of its nineteenth-century ancestor. Much of the sportswear of the 1950s followed Dior's line without the benefit of any understructure other than brassieres and elastic girdles.
In 1947, Christian Dior presented a collection of wasp-waisted and hip-padded designs. The American press immediately dubbed it the "New Look." The "Bar" suit was considered the most iconic model in the collection, manifesting all the attributes of Dior's dramatic atavism. Although Dior created many notched collars, he was a fervent advocate of shawl collars and curved necklines. Arguably, the shawl collar plays effectively with the curvaceous forms Dior articulated at the shoulders and hips. The full pleated calf-length skirt, of black wool, is a replica of the original skirt of the suit. Marc Bohan ordered it made up in the Dior workroom to complete the suit for The Costume Institute Collections.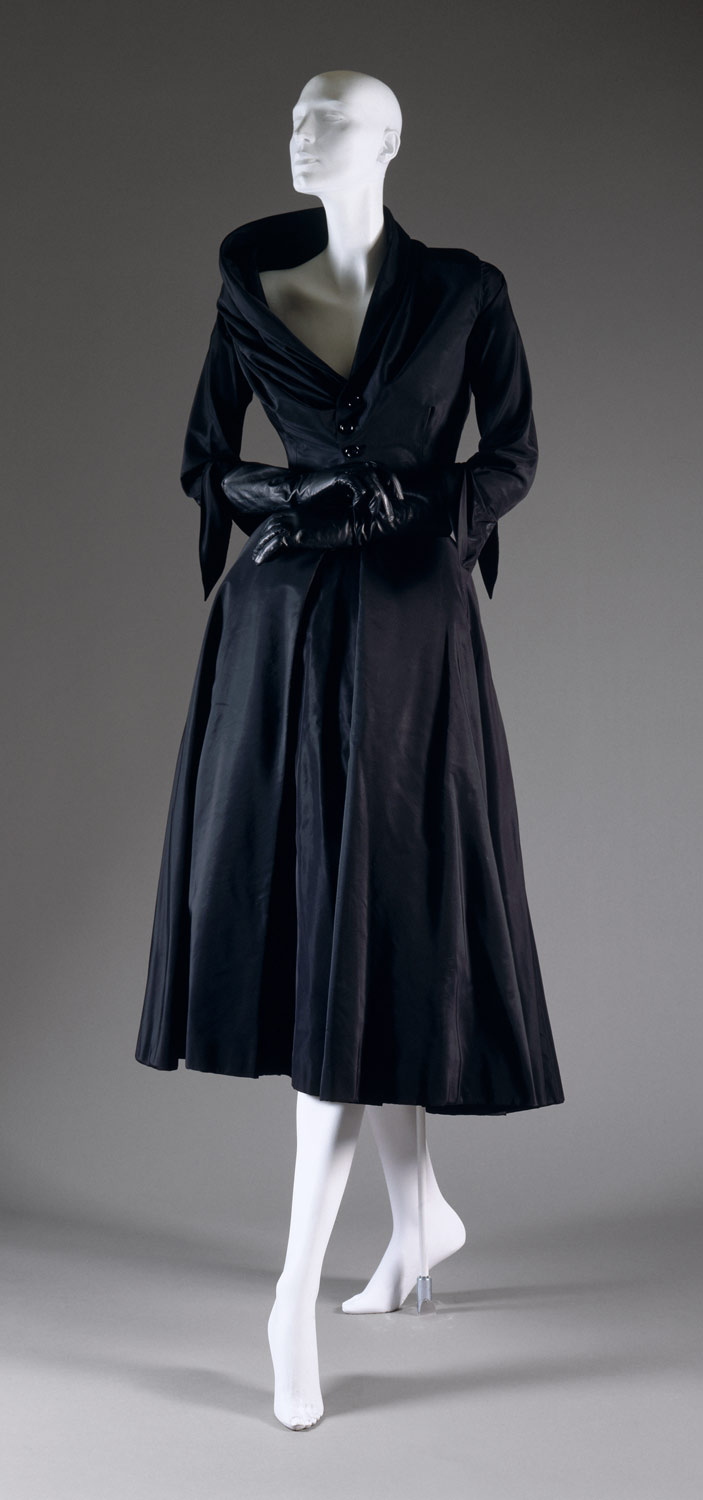 "Abandon" afternoon dress, fall/winter 1948–49
Christian Dior (French, 1905–1957); Christian Dior Haute Couture (French, founded 1947)
Silk, cotton
Gift of Bettina Ballard, 1958 (C.I.58.7.8a,b)
Vogue (September 15, 1948) noted the extraordinary neckline of this dress, specifying the "plunging neckline with side-slanted fold." The asymmetrical gathering of fabric swoops around the neck in the same manner as the 1948 skirts but closes low in the front, exposing an expanse of shoulder. Dior consistently favored scarflike effects to frame a bare shoulder line. Here, he did not have to place linen or other materials in the décolletage; he simply used the natural bunching of silk to serve as an adjustable "modesty" for the deep neckline.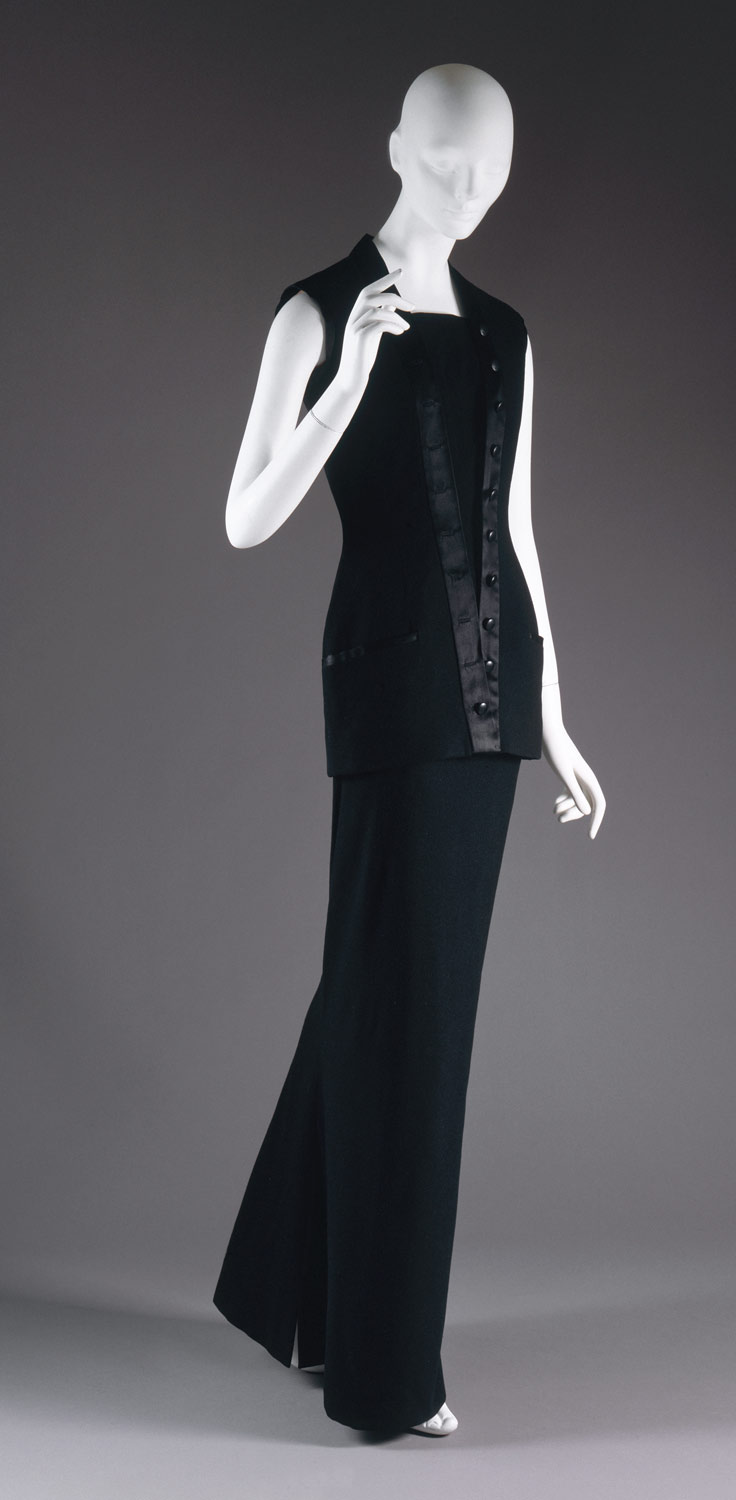 "Arsène Lupin" theater dress, fall/winter 1954–55
Christian Dior (French, 1905–1957); Christian Dior Haute Couture (French, founded 1947)
Wool, silk
Gift of Christian Dior, 1955 (C.I.55.29.2a,b)
For the theater, Dior took the opportunity to create a woman's alternative to a man's smoking jacket. Instead of satin lapels, he utilized a black satin ribbon. Dior's treatment is the most discreet possible, as were his earlier transformations of gray flannel suits to womenswear. This dress was originally worn with a long satin coat of seven-eighths length.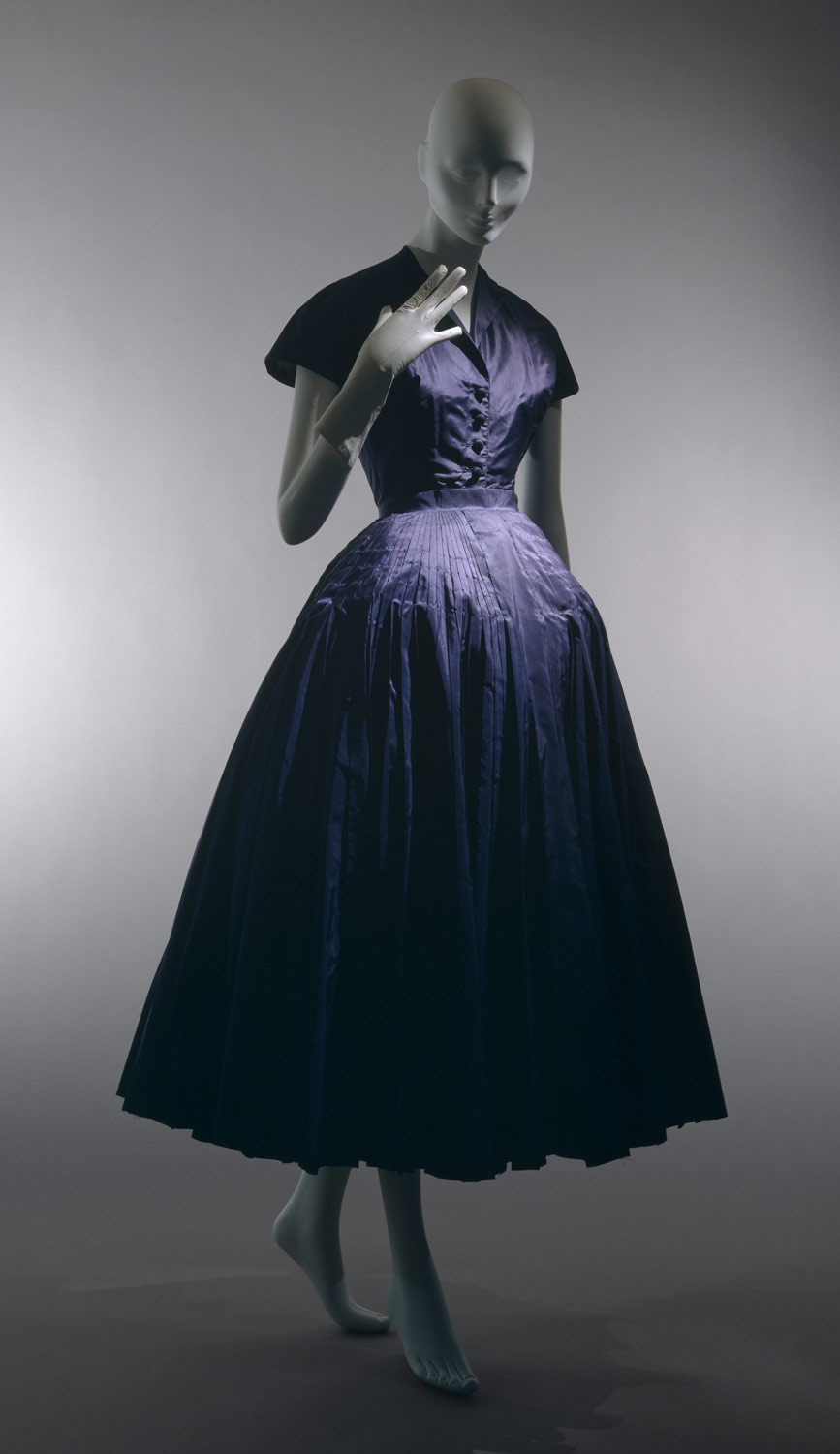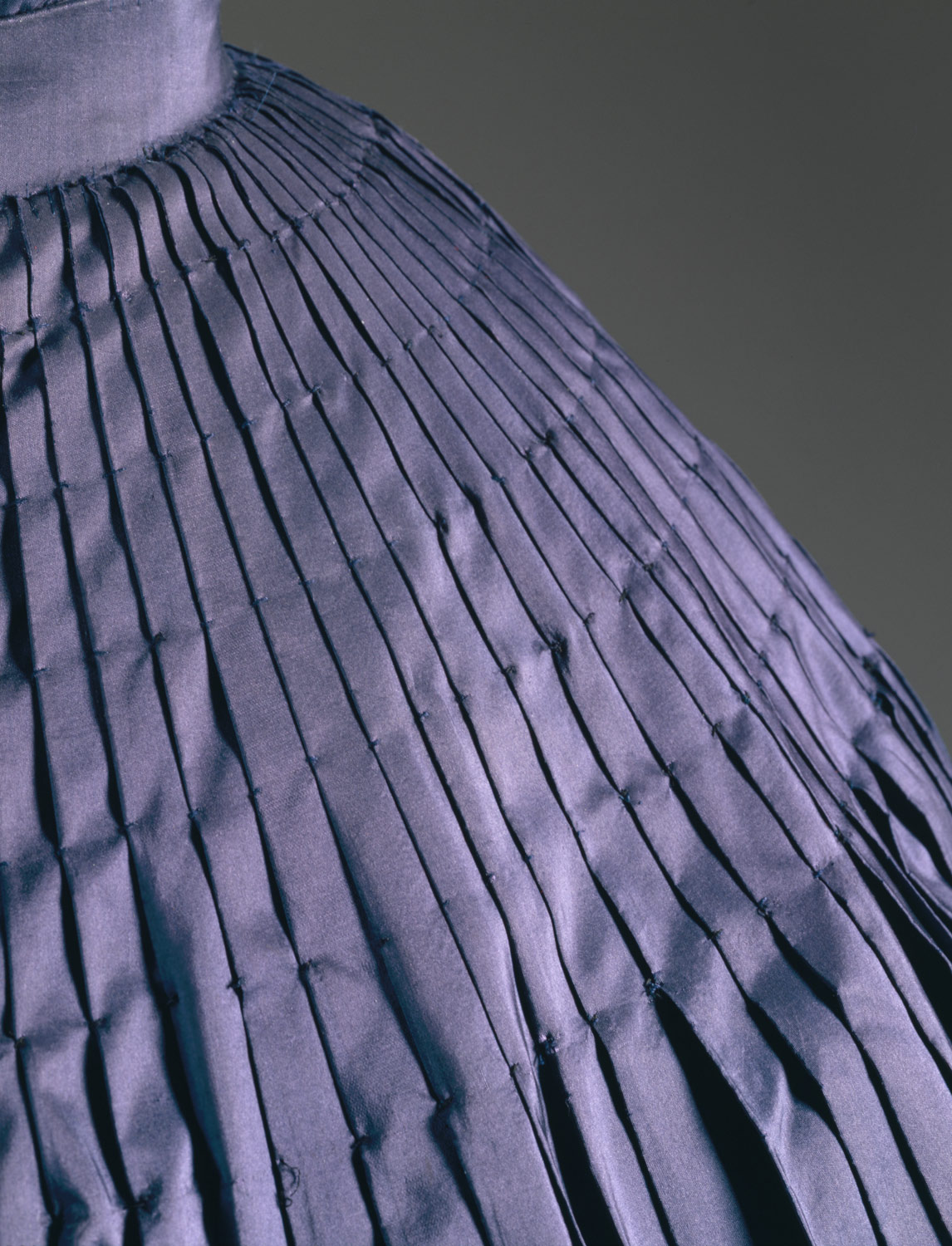 "Chérie" dinner dress, spring/summer 1947
Christian Dior (French, 1905–1957); Christian Dior Haute Couture (French, founded 1947)
Silk
Gift of Christian Dior, 1948 (C.I.48.13a,b)
"Chérie" exemplifies the "New Look" in all its salient elements: sloped shoulder, raised bustline, narrowed waist, and a monumental volume of skirt falling away from a padded hipline to below the calf. The New Look arrived uncompromised and complete, not as a tentative suggestion or stage in evolution. Here, the skirt is made of the full width of the fabric, selvage to selvage, disposed horizontally. Consequently, at the waist the necessary folding-under of the pleated fullness creates a compressed, thirteen-and-a-half-yard seam allowance, the substantial bulk of which pads the hips. This virtuoso achievement in dressmaking was reached by the compression of vast volume into an adjoining sculptural reduction. Dior prided himself on the handwork in his creations.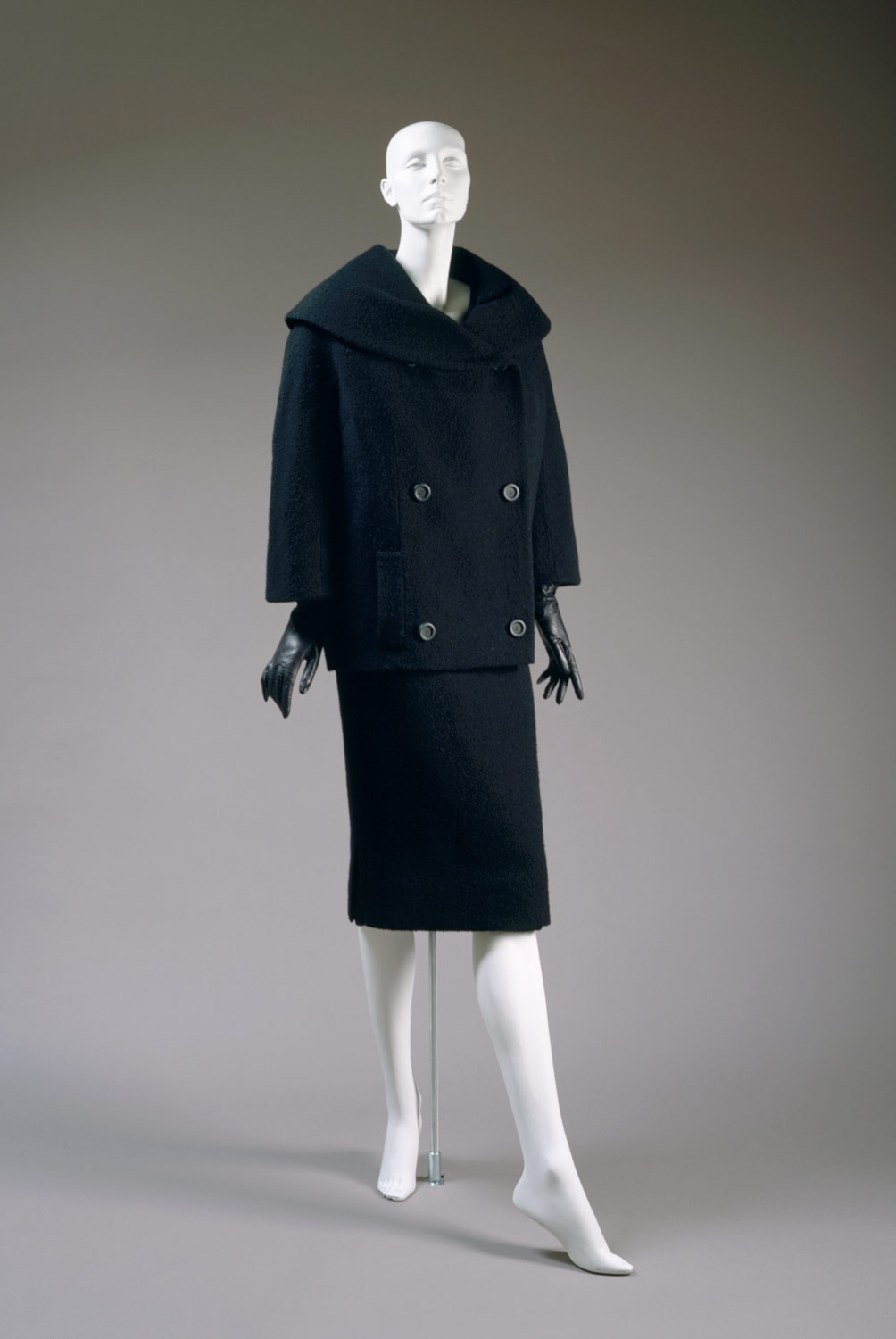 "Claro" ensemble, fall/winter 1957–58
Christian Dior (French, 1905–1957); Christian Dior Haute Couture (French, founded 1947)
Wool
Gift of Mrs. Henry Rogers Benjamin, 1965 (C.I.65.14.18a–c)
With this ensemble, Dior posed a layered repudiation of his own New Look silhouette. The coat, of an exaggerated blockiness, was to be worn over a tubular dress that ignored the waist and barely acknowledged the bust and hipline. A decade after his innovation, Dior was resolutely denouncing the elements that for so long had constituted his work.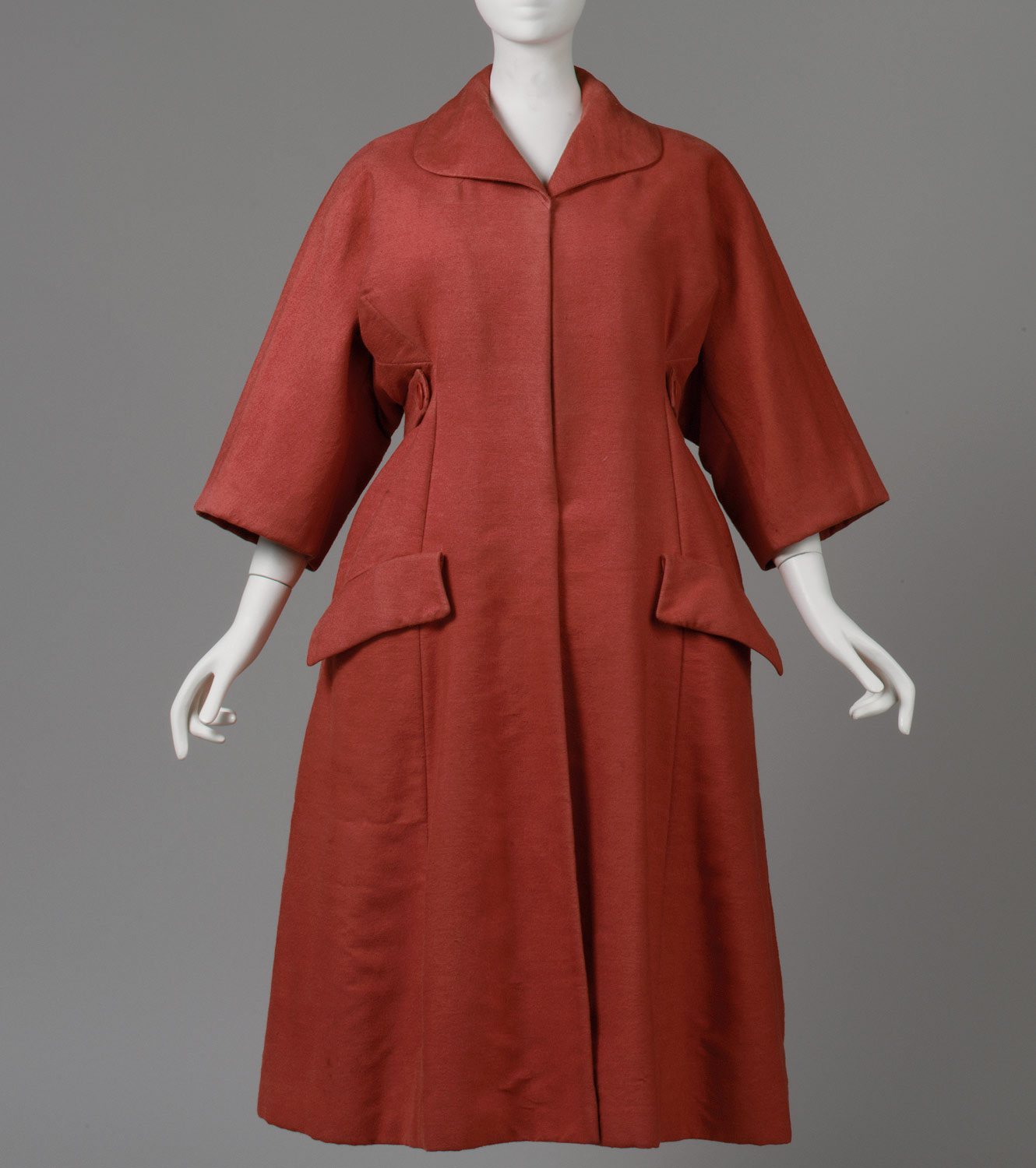 Coat, spring/summer 1953
Christian Dior (French, 1905–1957); Christian Dior Haute Couture (French, founded 1947)
Silk
Gift of Mrs. A. Moore Montgomery, 1957 (C.I.57.62.1a–c)
For his spring 1953 collection, Dior's interest in gardening was reflected in the color and fabric choices and in the names of both the collection itself ("Tulip") and of individual designs. The refreshing, innocence that had been creeping into the collection in 1952 was fully cultivated in 1953. Severe in many ways in his earlier collections, Dior now opened up in a painterly way with dresses and coats with jeune fille innocence.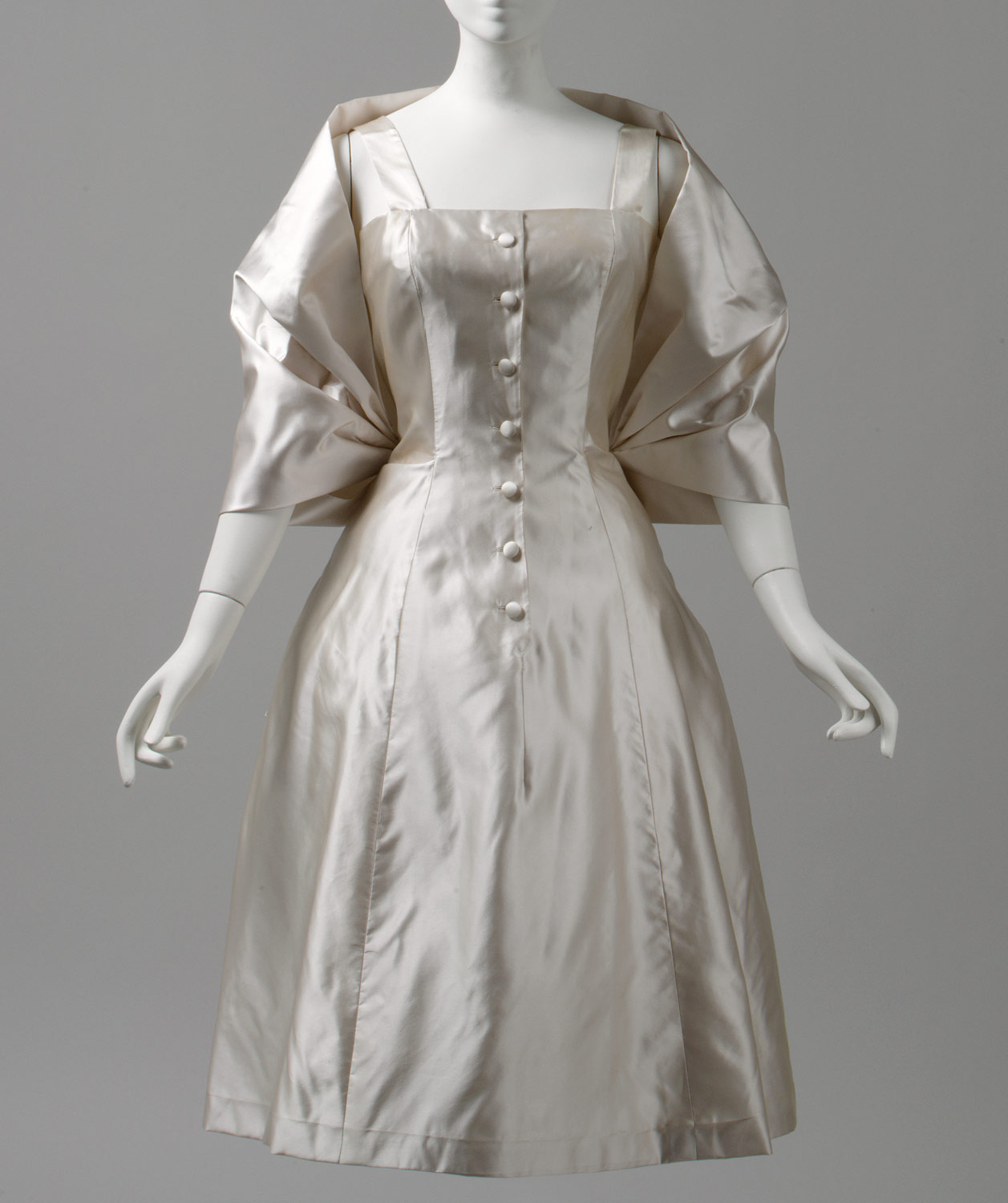 "Cupola" cocktail dress, fall/winter 1953–54
Christian Dior (French, 1905–1957); Christian Dior Haute Couture (French, founded 1947)
Silk
Gift of Elizabeth Sander Foley, in memory of Elizabeth de Bordenave Sander, 2002 (2002.304a,b)
For Dior, it was essential to be able to subtly form fabric to the fullness that he favored in skirts, peplums, bustles, and in some cases even at the shoulder. Details such as the addition of the capelet, a bodice understructure of boned mesh corset with peplum, and buttons with bound buttonhole closures add the charm of historicism to this cocktail dress.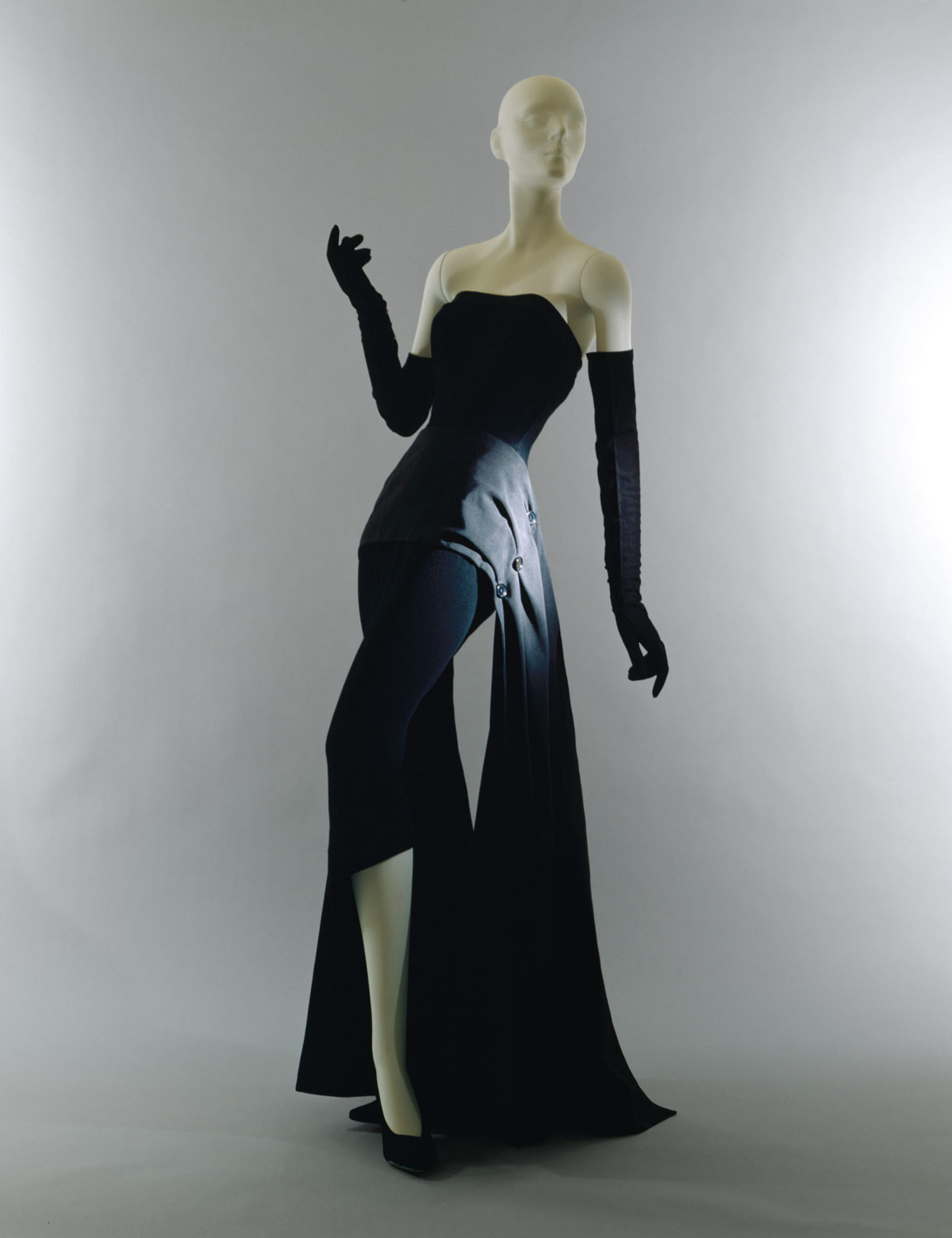 Dinner dress, fall/winter 1949–50
Christian Dior (French, 1905–1957); Christian Dior Haute Couture (French, founded 1947)
Wool, silk
Gift of Rosamond Bernier, 1989 (1989.130.1a,b)
Though known for his ultra-feminine silhouettes, Dior adapted many aspects of menswear for his designs. He appropriated gray-flannel tailoring, houndstooth, white cotton piqué, and other elements of menswear. One of Dior's great achievements was to create from the vocabulary of men's tuxedos. Here, a black wool column is accented with black silk faille that would be in a man's tuxedo lapel and cummerbund. Visible in the asymmetrical wrapping of the pattern pieces is his interest in the drape of fabric.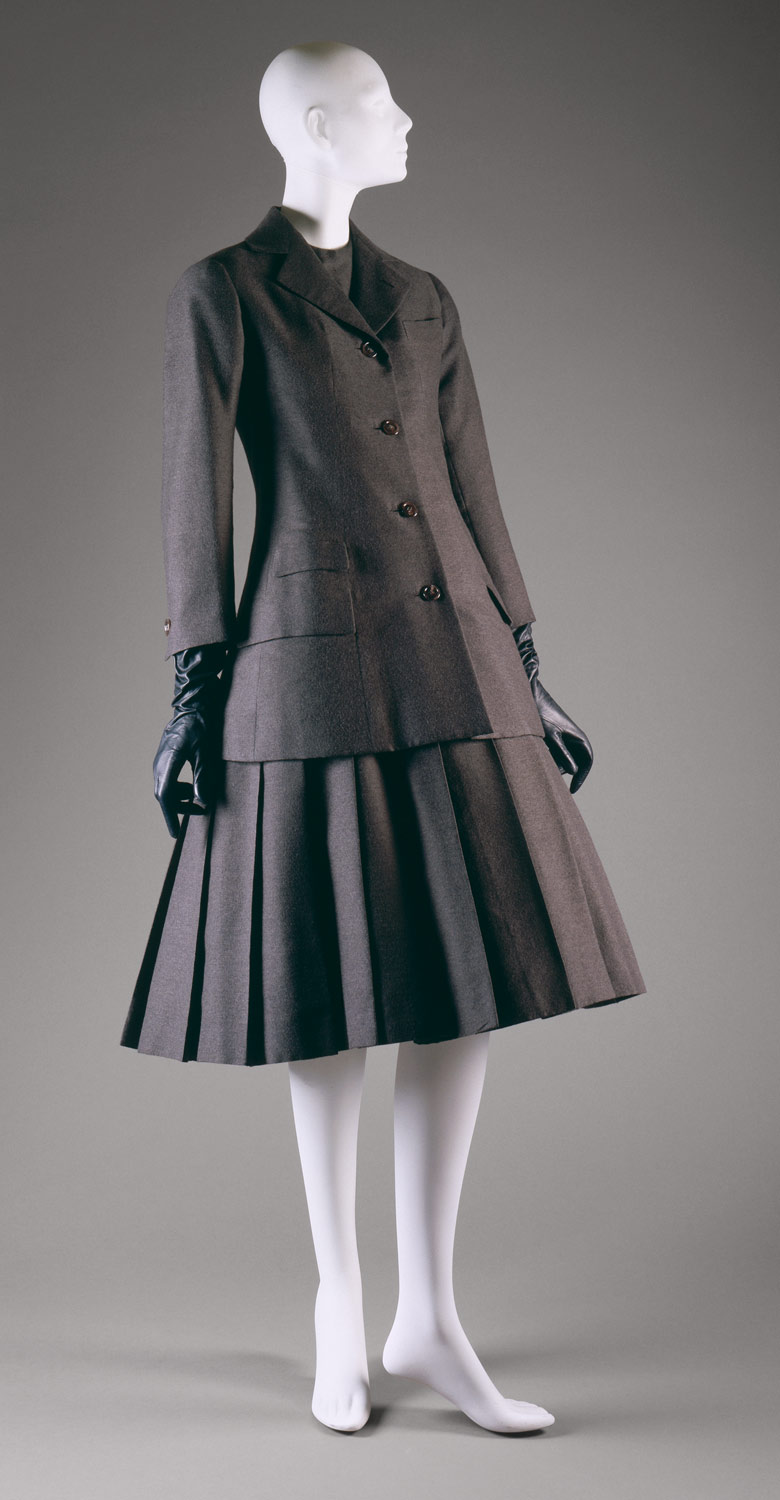 "A" ensemble, spring/summer 1955
Christian Dior (French, 1905–1957); Christian Dior Haute Couture (French, founded 1947)
Wool, silk, straw
Gift of Christian Dior, 1955 (C.I.55.63a–c)
A model primarily remembered for having been in the wedding trousseau of Olivia de Havilland, this gray wool suit is the transfiguration of the man's suit as an expression of the feminine. More importantly, this suit, long anticipated by Dior's interest in tailoring and in menswear fabrics, is poised on the edge of his move away from the New Look's historicism toward a simpler, increasingly reductive, architectonic geometry. The essential A-line of the 1960s began here.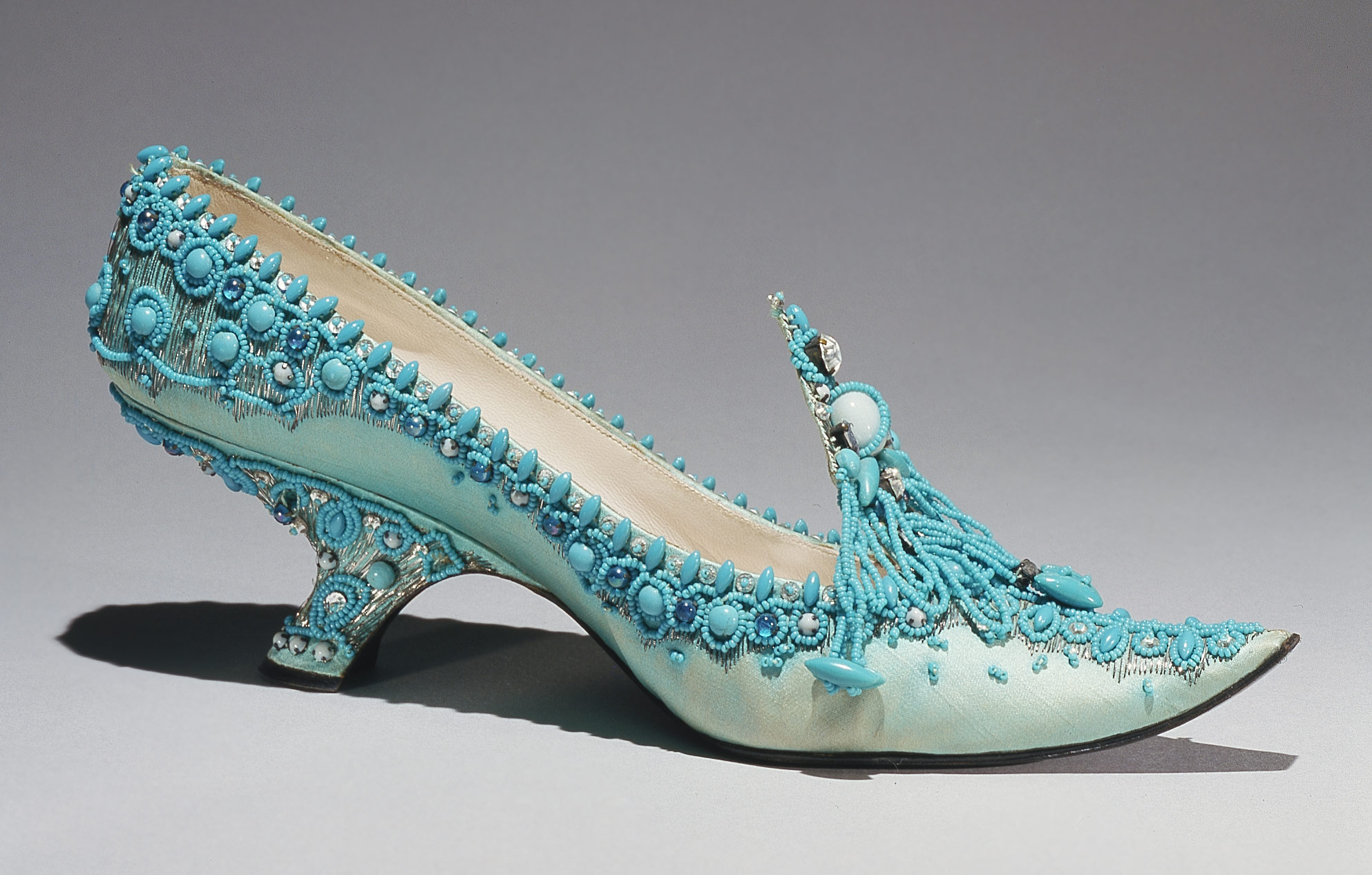 Evening pump, 1961
Designed by Roger Vivier (French, 1907–1998)
Leather, silk, glass, plastic, metal, metallic thread; L. 9 3/4 in. (24.8 cm)
Gift of Valerian Stux–Rybar, 1980 (1980.597.4)
Roger Vivier, the shoe designer for Christian Dior from the 1940s to the '60s, was known for his exquisite forms and extravagant materials. In this evening pump, he took the upturned toe and turquoise blue associated with the glazes and semiprecious stones of the Middle East to create his version of the Orientalist slipper. While the sleek contours of Vivier's shoes invariably narrowed the natural shape of the foot, his innovative heel
treatments add tension and even a feeling of incredulity to his designs.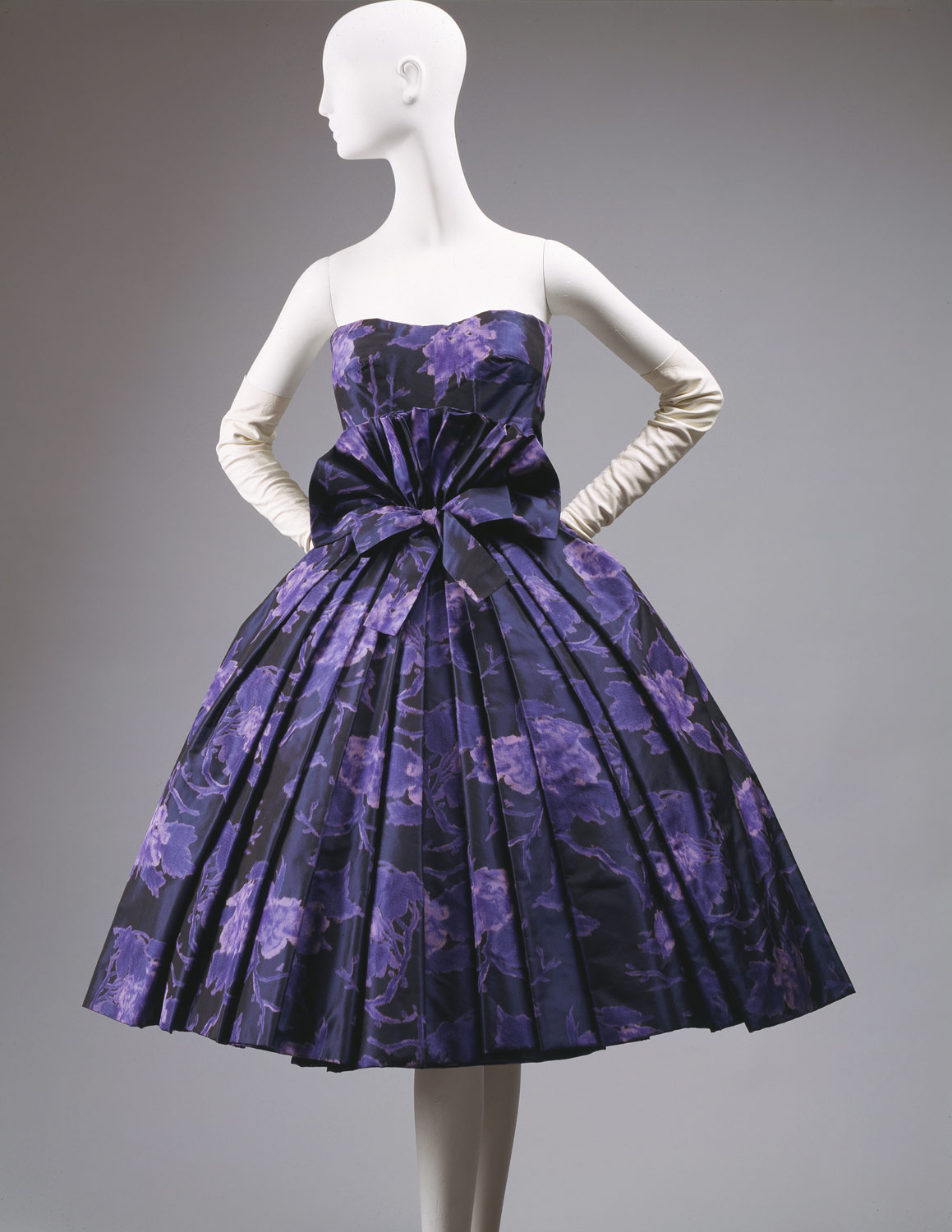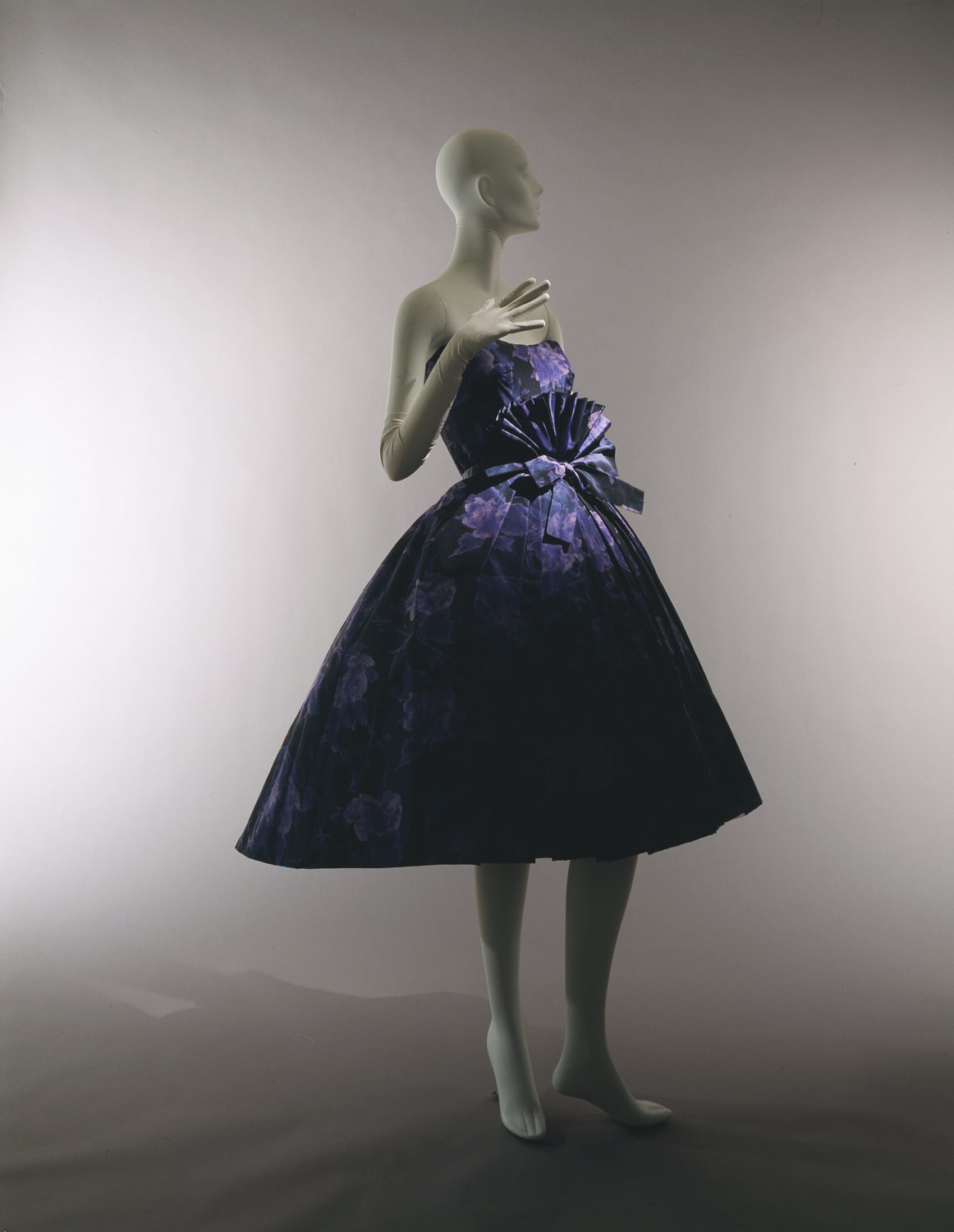 "Eventail" cocktail dress, fall/winter 1956–57
Christian Dior (French, 1905–1957)
Navy and royal blue warp–printed taffeta with navy horsehair band trim
Gift of Muriel Rand, 1963 (C.I.63.36a–c)
This piece is unarguably the 1950s moderne of the cocktail hour. With a strapless neckline, a rather ostentatious constructive line, and a colorful surface print, the dress would have been rejected for the early evening prior to the 1950s, as its various components belonged (respectively) to late evening or daytime dressing. By mid-century, Parisian couturiers were going to great lengths to enforce an exaggerated formality in order to differentiate themselves from American designers.
In his romantic "Aimant" collection, Dior offered the emphatic reiteration of his commitment to the eighteenth century made modern. Here referring to the ubiquitous fans women used to "communicate" at court, Dior raised the waist but delighted in the fullness of the skirt and pronounced form of the bust. The fan's role is one to which Dior would have been very sensitive. The aegis and instrument of powerful and coquettish women, it both conceals and discloses. It was, of course, the rigidity of inner structure emanating from the corset that permitted Dior the license of the strapless gown, just as the décolletage of the eighteenth century was made possible by the shaping of the waist below and the platform of bust support.
Dior's comparison of the cocktail-clad hostess and the eighteenth-century woman denotes the relevance of clothing and decoration to the social function of women during these eras. While clearly ornamented differently, these personalities depended on a superficial facade through which to communicate their respective social roles.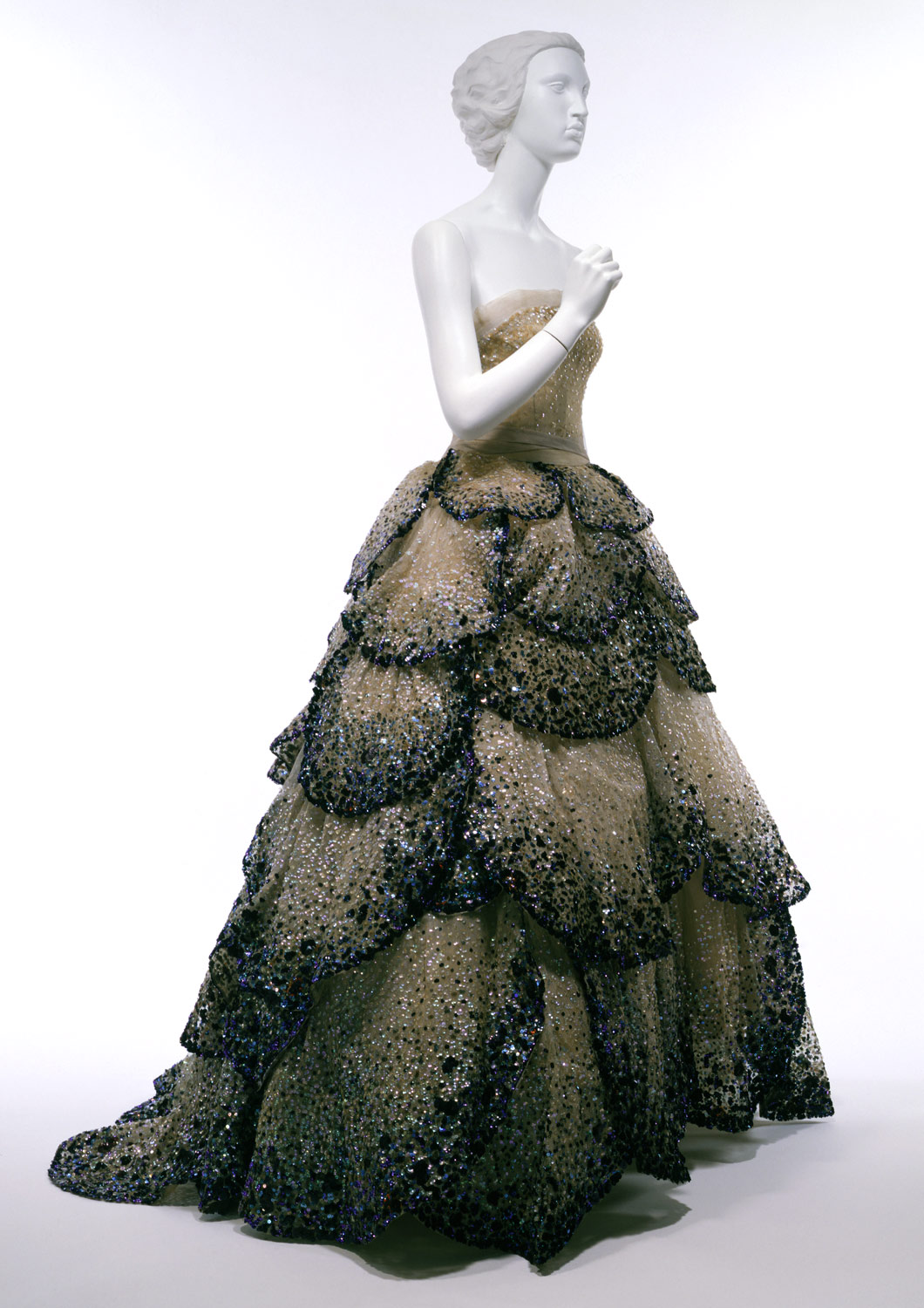 "Junon" dress, fall/winter 1949–50
Christian Dior (French, 1905–1957); Christian Dior Haute Couture (French, founded 1947)
Pale–blue silk net embroidered with iridescent blue, green, and rust sequins
Gift of Mrs. Byron C. Foy, 1953 (C.I.53.40.5a–e)
By 1949, Christian Dior's instinct for calibrated innovations of the body's "line" had established him as fashion's preeminent arbiter. That year, dresses called "Venus" and "Junon," or Hera to the Greeks, were among the most coveted of his designs. Dior's Venus was realized in the delicate eighteenth-century gray that was his signature, frosted with iridescent beading and embroidery. But his Junon is more vividly conceived. The magnificent skirt of ombréed petals, like abstractions of peacock feathers without their "eyes," obliquely references the bird associated with the Queen of the Olympians. Emanuel Ungaro's classical gown (1993.345.15a-c), like the magnificent peplos and capacious himation befitting the noblest Olympian goddess, is discrete in its coverage.
Current notions of classical dress are surprising in the breadth of their parameters. They are based in part on the original variations and manipulations of the antique models, the attributes accrued to it over time by artistic convention, and the twentieth-century adaptation of ancient methods to modern forms. That the dress of people two-and-a-half millennia in the past can imbue a design of today with the aura of myth and timeless beauty suggests that the classical mode, like Penelope's weaving, is continuous and without end.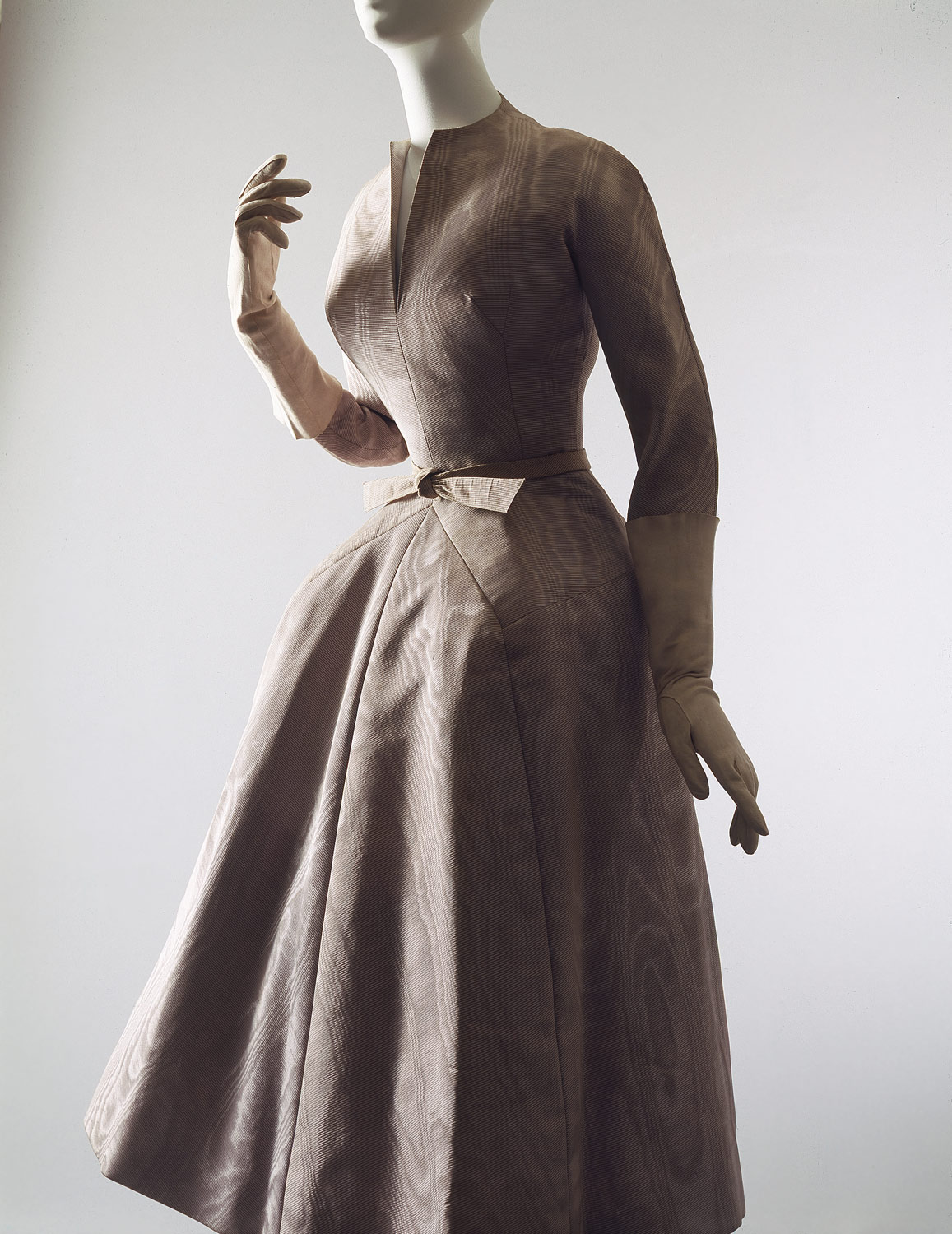 "La Cigale" dress, fall/winter 1952–53
Christian Dior (French, 1905–1957)
Silver gray silk moiré
Gift of Irene Stone, in memory of her daughter, Mrs. Ethel S. Greene, 1959 (C.I.59.26.3a,b)
Harper's Bazaar (September 1952) described "La Cigale" as built in "gray moiré, so heavy it looks like a pliant metal," while Vogue (September 1, 1952) called it "a masterpiece of construction and execution." In 1952, what has been called the Dior slouch was placed inside a severe International Style edifice. The devices customarily used to soften surface and silhouette in Dior are eschewed, and the dress becomes the housing of the fashionable posture now required by its apparent weight: the skirt is cantilevered at the hipbone—hip forward, stomach in, shoulders down, and the back long and rounded. Dior employed shaped pattern pieces to mold the bodice to the body and likewise to allow for the dilation at the hips.
American periodicals continued to promote Parisian couture lines after World War II, but they also included American design images and the ready-to-wear lines of Paris in order to make their publications relevant to a wide economic range of American women. "La Cigale" has the underpinnings of couture, but with its standard moiré, long, fitted sleeve, and smooth bodice and skirt cut, a facade of this cocktail piece could easily be adapted for the department store. American designers like Anne Fogarty and Ceil Chapman emulated the "New Look" line for cocktail wear, but used less luxurious fabrics and trims. Dior, along with French contemporary Jacques Fath and milliners Lilly Daché and John Fredericks, quickly saw the advantages of promoting cocktail clothing in the American ready-to-wear market, designing specifically for their more inexpensive lines: Dior New York, Jacques Fath for Joseph Halpert, Dachettes, and John Fredericks Charmers.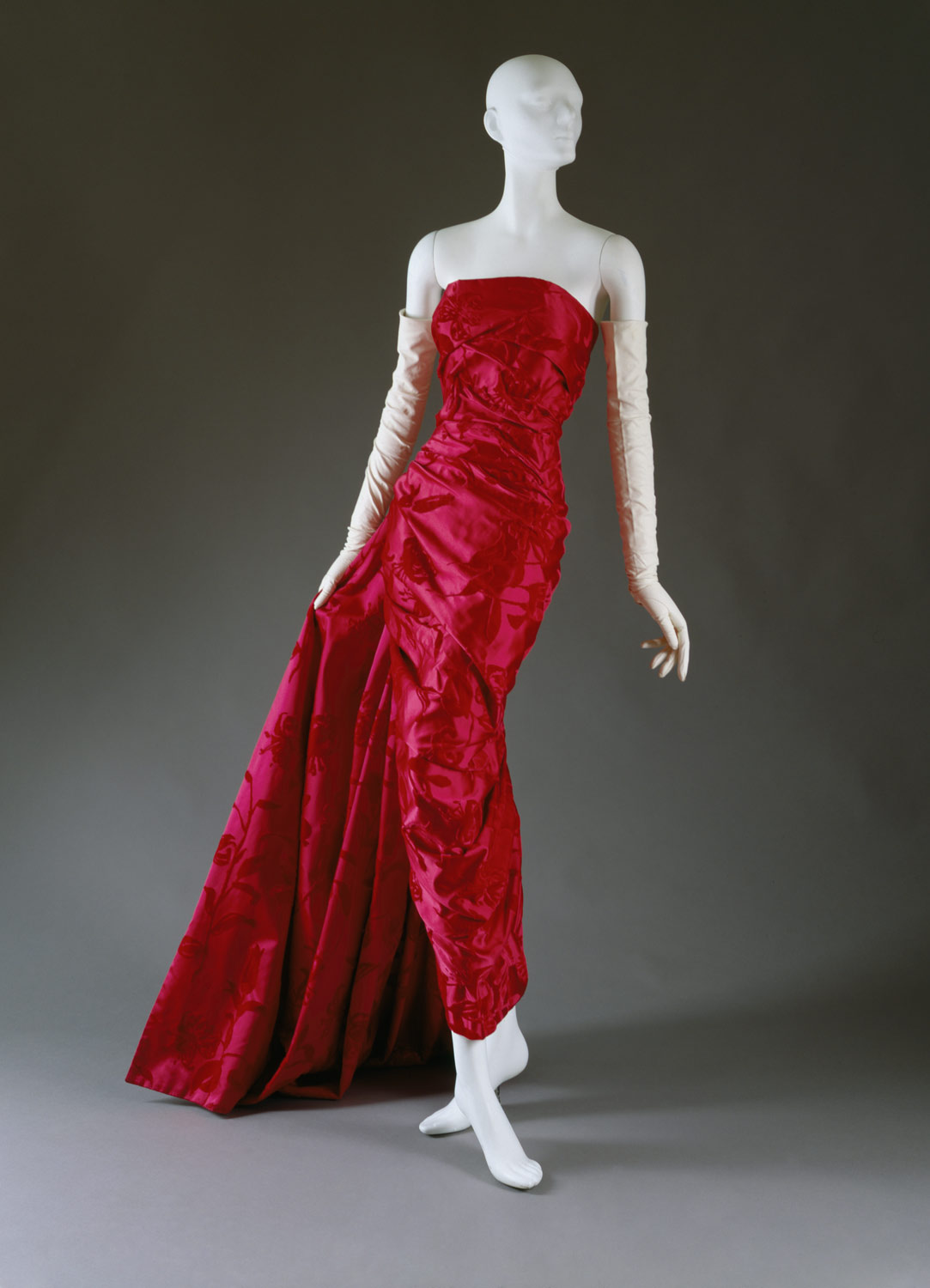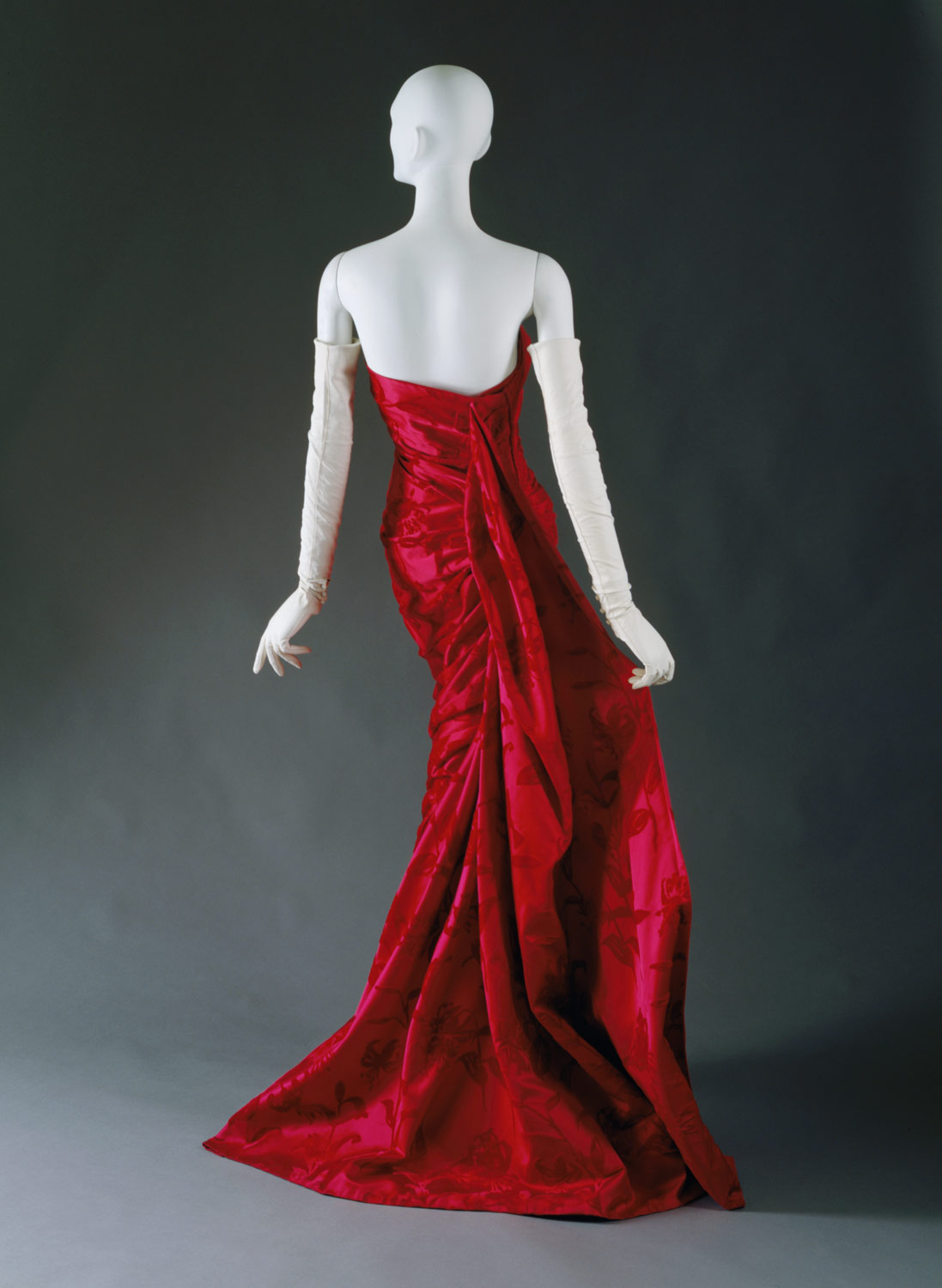 "Lys Noir" evening dress, fall/winter 1957–58
Christian Dior (French, 1905–1957); Christian Dior Haute Couture (French, founded 1947)
Silk
Gift of Mme Walther Moreira Salles, 1969 (C.I.69.39)
Conceived as a sarong, this is a more formal version of a dress style that had been offered in earlier collections. The fabric is wrapped from a back seam with an asymmetrical hem. Dior resolved the asymmetry of the hem but, in doing so, lost the width of fabric required to continue the side drape. As a result, an extra is gathered into the side seam to form a free-flowing train. The appearance is of continuous fabric but, in fact, Dior had to concoct the process.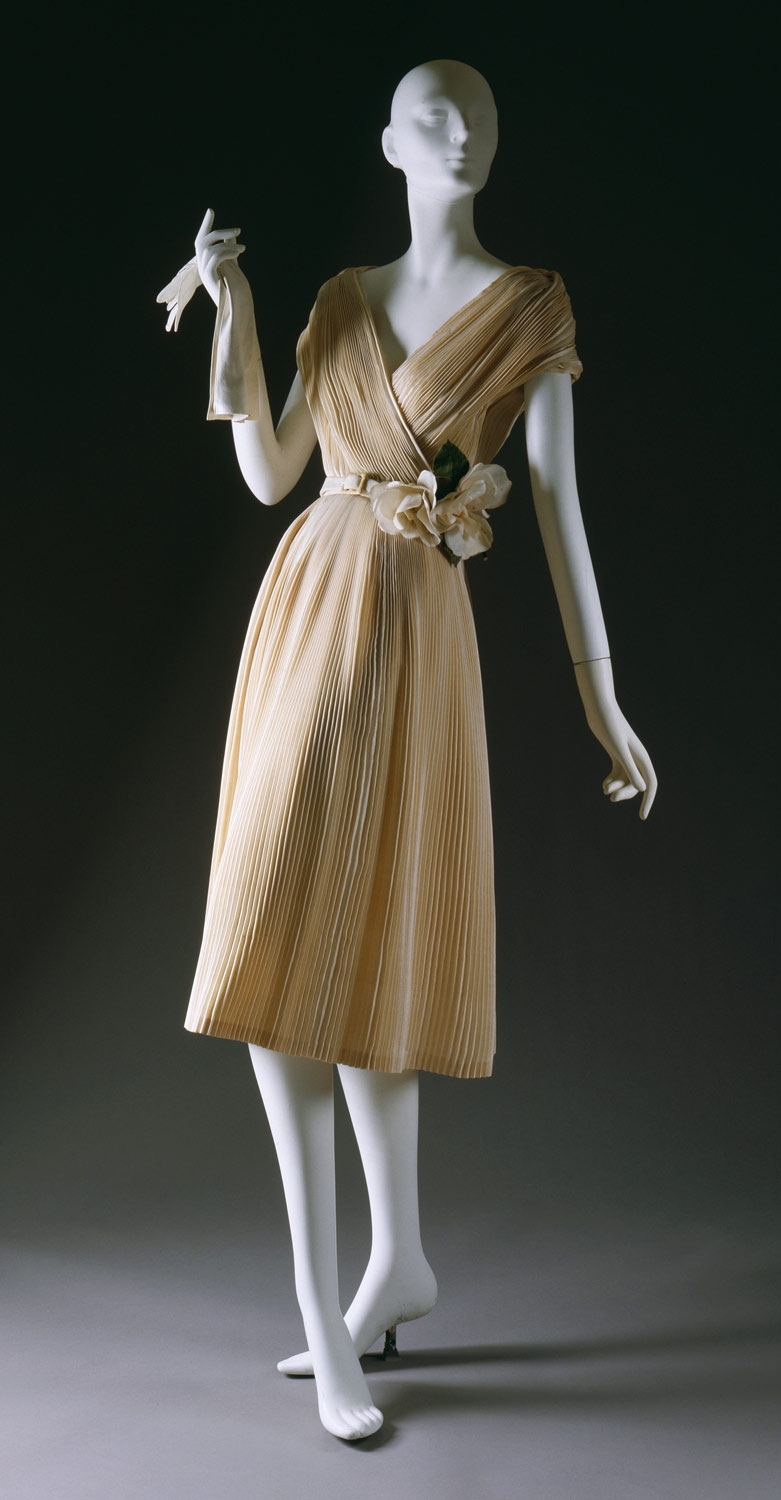 "Partie Fine" dress, spring/summer 1951
Christian Dior (French, 1905–1957); Christian Dior Haute Couture (French, founded 1947)
Silk, nylon, and leather
Gift of Mrs. Byron C. Foy, 1953 (C.I.53.40.21a–c).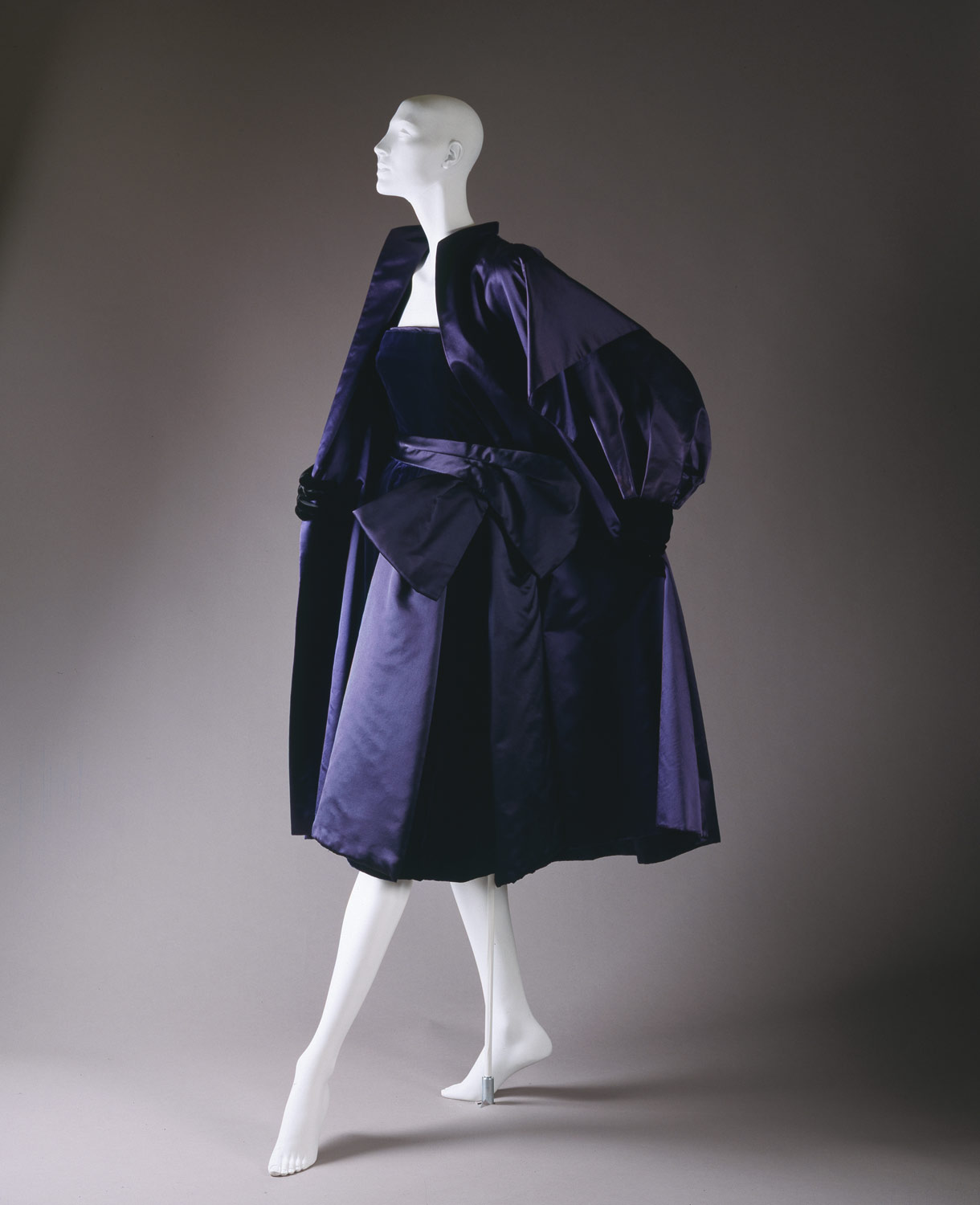 "Pisanelle" cocktail ensemble, fall/winter 1949–50
Christian Dior (French, 1905–1957)
Navy and blue silk satin with navy silk velvet
Gift of Mrs. Byron C. Foy, 1953 (C.I.53.40.9a–d)

SEE
COMPLETE RECORD
.
With his "New Look" collection of 1947, Christian Dior brought romanticism back to the catwalk. His cinched waists and full, mid-calf-length frocks enforced a demure feminine aesthetic. The cocktail hour began to represent universal social identities for women: the matron, the wife, and the hostess. Cocktail parties rose to the height of sociability, and cocktail clothing was defined by strict rules of etiquette. While invitees were required to wear gloves, the hostess was forbidden the accessory. Guests were obligated to travel to an engagement in a cocktail hat (which had retained the veil made popular in the 1940s), but they were never to wear their hats indoors.
"Pisanelle," dating just a few seasons after Dior's famed "New Look" and his iconic hourglass "Bar" suit, represents the drama imbued in his controversial silhouette. Dior aptly admired Italian Renaissance artist Antonio Pisanello (ca. 1395–ca. 1455) for his refined attention to detail and his fascination with clothing materials; the painter often represented complicated fabrics and clothing treatments in his frescoes and in obsessive details in his drawings. In this ensemble, the skirt plays on mat and shiny surfaces to create a sense of the waist-sash as trompe-l'oeil bow and the gores of the skirt as streamers.
The silk velvets and satins in this piece, though not atypical for cocktail attire, were often reserved for an evening wear cut before the 1950s; due to the prominence of the cocktail hour in material culture reference, the term "cocktail dress" was applied on the basis of its accessory items and was no longer dependent on the garment's construction.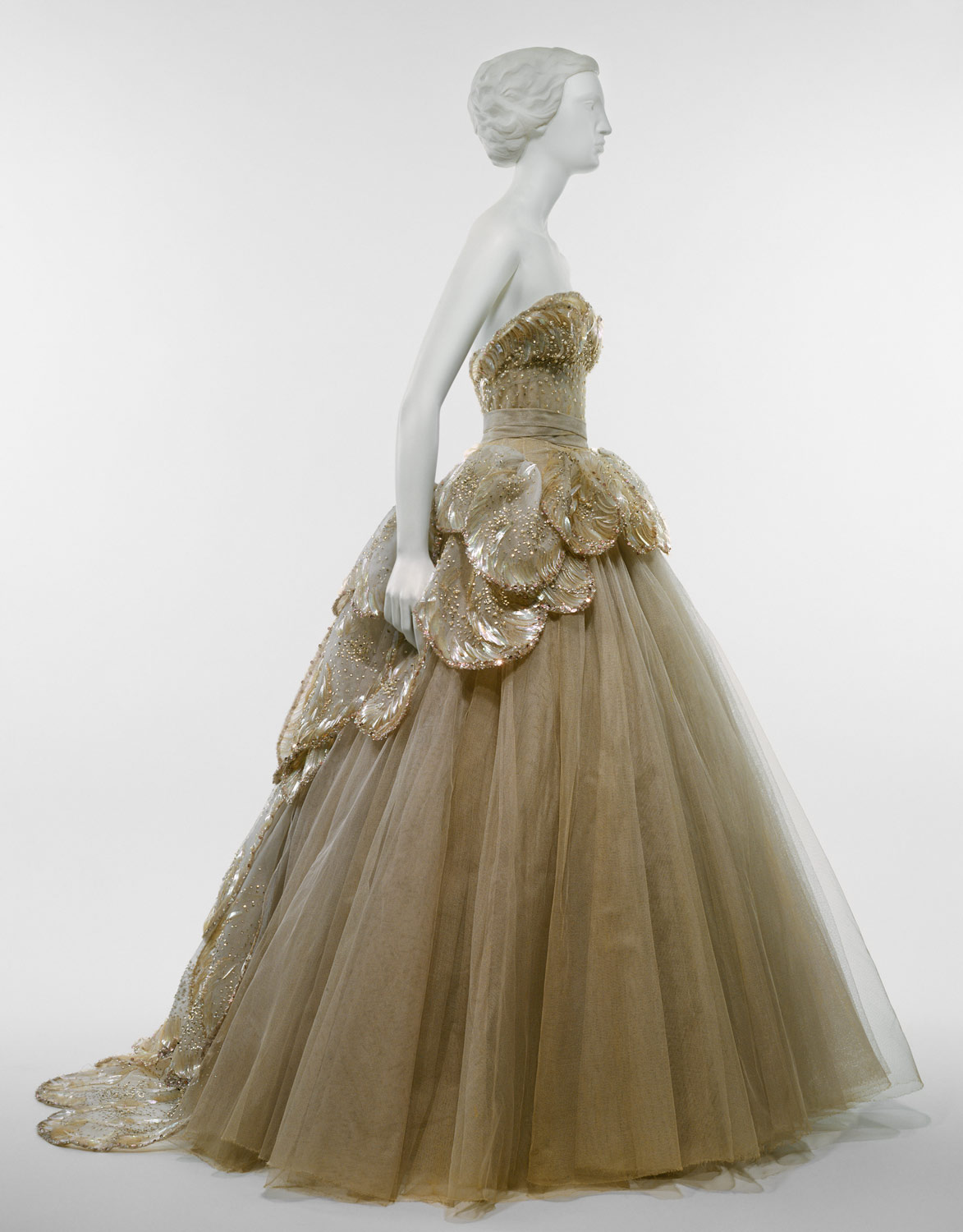 Venus" dress, 1949
Christian Dior (French, 1905–1957)
Gray silk net embroidered with feather–shaped opalescent sequins, rhinestones, simulated pearls, and paillettes; (a) L. at center front 10 in. (25.4 cm), (b) L. at center back 49 in. (124.5 cm), (c) L. 180 in. (456.2 cm), (d,e) dimensions not available
Gift of Mrs. Byron C. Foy, 1953 (C.I.53.40.7a–e)
This extraordinary ball gown by Christian Dior, of foggy gray silk tulle, arrayed with an overlay of scallop-shaped petals, is called "Venus." The bodice and shell forms of its skirt are embellished with nacreous paillettes and sequins, iridescent seed beads, aurora-borealis crystals, and pearls. The glittering overskirt and train adumbrate both the seashell motif and the crescent wave patterns of Botticelli's Venus. Dior is best known for his revival of the wasp-waisted silhouette seen here. His celebrated first collection of 1947 was dubbed the "New Look" by the influential American editor Carmel Snow, because the corseted, full-bosomed, and hourglass shaping had not been seen for decades. In fact, the "New Look" was an old look revived. After the deprivations of World War II, Dior believed that the survival of the haute couture relied on its ability to restore fantasy and luxury to women's wardrobes. The fragile effects of this gown, which merges Second Empire romanticism with the classical iconography of ideal and eternal beauty, recall Dior's belief that "fashion comes from a dream."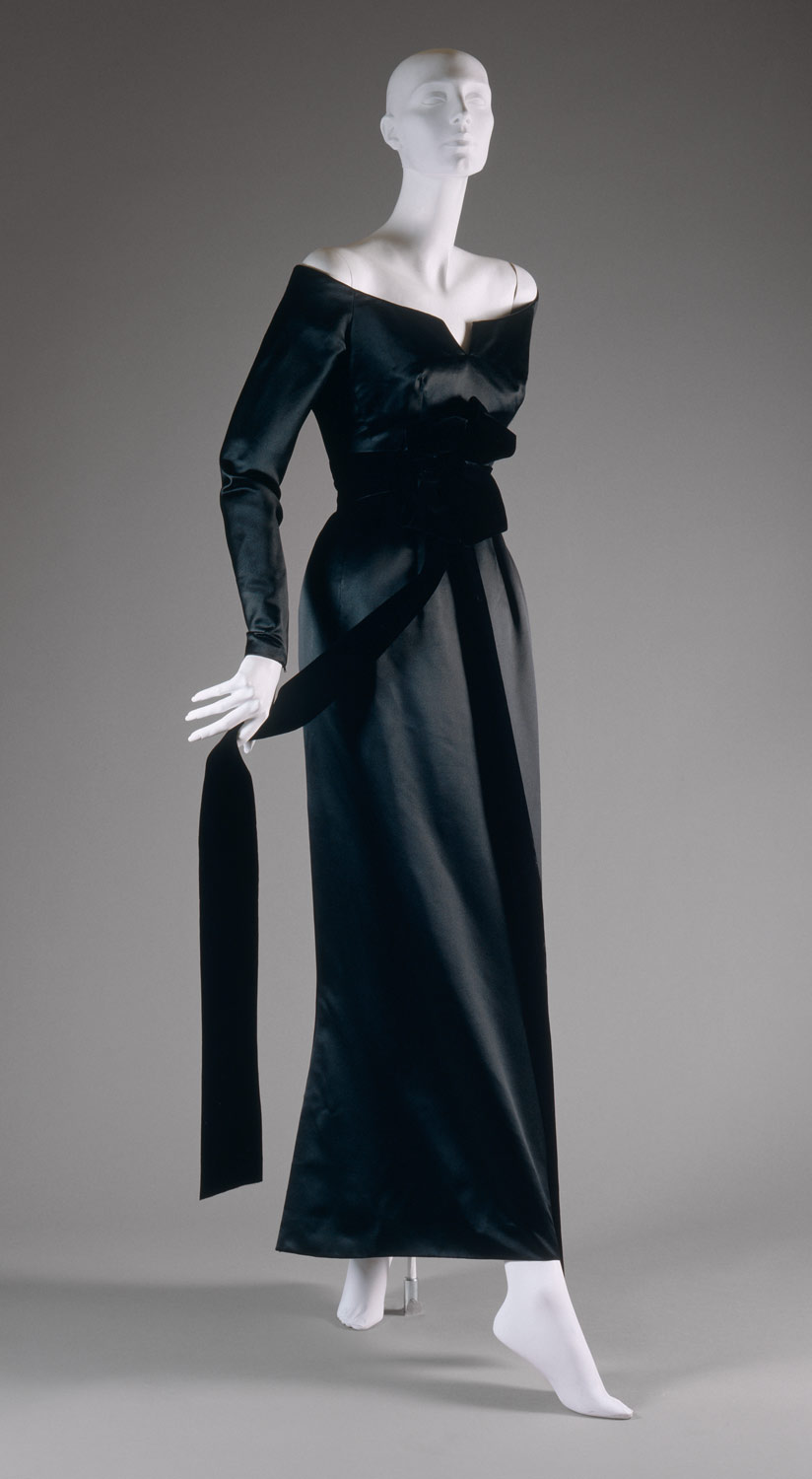 "Y" evening dress, fall/winter 1955–56
Christian Dior (French, 1905–1957); Christian Dior Haute Couture (French, founded 1947)
Silk
Gift of Mrs. Henry Rogers Benjamin, 1965 (C.I.65.14.12a,b)
Exemplifying Dior's faultless minimalism of 1955, this simple black column, contrasting matte velvet against satin, anticipates a form of evening dress that has continued to the present. The stability of the off-the-shoulder neckline is accomplished by the hand shaping of the fabric rather than by any rigid understructure.
Christian Dior
Christian Dior's reputation as one of the most important couturiers of the twentieth century was launched in 1947 with his very first collection, in which he introduced the "New Look." Featuring rounded shoulders, a cinched waist, and very full skirt, the New Look celebrated ultra-femininity and opulence in women's fashion. After years of military and civilian uniforms, sartorial restrictions and shortages, Dior offered not merely a new look but a new outlook.
Born and raised in Normandy, France, Dior moved with his parents to Paris when he was ten. After studying political science, he served in the military. His design career did not begin until 1935, when he returned to Paris and began selling sketches. The designer Robert Piguet hired him in 1938. During World War II, Dior served in the south of France, then returned again to Paris in 1941 and worked for Lucien Lelong at a much larger design house. In 1946, backed by textile manufacturer Marcel Boussac, he opened his own house.
After years of military and civilian uniforms, sartorial restrictions and shortages, Dior offered not merely a new look but a new outlook.
Dior helped to restore a beleaguered postwar Paris as the capital of fashion. Each of his collections throughout this period had a theme. Spring 1947 was "Carolle" or "figure 8," a name that suggested the silhouette of the new look with its prominent shoulders, accentuated hips, and small waist. The spring 1953 collection, dubbed "Tulip," featured an abundance of floaty, flowery prints. Spring 1955's "A-line," with its undefined waist and smooth silhouette that widened over the hips and legs, resembled a capital "A." Some of Dior's designs simulated Second Empire and other historical styles, but he was also creating menswear, trompe-l'oeil detailing, and soft-to-hard juxtapositions, making them part of the modern wardrobe. By his final collections, Dior, feeling the need for a more limber silhouette and lifestyle, was designing chemises, narrow tunics, and sari-like wraps.
Together with his partner Jacques Rouet, Dior pioneered license agreements in the fashion business. By 1948, he had arranged lucrative licensing deals for fur, stockings, and perfumes, which not only generated revenue but also made him a household name. While the House of Dior is still a thriving business today, Dior's untimely death in 1957 left the fashion world without a great dictator of style. Christian Dior designed under his own name for only a decade, but his influence will be felt for many years to come.
Charleston, Beth Duncuff. "Christian Dior (1905–1957)". In Heilbrunn Timeline of Art History. New York: The Metropolitan Museum of Art, 2000–. http://www.metmuseum.org/toah/hd/dior/hd_dior.htm (October 2004)