"Every age has its own prophet–someone who knows the secret longings of his or her contemporaries and is capable of converting them into public demand.  Paul Poiret, the Parisian fashion designer, was just such a visionary. His modern, corset-free so;jpiettes brple wotj everutjomg cpmsodered tp be fasjopmab;e befpre 1905.  The Frenchman is still considered today one of the most innovative designers in the history of haute couture.  Almost as legendary is his financial extravagance.  He died in 1944 in abject poverty, a genius forgotten by the world.
 Boulet
"As a teenager, Poiret, the son of a cloth merchant, was already selling fashion drawings and small designs to Paris fashion studios.  After training with the couturiers Jacques Doucet and Charles Frederick Worth he finally went into business with his own salon in 19o3.  His muse was his young wife, Denise Boulet.  Slim, emancipated, and independent, she was the perfect advertisement for Poiret's vision.  At a time when the female body was still divided into protruding bosom and buttocks, Bolet's athletic figure served as a basis for Poiret's loosely hanging garments, draped directly on ht e body (he couldn't sew), and for whose fit neither hoop skirt nor corset was required.
"Poiret's most daring designs included pants for women, which till then were only considered acceptable, if at all, for bicycling.  His culotte skirts and harem pantaloons led to riots in the streets, sometimes even resulting in the arrest of their wearers.
[Downton Abbey's Lady Sybil in Poiret-style Harem Pants]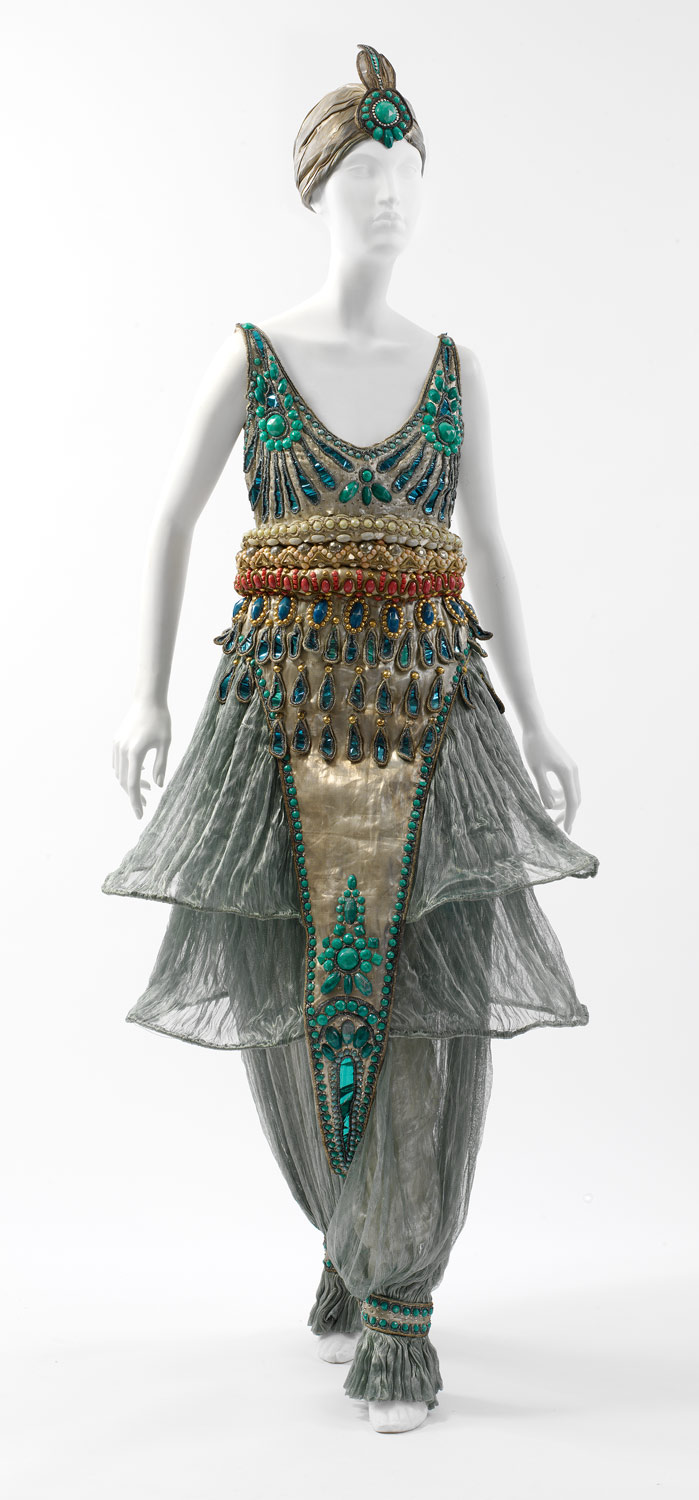 Metropolitan Museum of Art
Hobble Skirt
[A hobble skirt was a skirt with a narrow enough hem to significantly impede the wearer's stride, and was a short-lived fashion trend around the turn of the twentieth century and the early 1910s. The name was given in reference to the device used to restrain, or hobble, horses. A knee-long corset was also used to achieve this effect. A dressconsisting of such skirt was called a hobble dress. – Wikipedia]
"In 1911, the desiger took a step backward, at least from the point of view of emancipation.  With the design of the hobble skirt, he, having freed the female bosom, shackled the legs and thus the freedom of the wearer.
 Lampshade Tunic
"Additional creations were 'lampshade' tunics, T-shirt dresses, and the robe culotte, a kind of jumpsuit.
"Above all, Poiret's designs were inspired by art and culture.  When he presented his harem fashions, the stories of Scheherezade had just been translated into French.  The Ballets Russes, visiting Paris in 1909, prompted is turbans, coats with kimono sleeves, richly decorated tunics, and flat slippers.
 Leon Basket Costumes
 Leon Basket Designs for Scheherezade
Fauve Painting – Mountains at Collioure by André Derain
"His expressive color schemes seem to have been borrowed directly from the group of controversial artists known as the Fauves (the wild beasts).  His models, mostly produced with the use of extravagantly gorgeous fabrics, are marked by an exciing contrast between impressive modernity and stunning theatricality.
"Like no designer before him, Poiret had an infallible instinct for marketing.  He traveled to Russia and the U.S. to present his creations in person (and pick up ideas for new designs).  He complemented his fashions with perfume, makeup, nail polish, and interiors.  
"Poiret introduced the decorated window display and gave fashion photography, then still in its infancy, an artistic direction.  His legendary Oriental banquets (at on of which half-naked, dusky waiters served 900 liters of champagne to 300 guests) are considered among the first modern PR stunts.
"Poiret's style, derived form Art Deco, was considered groundbreaking until the end of World War I.  After that, the eccentric designer increasingly began to lose his prosperous clientele to other ambitious designers, above all Jean Patou and Coco Chanel.  In 1925, with one last grand appearance, he sealed his own demise.  Deep in debt, he rented three luxurious ships to present his collection at the Paris Arts Decoratifs show.  Despite the expense, his competitors could not be fought off.  In 1926 he left the fashion house he had founded, and in 1929, his wife and muse finally left im.  Fifteen  years later Poiret died a clochard, a homelss vagrant, int the occupied Paris of World War II.
Simone Werle. p. 17.
Publisher: Prestel (April 24, 2010)