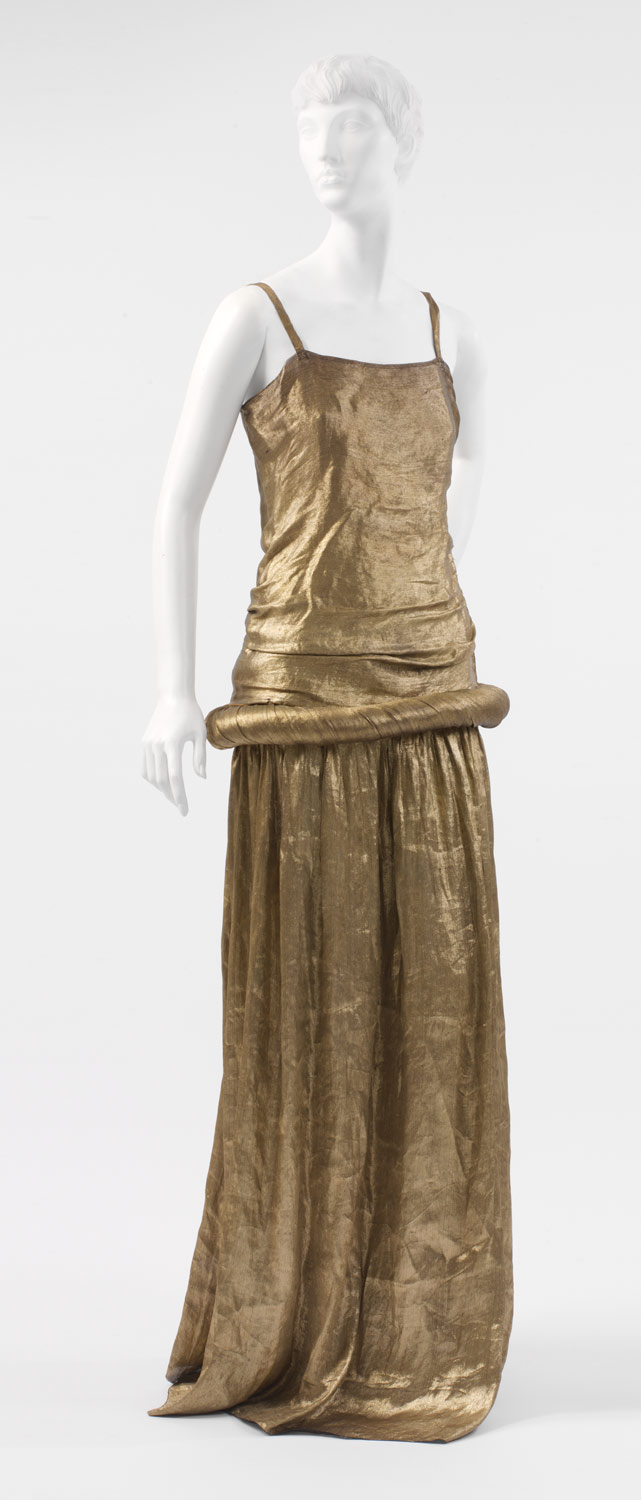 "Irudrée" Gown, ca. 1923
Paul Poiret (French, 1879–1944)
Silk, metal; L. at center back 52 in. (132.1 cm)
Purchase, Friends of The Costume Institute Gifts, 2007 (2007.146)
Paul Poiret's technical and commercial innovations were fundamental to the emergence and development of modernism. Yet despite ushering in the new movement, Poiret rejected its postwar embrace of the aesthetic of the engineer governed by functional rationality. In the face of modernism's repudiation of explicit narratives, decorative strategies, and historical references, Poiret continued to endorse the ideal of artistic originality and the aesthetic of artisanal workmanship.
Poiret's vision of beauty was also at odds with la garçonne, the feminine archetype of modernism. While Denise Poiret's slender, small-boned figure was the prototype for that boyish silhouette, Poiret dismissed its emphasis on androgyny, describing its followers as "Cardboard women, with hollow silhouettes, angular shoulders and flat breasts. Cages lacking birds. Hives lacking bees." Poiret's ideal of beauty still clung to his wife's body type—that is, slight but not bony, irrefutably feminine and never androgynous. Poiret's rejection of modernism on the grounds of ideology and aesthetics resulted nevertheless in designs of remarkable structural modernity. The "Irudrée" gown of 1923, for instance, is particularly noteworthy for its reductive simplicity.
The skirt is made from two pieces of fabric sewn selvedge (either of the loom-finished woven edges of a length of fabric) to selvedge and gathered at the waist of the bodice. In turn, the bodice is made from one length of material with no side seams, and Poiret used the selvedge of the material to define the neckline. Indeed, with its emphasis on process and truth to materials, "Irudrée," despite the historicizing low-slung tubular rouleau that is a nod to the hip roll, or farthingale, of the Renaissance, stands as an icon of modernist design.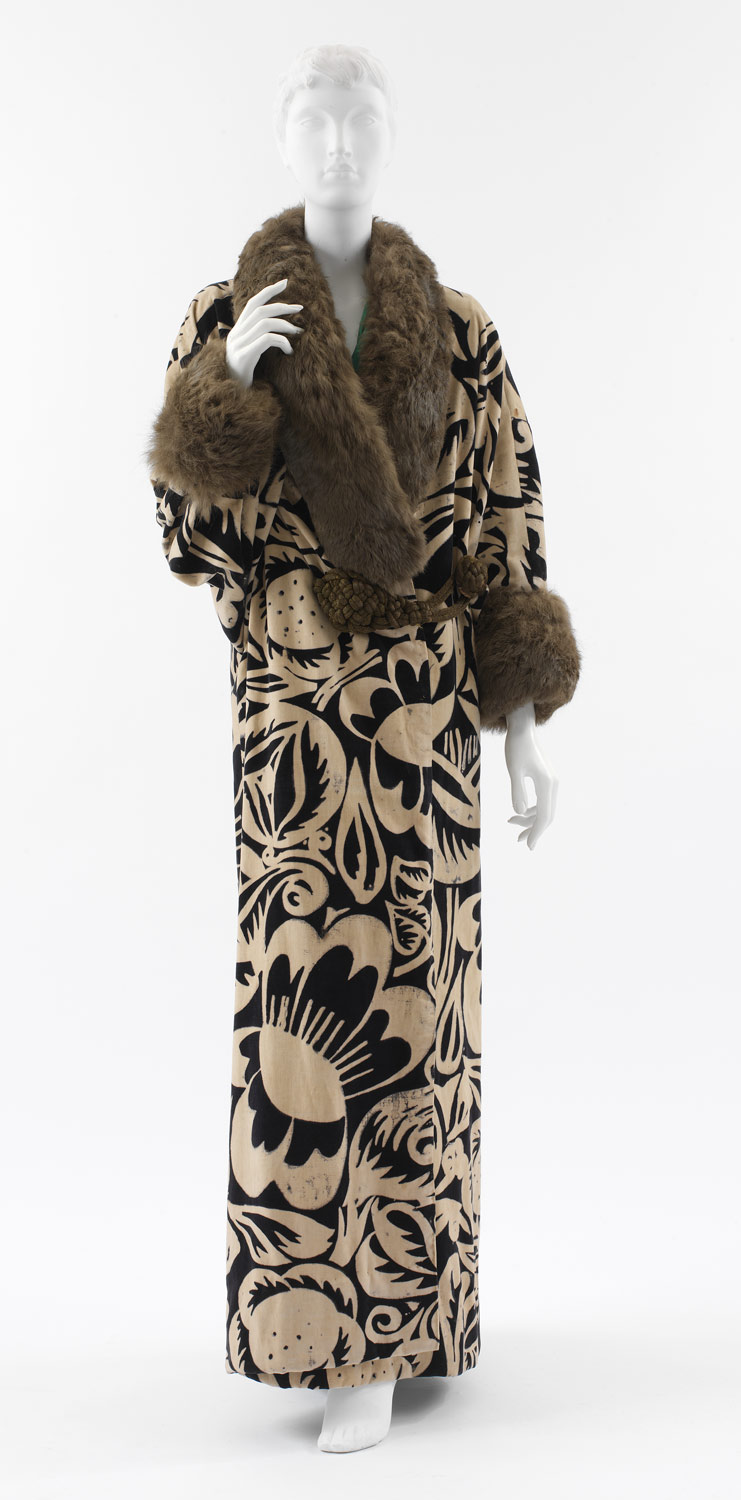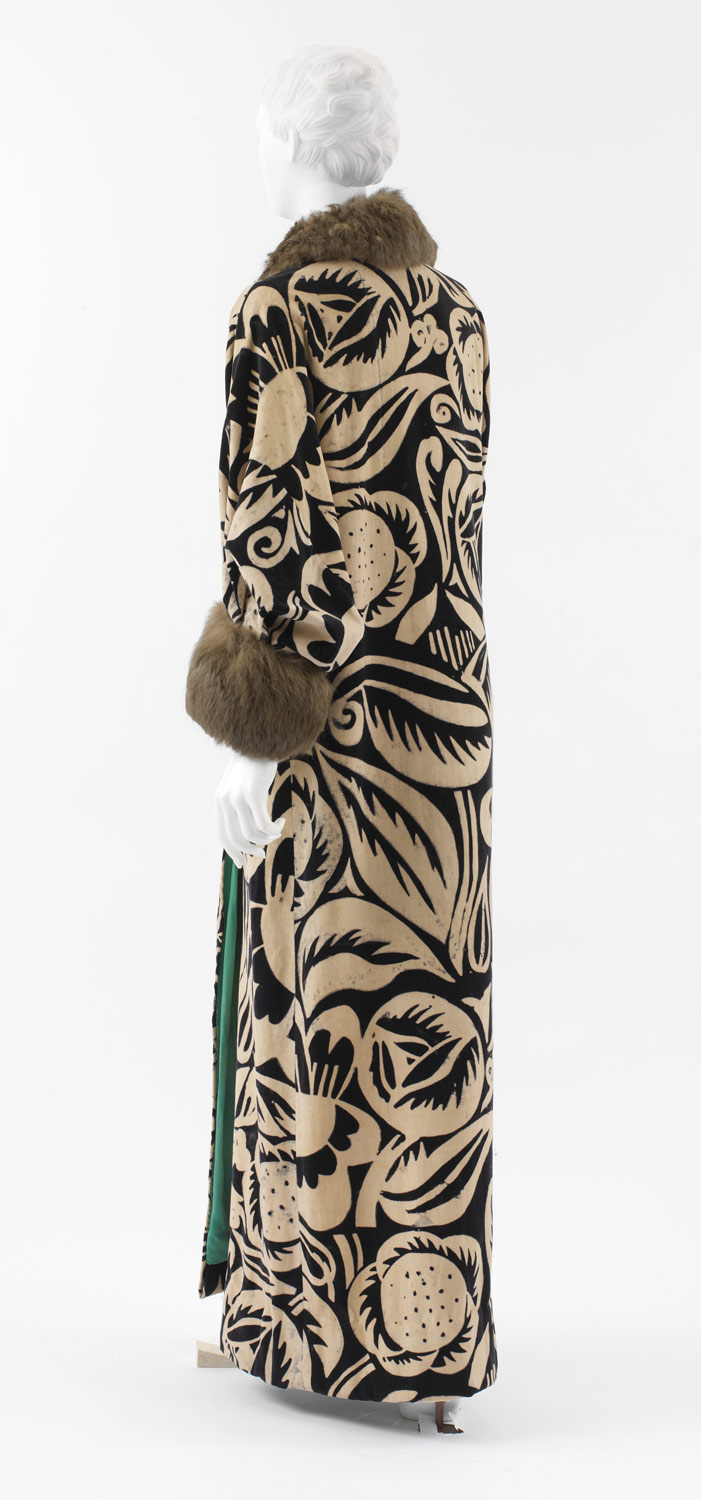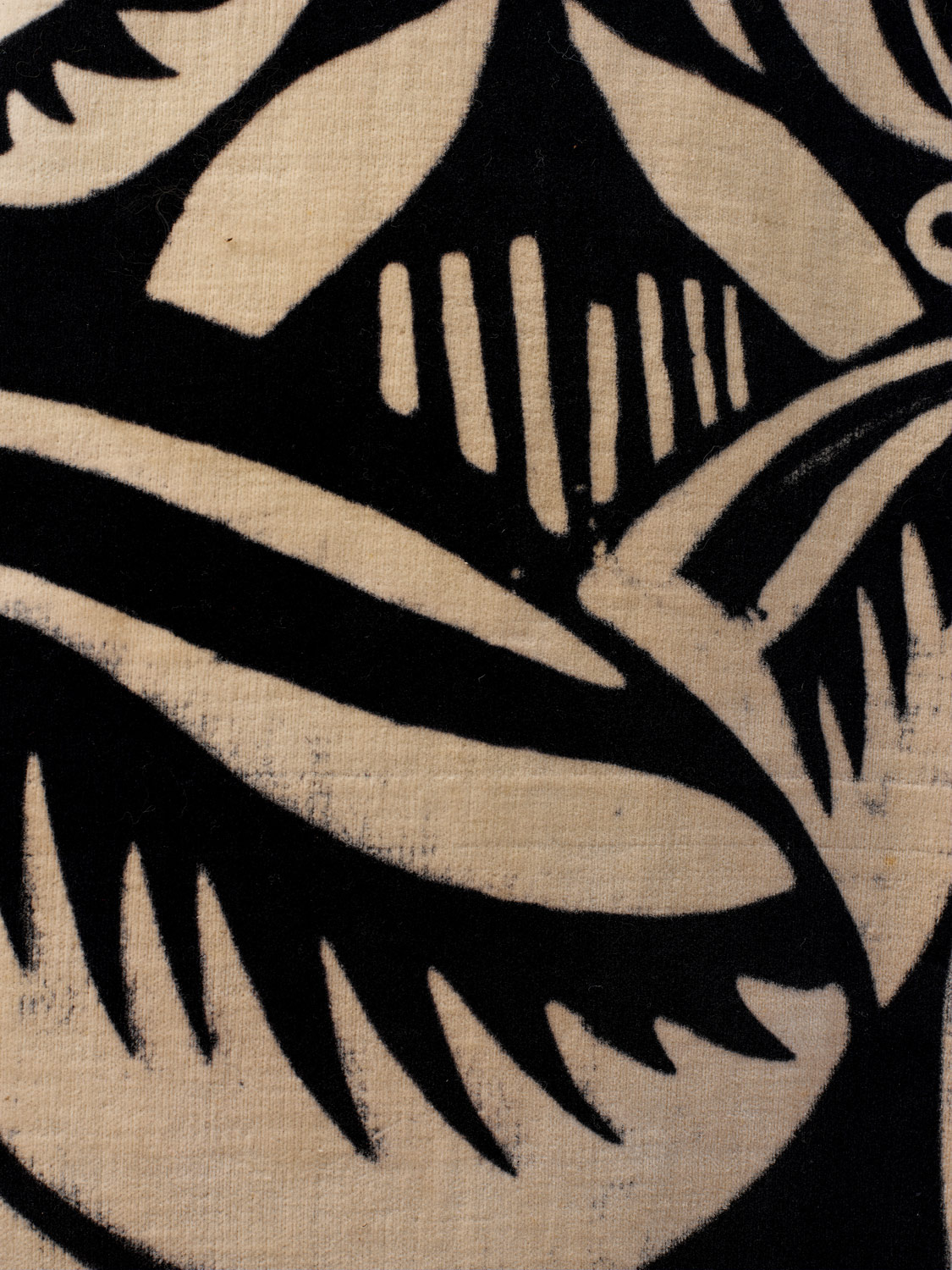 Coat, 1911
Paul Poiret (French, 1879–1944)
Textile design by Raoul Dufy (French, 1877–1953)
Ivory and navy block printed velvet with brown fur trim and gold metallic mesh–covered silk closures; L. at CB 56 1/2 in. (143.5 cm)
Purchase, Friends of The Costume Institute Gifts, 2005 (2005.199)
In his memoir The King of Fashion (1931), Poiret wrote, "Am I a fool when I dream of putting art into my dresses, a fool when I say dressmaking is an art? For I have always loved painters, and felt on an equal footing with them. It seems to me that we practice the same craft, and that they are my fellow workers." Dismissing the sibling rivalries that have always dogged the fine and applied arts, Poiret believed that art and fashion were not simply involved but indivisible. This belief was central to Poiret's vision of modernity, which, to a large extent, was achieved through his deployment of art discourse.
As well as presenting himself as an artist and patron of the arts, Poiret promoted his fashions as unique and original works of art in and of themselves. He did this by marshaling the visual and performing arts, and by working with artists associated with avant-garde modernism. Among Poiret's various collaborations, the most enduring was with Raoul Dufy, whose career as a textile designer he helped launch. Dufy's flat, graphic patterns were ideally suited to Poiret's planar, abstract designs, a fact that is palpable in such signature creations as "La Perse" coat, "La Rose d'Iribe" dress, and the "Bois de Boulogne" dinner dress, which is made from a fabric that Dufy designed in conjunction with the silk manufacturer Bianchini-Férier.
Dufy's boldly graphic designs reflected Poiret's preference for the artisanal. The postwar embrace of an industrial and mechanical modernity was antithetical to Poiret. However, in the years before the war, the art of the workman, such as Dufy, or the self-schooled, such as Henri "Le Douanier" Rousseau, whom Poiret so admired that he created a dress, "Homage à Rousseau," in his honor, was seen as modern in the repudiation of Belle Époque decadence and sophistication.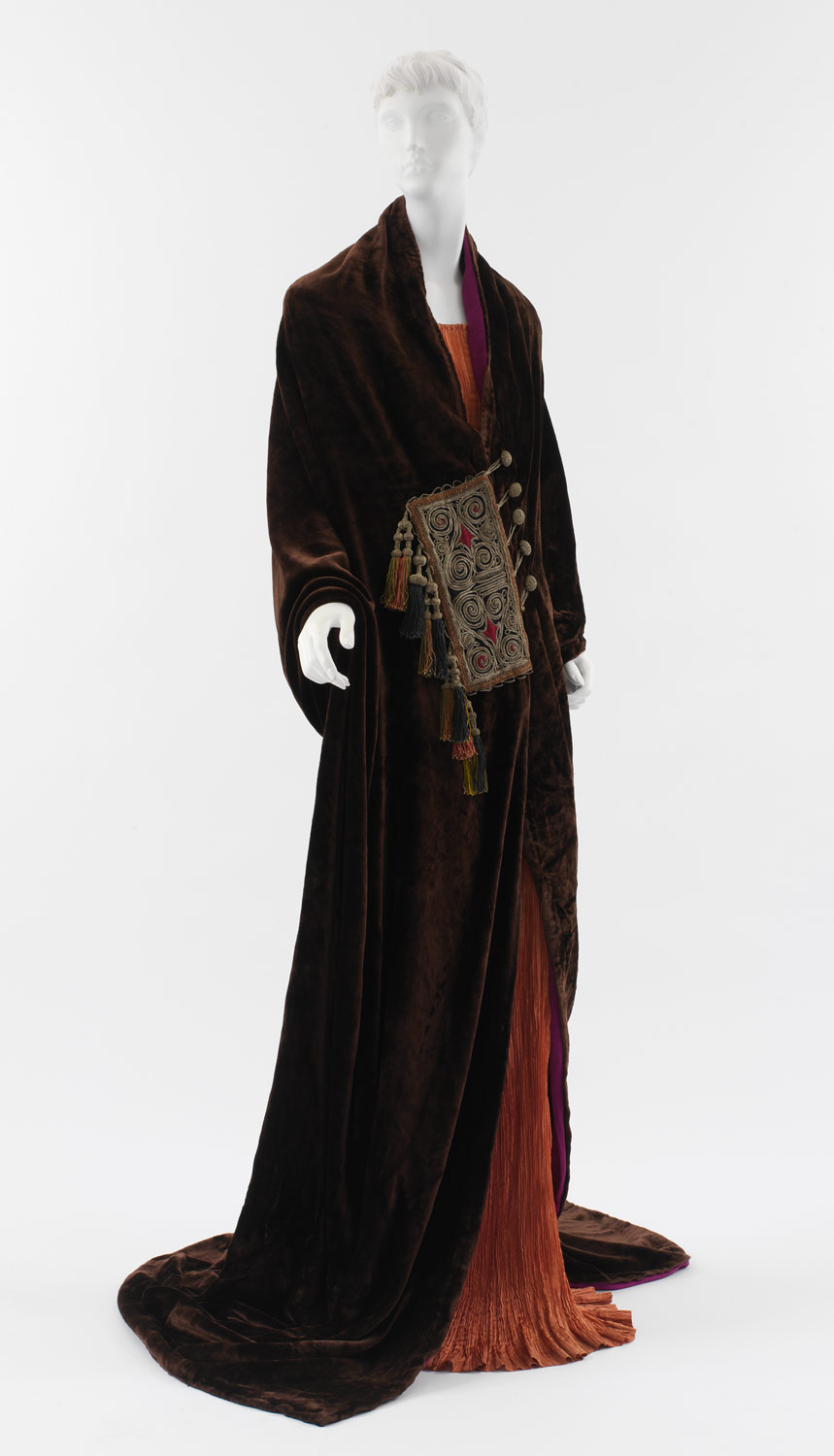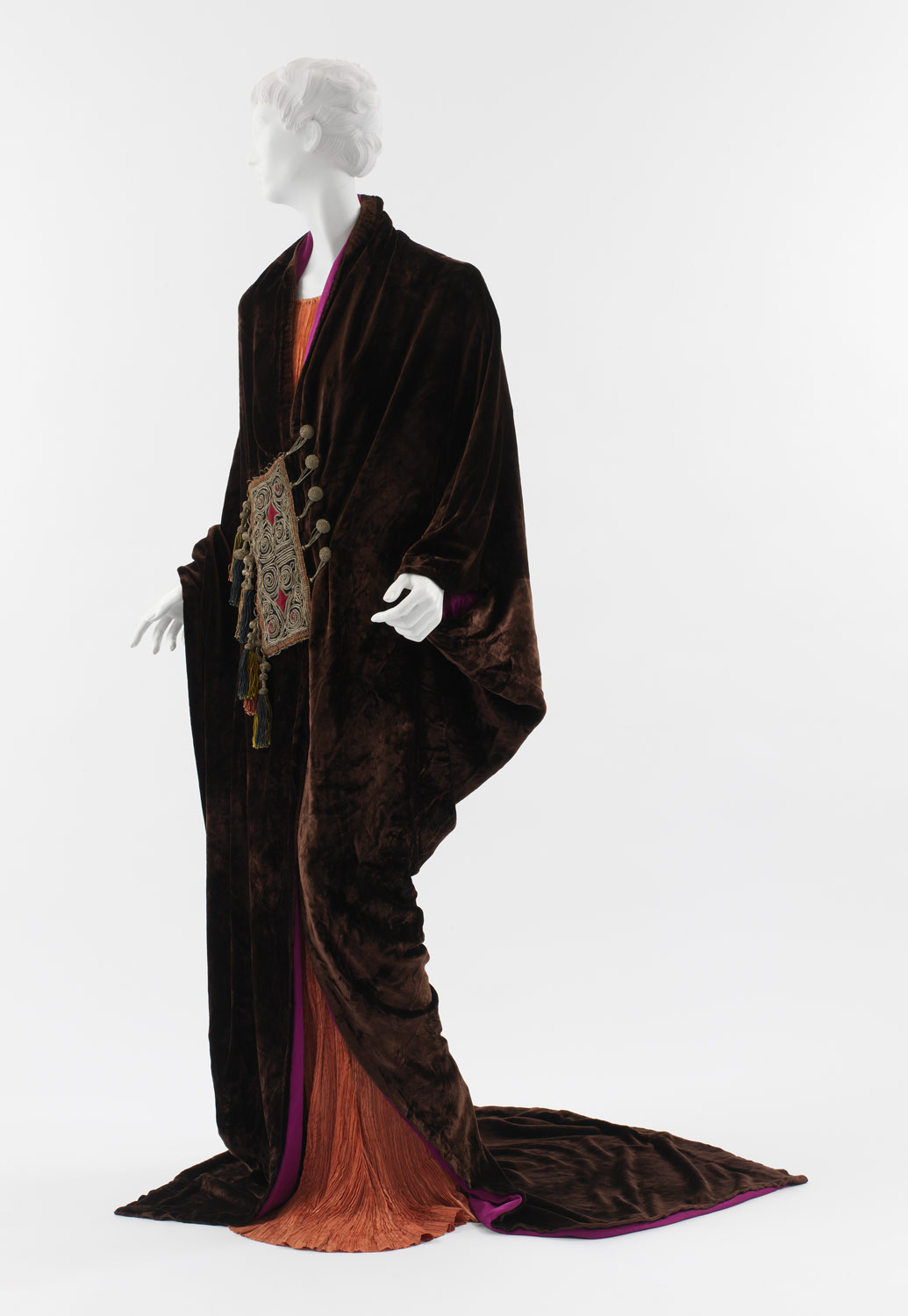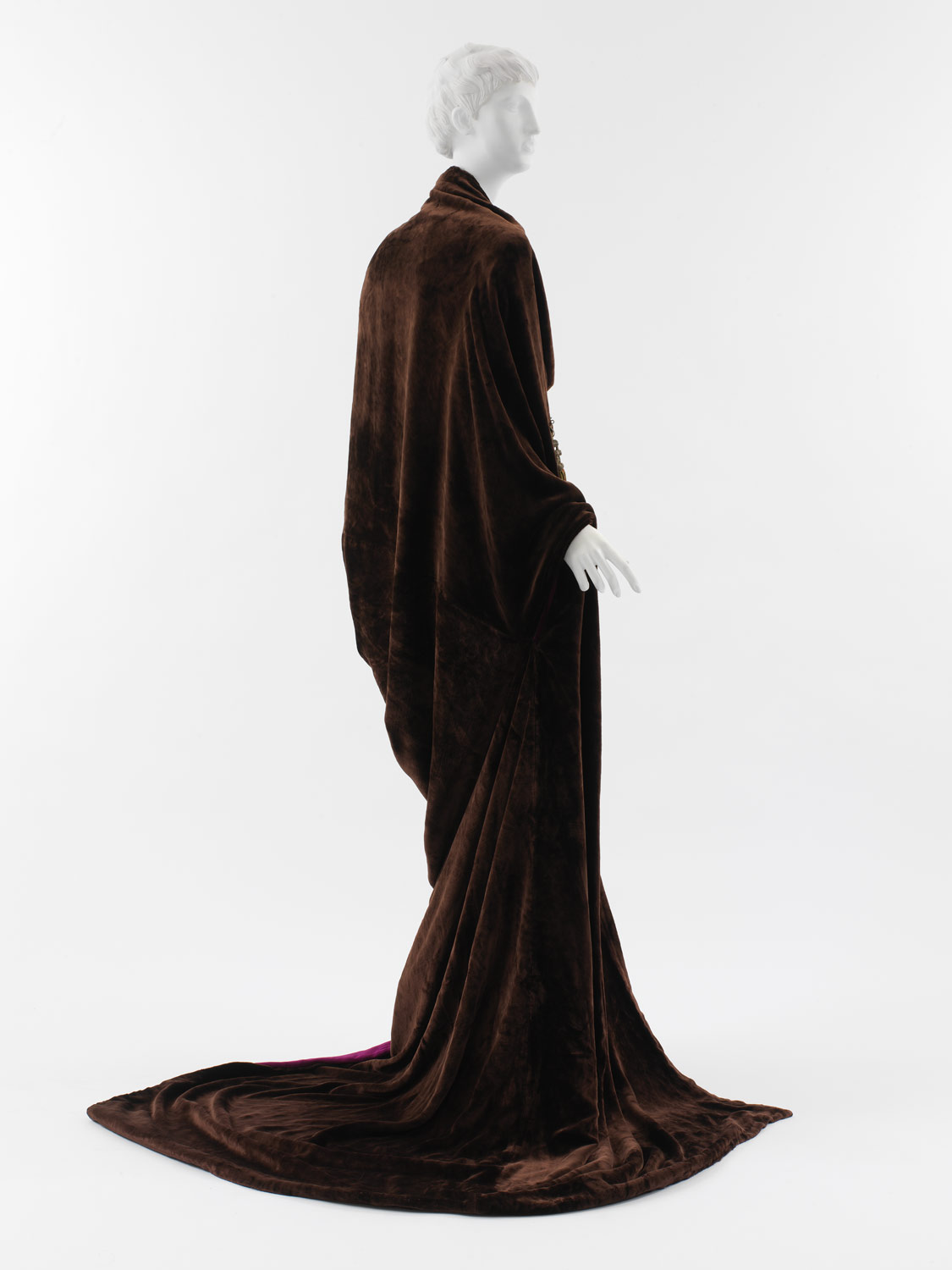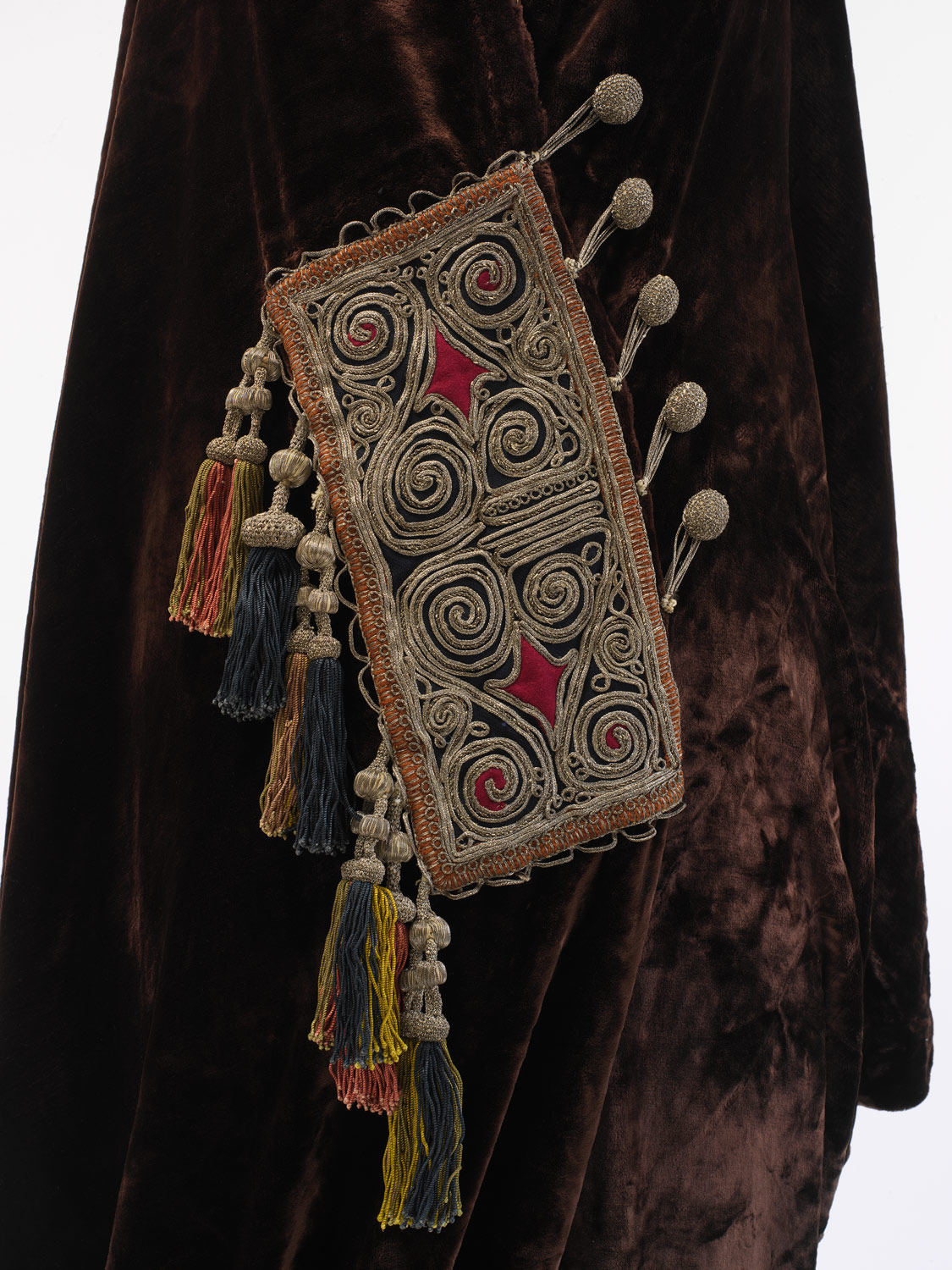 Coat, 1919
Paul Poiret (French, 1879–1944)
Silk, wool, metallic thread; L. at center back 90 in. (228.6 cm)
Purchase, Friends of The Costume Institute Gifts, 2005 (2005.207)
Poiret once ruefully admitted that he could not sew and was thus unable to fully control all aspects of his art. However, it was this very absence of training in tailoring and dressmaking that facilitated the couturier's audacious technical advances.
The "Paris" coat exemplifies Poiret's conception of dress as a three-dimensional form that maintains the integrity of its two-dimensional fabric. It is constructed of one fifteen-foot length of silk velvet that has been twisted into shape without resorting to cutting. The apertures for the arms are unstitched interruptions along the single seamline that forms the garment. Devoid of decoration, except for the placket at the hipline that anchors the loop-and-button closure, it is a masterwork of modernist simplicity and structural ingenuity.
Poiret designed the coat for his wife, Denise, who was photographed wearing it like a great wrap with a short evening dress called the "Faune." While the dress does not appear to have survived—it was an astonishing combination of gold lamé and black monkey fur interspersed with gilt military fringe—Denise Poiret's coordination suggests that the "Paris" was among the more exotic evening coats in her wardrobe.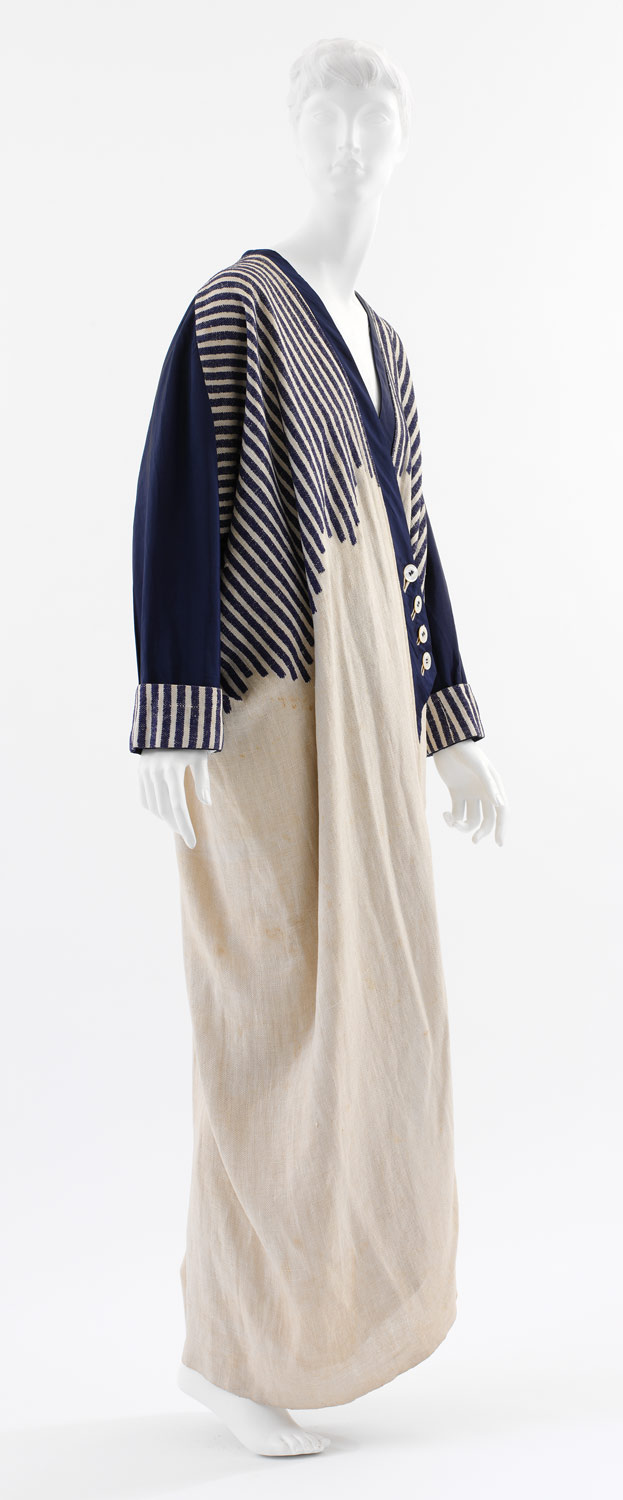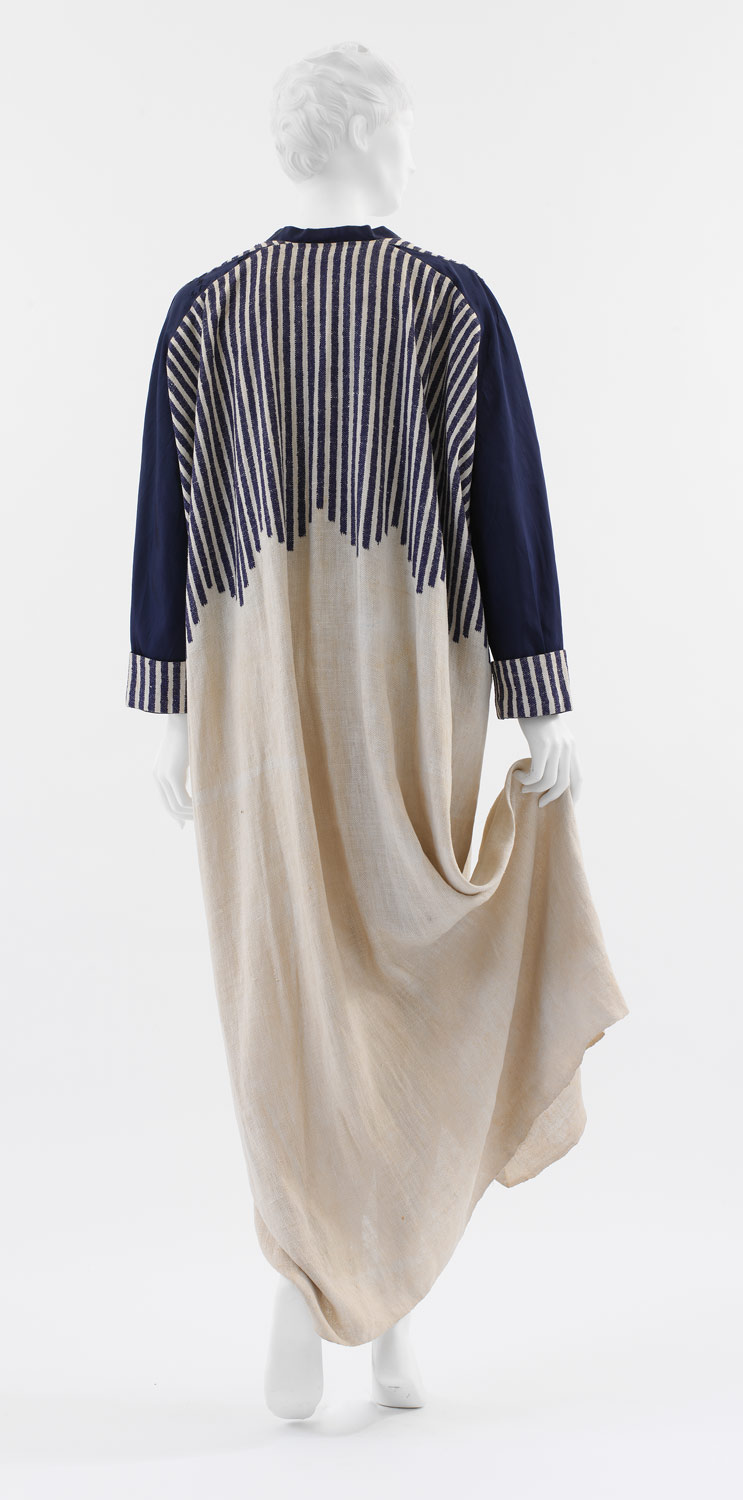 Coat, ca. 1912
Paul Poiret (French, 1879–1944)
Natural and blue striped woven linen, blue silk, and faux abalone buttons; L. at CB 53 in. (134.6 cm)
Isabel Shults Fund, 2005 (2005.200)
From just before World War I to the closure of his maison de couture in 1929, Poiret's strongest narrative thread was his fantasy of the seraglio and his orientalizing evocations of the Near, Middle, and Far East, which earned him the sobriquet "Pasha of Paris." For Poiret and other modernists, the imagery of Eastern cultures offered a freedom from the traditions and conventions of the West.
Poiret's orientalism first manifested itself in his use of color. In his memoir, Poiret records that his vivid color palette was among his greatest innovations: "The taste for the refinements of the eighteenth century had led all women into a sort of deliquescence. Nuances of nymph's thigh, swooning mauves, tender blue hortensias, all that was soft, washed-out, and insipid, was held in honour. I threw into this sheepcote a few rough wolves; reds, greens, violets, royal blues, that made all the rest sing aloud." Bold colors were, in fact, popular from the mid-nineteenth century onward with the introduction of aniline dyes, but Poiret's originality was expressed in his exotically charged color combinations, a novelty that preceded the Ballets Russes' performance ofSchéhérazade.
However, Poiret's most enduring and fundamental orientalism resides less in his vivid colors, or even in his opulent fabrics and lavish embroideries, than in the construction of his garments. It was the reductive planarity of such dress types as the caftan and the kimono, cut along straight lines and constructed of rectangles, that inspired and influenced Poiret's radical changes of silhouette. In his typically sybaritic manner, however, Poiret tended to conflate Western and non-Western apparel traditions. While utilizing the geometric simplicity of regional costumes, Poiret would introduce the shaping of Western dressmaking approaches to create garments that could only exist in the fictive, mythical East of Poiret's imagination.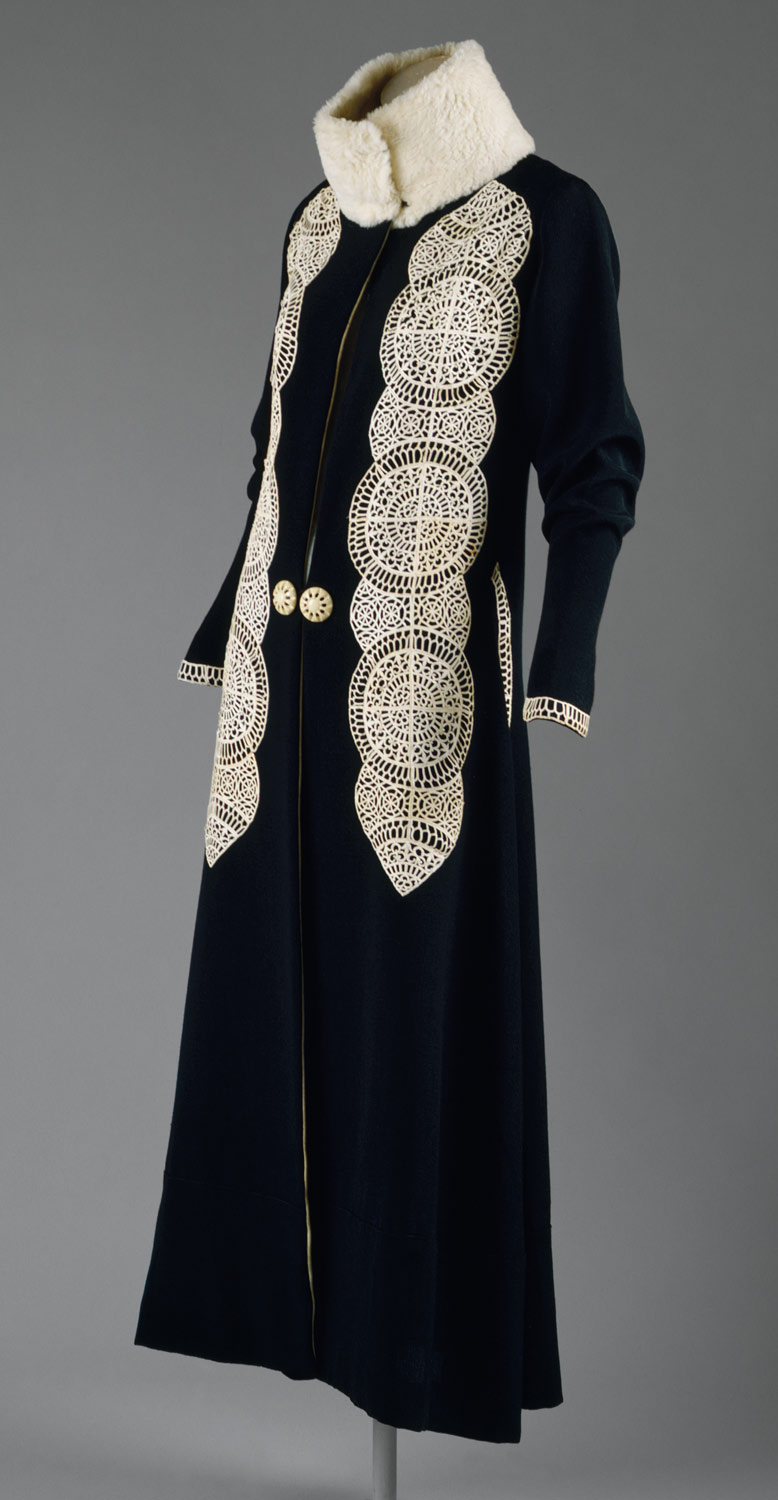 Coat, ca. 1919
Paul Poiret (French, 1879–1944)
Black silk and wool blend with white leather appliqués and white fur trim
Gift of Mrs. David J. Colton, 1961 (C.I.61.40.4)
In the 1910s, Poiret introduced an avant-garde sensibility into couture. His penchant for opulent gestures, lush fabrics, fur, and feathers was part of his grandiose Gesamtkunstwerk, inspired by stage and Orientalist extravaganza. He was also capable of more subdued garments. In the case of this day coat, the leather of the appliqués is cut into delicate filigree and couched by hand onto the wool to create a graphic lattice of white over black. The cylindrical silhouette and standing collar suggest inspiration from Chinese or Near Eastern robes and coats.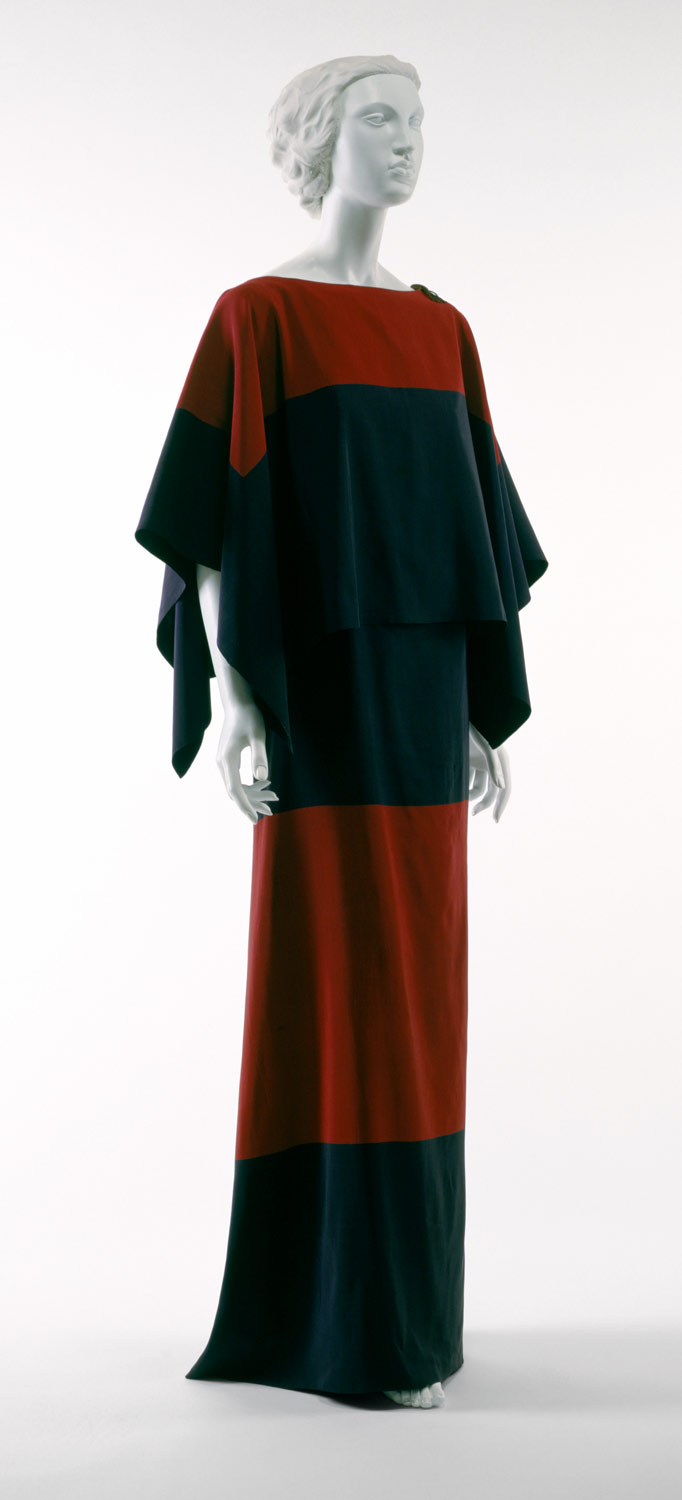 Dinner dress, 1922–23
Paul Poiret (French, 1879–1944)
Navy–blue and red silk faille, gold metallic bullion buttons
Gift of Mrs. Muriel Draper, 1943 (C.I.43.85.2a,b)
During the first decade of the twentieth century, Paul Poiret initiated a fashion sea change when he declared the wasp-waisted silhouette outmoded, and the columnar form of high-waisted Directoire-Revival gowns the vogue. This jettisoning of the corset alone established Poiret as among the most important and influential designers to this day. In this two-piece dinner gown, Poiret's interest in the "liberating" style and cut of non-Western regional dress results in a peplos-like ensemble. Two separate but identical squares of cloth, one worn like a short poncho and the other wrapped into a cylindrical skirt, create a peplos effect with its apoptygma-style top. Although the ensemble is not constructed like any classical Greek precedent, the use of cloth, completely orthogonal as if off the loom, suggests an affinity to the simply configured garments of the ancient world, which were also formed out of rectilinear pieces of cloth scaled to their intended use directly on the loom. This interest in the nontailored traditions of much regional dress was not restricted to Poiret, nor was his conflation of classical styles with ethnographic forms. Madame Grès is perhaps the best example of the phenomenon, but Cristobal Balenciaga, Valentino, Issey Miyake, and Romeo Gigli, among others, have all made Greco-Roman allusions through minimalist constructions based on clothing traditions outside the Western fashion system.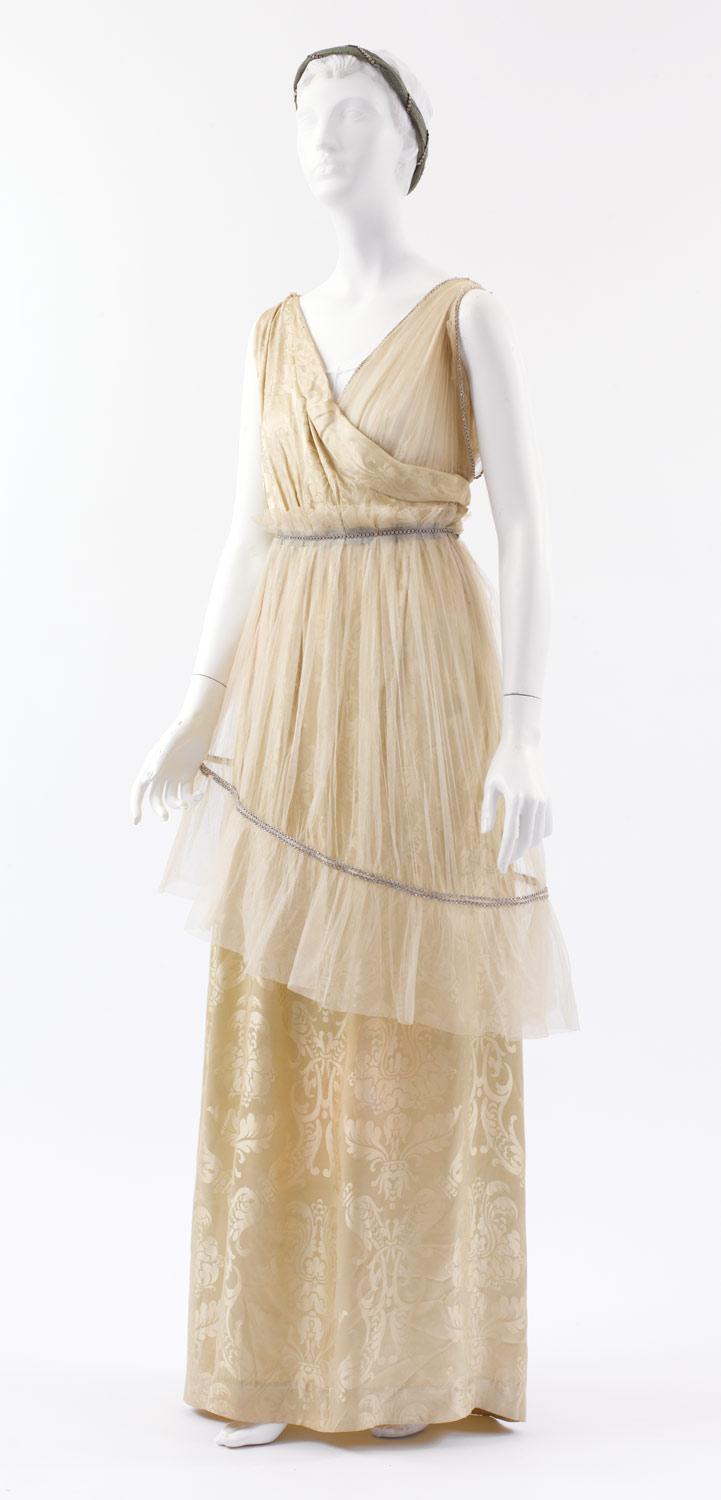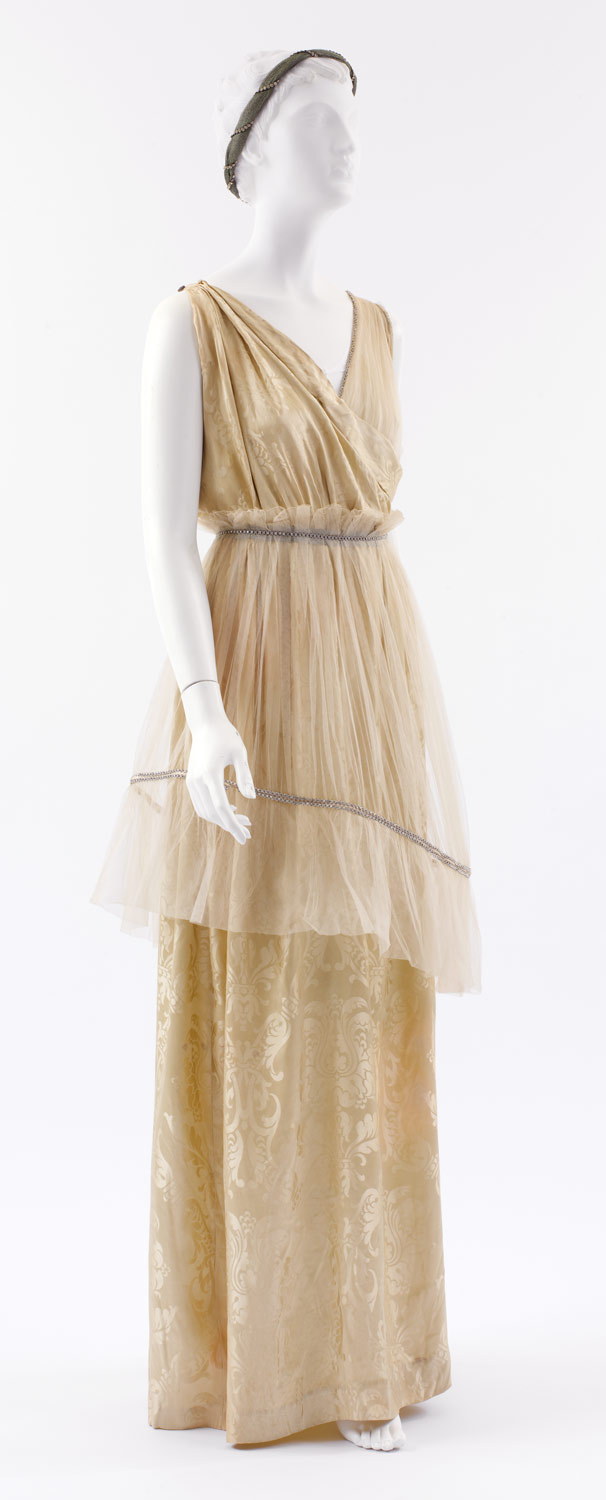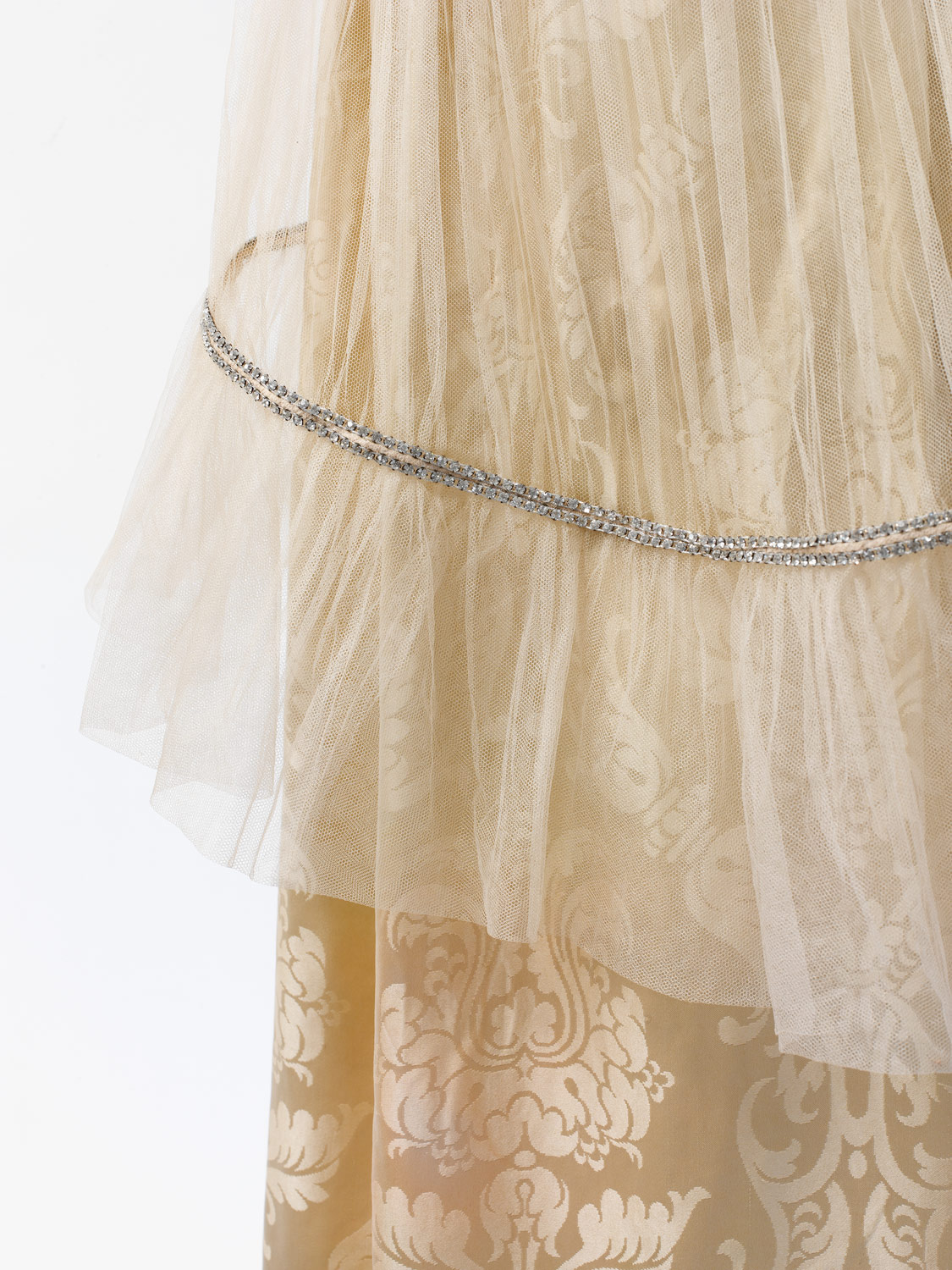 Ensemble, 1913
Paul Poiret (French, 1879–1944)
Ivory silk damask, ivory silk net, and ivory China silk with rhinestone trim; ivory silk net with green and black silk gauze, applied tape and rhinestone trim; green and black silk gauze headdress with strands of rhinestones; ivory silk damask shoes; L. at CB (a) 52 in. (132.1 cm)
Paul D. Schurgot Foundation Fund, 2005 (2005.193a–g)
SEE
COMPLETE RECORD
.
Poiret's radical approach to dressmaking was inseparable from his ideas of the body, which found their ultimate expression in his advocacy of an uncorseted figure. While Poiret was not the only designer to promote an integrated and intelligible corporeality, he was among the first to link it to the naturalism of Greco-Roman dress.
The first display of a classical sensibility appeared in Poiret's fashions of 1906, the year that he abandoned the corset. However, as seen in his "1811" dress, which reflects the proportions and cylindrical silhouette of the Directoire, it was classicism through the lens of the late eighteenth century. The same allusive rather than academic classicism is manifested in Poiret's "Théâtre des Champs-Élysées" evening dress, which was worn by Denise Poiret to the premiere of Igor Stravinsky's Sacre du Printemps, marking the opening of the Théâtre des Champs-Élysées on April 1, 1913.
Denise Poiret's slender figure was the perfect canvas for Poiret's classicizing tendencies. Unlike the odalisques of the Belle Époque, her svelte, gamine beauty adhered to the more active body type that was emerging in the early twentieth century. Among the dresses of more explicit classical allusion that Poiret made for his wife was a series of provocative baby-doll-length nightdresses. With their one-shouldered necklines, they cite the bareness of the Amazon, who would allow one shoulder of her tunic to fall open, exposing her breast. These "classical" negligées also recall the costume Denise wore to Poiret's classically inspired party "Les Festes de Bacchus," held on June 20, 1912. Made from a fabric by Mariano Fortuny, a designer whom Poiret promoted in his maison de couture, Denise Poiret, in the role of Juno, queen of the gods, represented both the ideal of classical beauty and the paradigm of the modern woman.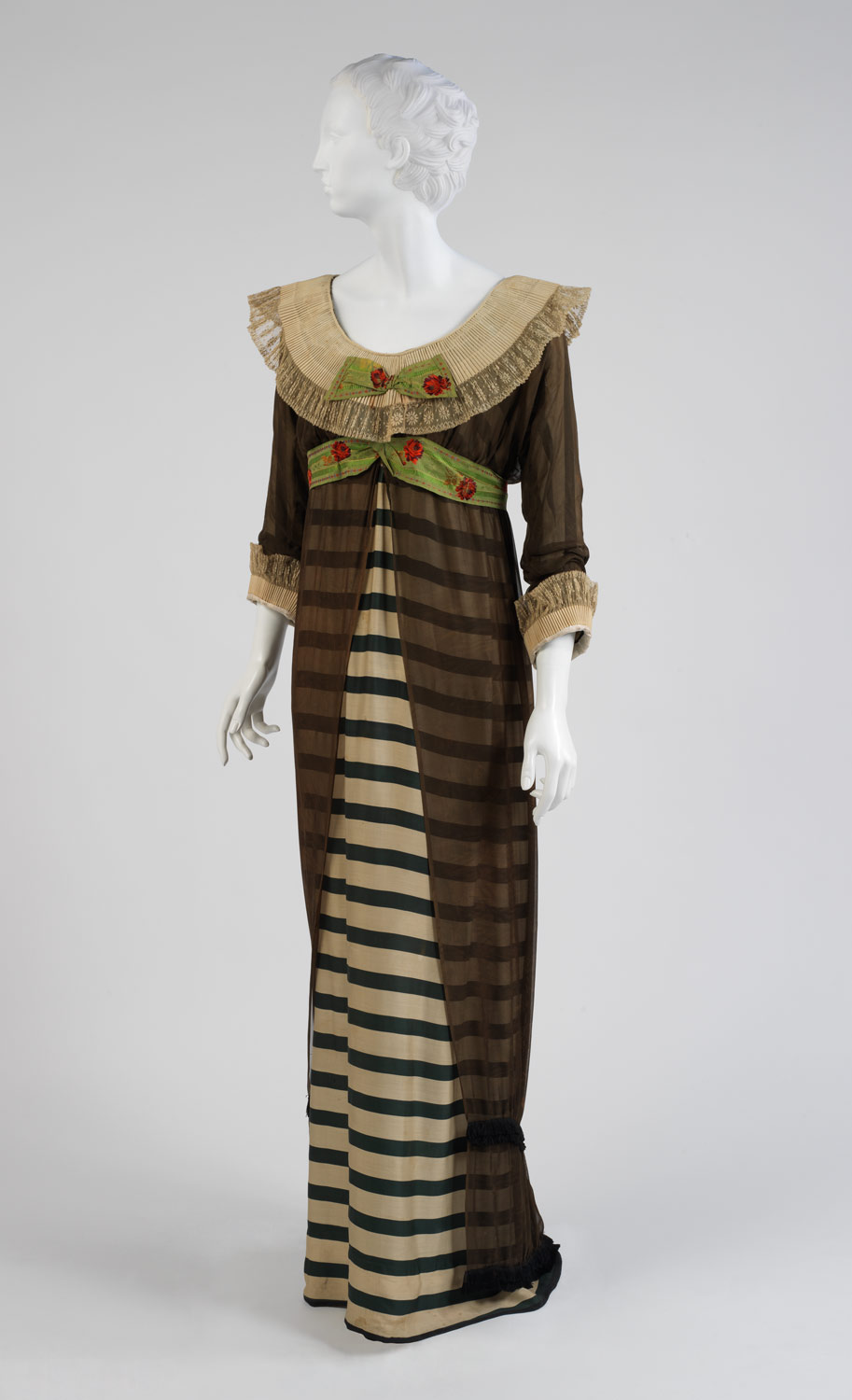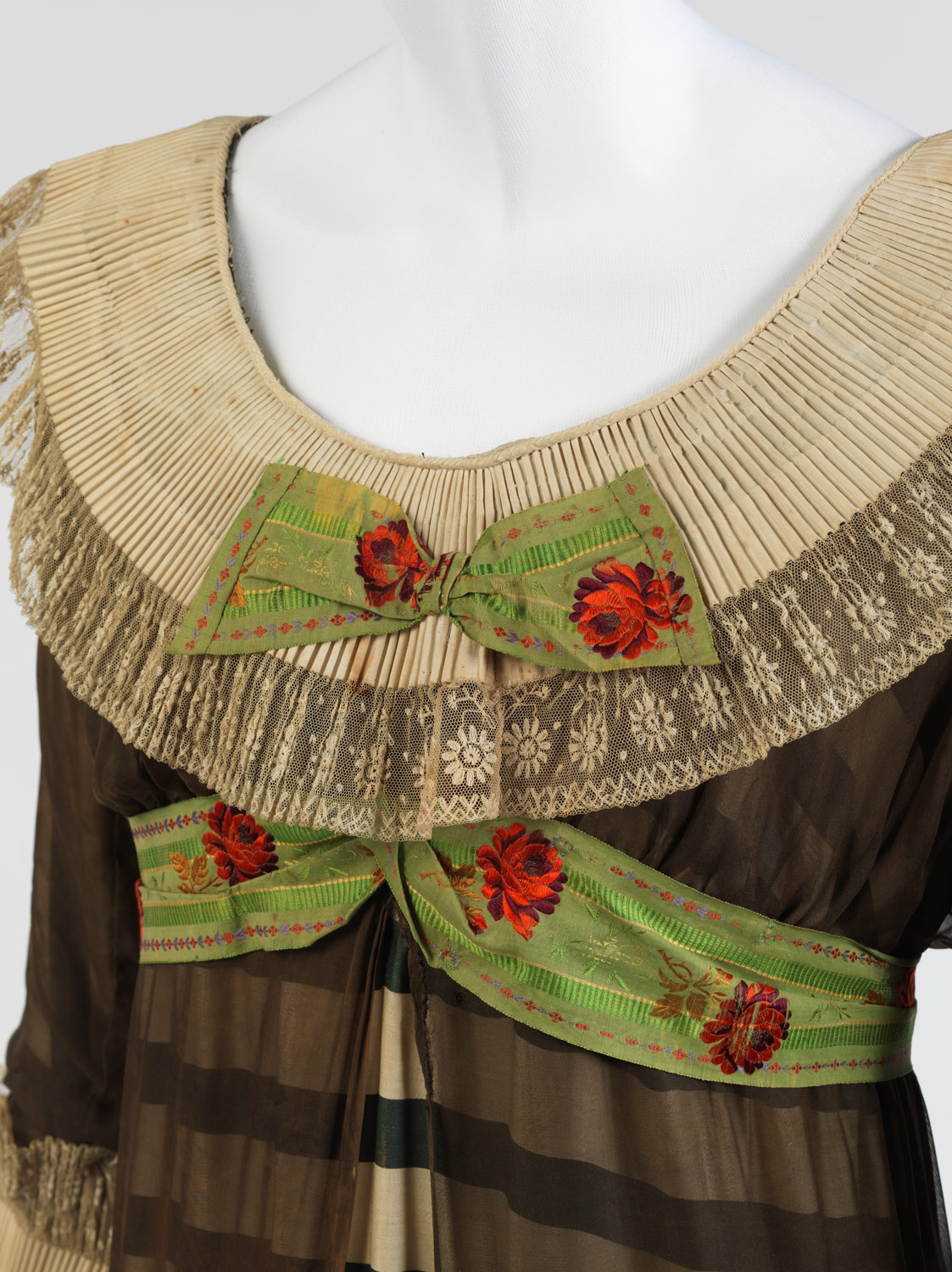 Evening dress, 1910
Paul Poiret (French, 1879–1944)
Green and ivory striped silk, black silk chiffon, white linen
Brooklyn Museum Costume Collection at The Metropolitan Museum of Art, Gift of the Brooklyn Museum, 2009; Gift of Ogden Goelet, Peter Goelet and Madison Clews in memory of Mrs. Henry Clews, 1961 (2009.300.1289)
A rare example of Paul Poiret's early revolutionary designs loosely based on the upright, columnar, high-waisted styles worn in ancient Greece, this gown is an innovative melding of the avant-garde and the traditional. The tubular shape and graphic horizontal stripes are harbingers of the modern era, while the below-the-knee gathering of the overskirt suggests the "hobble skirt" that Poiret introduced in 1910 and was briefly the height of fashion. Decorative touches taken from traditional sources mollify the radical form. One of Poiret's signature decorative techniques was to use folkloric textiles and trims that he collected on his travels. Here the collar and cuffs are fashioned from a traditional French pleated linen bonnet, and brightly colored brocade ribbons that would have adorned a festive folk bonnet or costume encircle the raised waistline.
Requiring less restrictive undergarments and conforming more to the natural shape of the body, Poiret's designs of 1908–11 are regarded as pivotal in the transition from the rigidly corseted silhouettes of the Victorian and Edwardian eras to styles providing greater freedom and comfort in dress that would characterize twentieth-century fashion.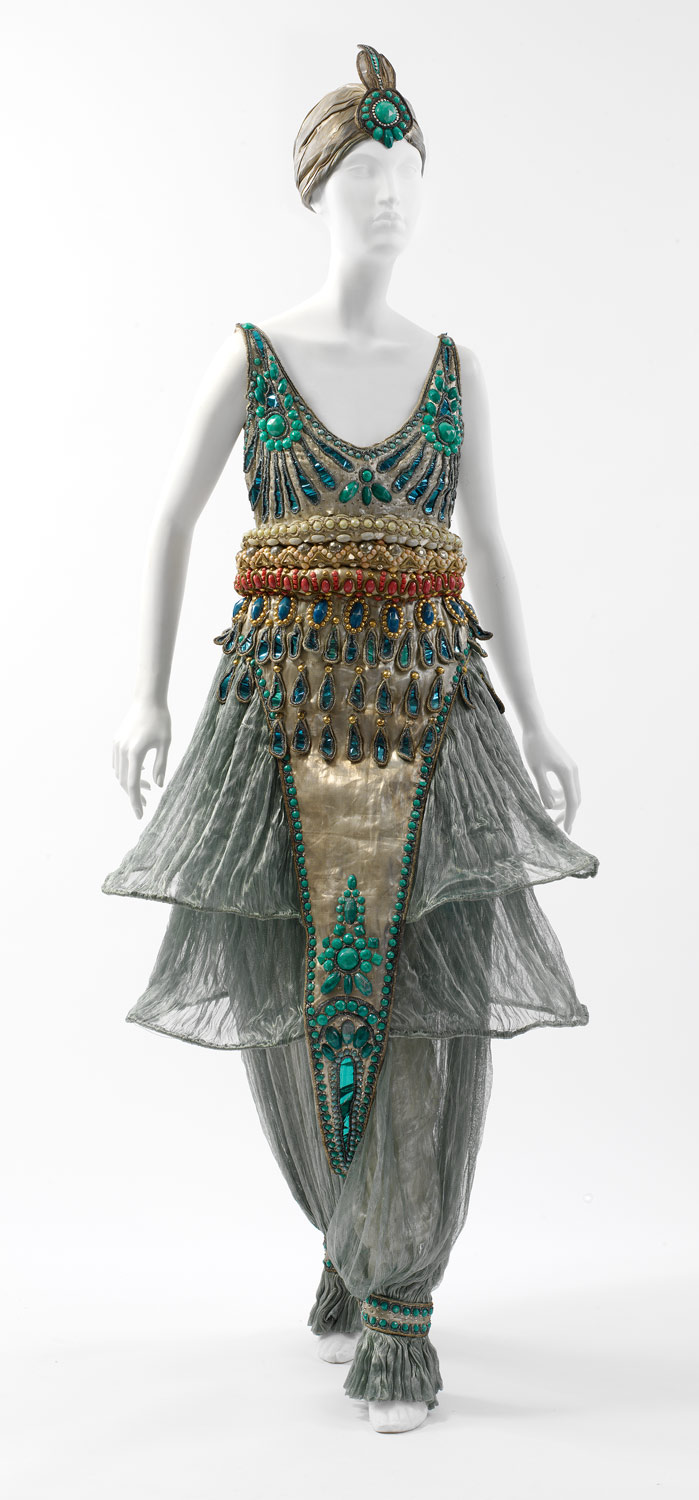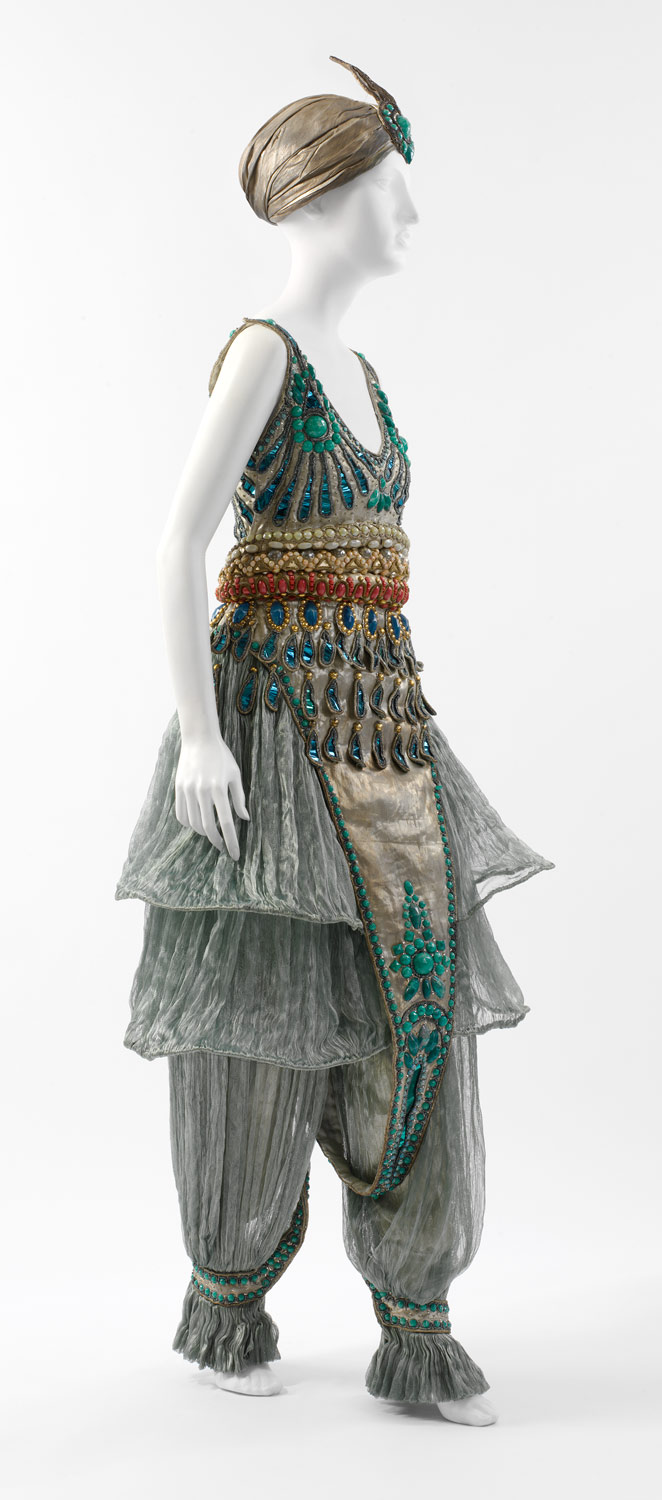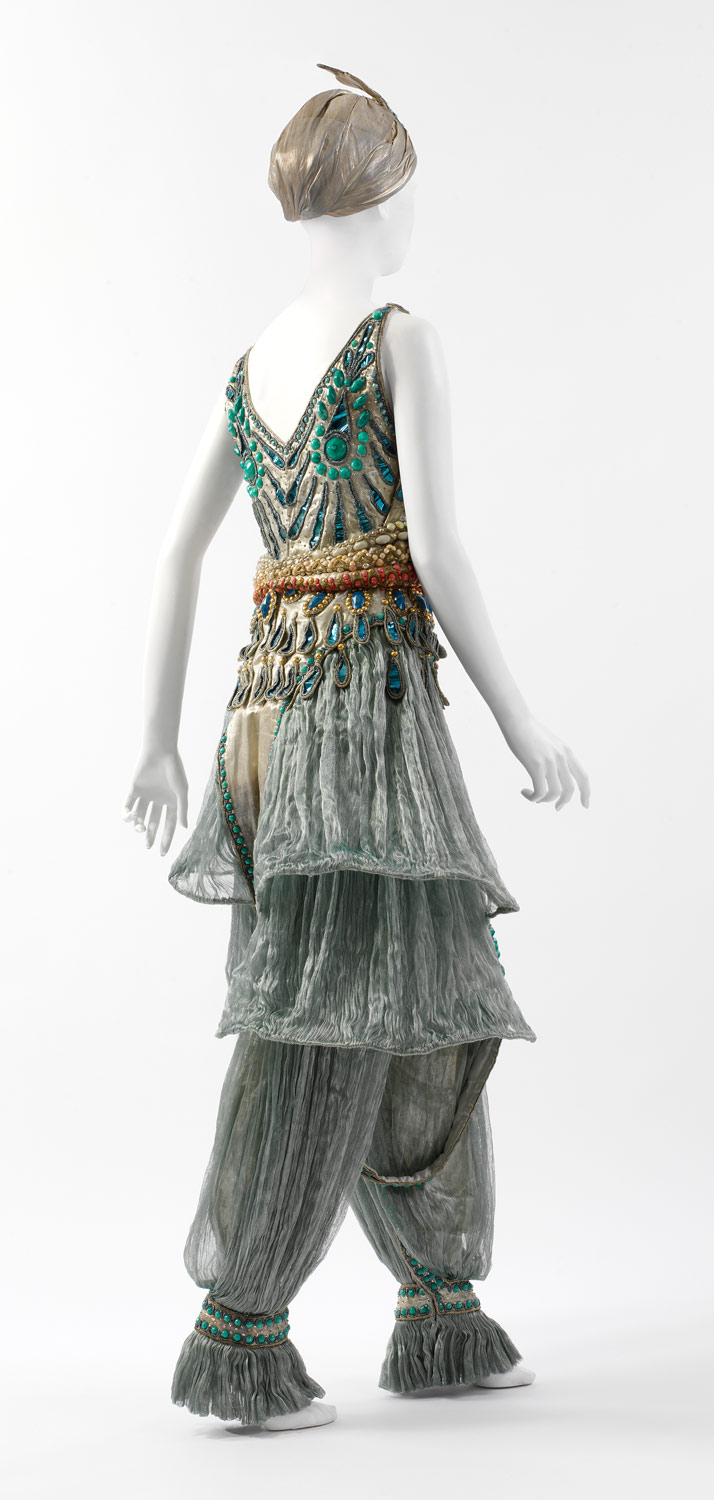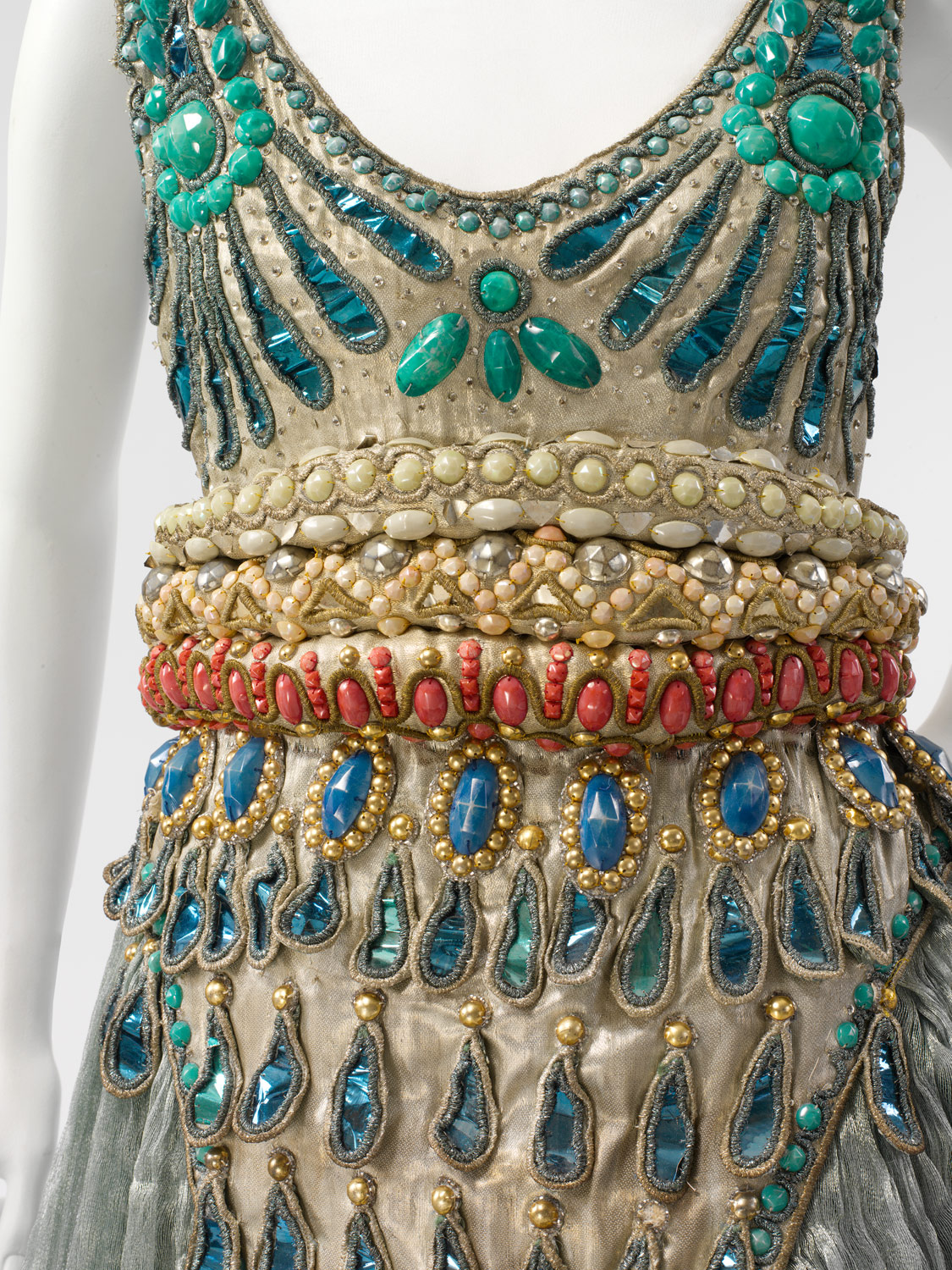 Fancy dress costume, 1911
Paul Poiret (French, 1879–1944)
Seafoam green silk gauze, silver lamé, blue foil and blue and silver coiled cellophane cord appliqué, and blue, silver, coral, pink, and turquoise cellulose beading; L. (a) 50 1/4 in. (127.6 cm)
Purchase, Irene Lewisohn Trust Gift, 1983 (1983.8a,b)
Poiret's interest in l'art de vivre found its most tangible expression in his highly theatrical costume parties. The most extravagant was "The Thousand and Second Night," which took place in the garden of his atelier on June 24, 1911, and which revealed the strong influence of Sergei Diaghilev's Ballets Russes on the designer's imagination. In his memoirs, Poiret dismissed any relationship between his work and the artistry of Diaghilev's talented designer, Léon Bakst. But the spectacular success of Schéhérazade fromOne Thousand and One Nights a year before Poiret's lavish party makes clear that the designer was willing to parlay the excitement generated by the Russians to his own advantage.
Like Diaghilev's Schéhérazade, Poiret's "The Thousand and Second Night" party revolved around a fantastic evocation of the East. For the occasion, Poiret required his 300 guests to dress in oriental costumes. Those who failed to do so were given the choice of leaving or outfitting themselves in Persian-style clothes designed by the couturier, including the highly controversial "harem" trousers that formed part of his spring 1911 collection. Poiret thus used the occasion of a private party, staged as a cross between an elaborate fashion show and an extravagant theatrical performance, to promote his latest creations.
Denise Poiret, who played the role of the "favorite" to Poiret's "sultan," endorsed her husband's "harem" trousers by wearing them under a wired skirted tunic. Two years later, in 1913, Poiret launched this crinoline-hooped silhouette in a theatrical production of Jacques Richepin's historical drama, Le Minaret, to be quickly followed in Poiret's fashion collections of the same year. A fancy-dress costume worn in the privacy of an exclusive party became the prototype for a "minaret" or "lampshade" tunic worn in a theatrical production. Thus publicized, the silhouette was then modified for the fashion public.
The "Sorbet" ensemble, to which the illustrator Erté claimed authorship, was among the most popular of the silhouette's fashionable interpretations. Its signature rose motifs of "caviar" seed beads were applied as silk-backed appliqués rather than embroidered directly on to the satin ground. This technique would have meant a shorter construction time and allowed for the disposition of the decorations over the tunic at the last minute, with the possibility of their placement contingent on the overall proportion of the garment. The bodice, with its kimono neckline, represents a stylistic feature typical of Poiret, while the underskirt, with its petal form, is a development of Poiret's iconic hobble skirt.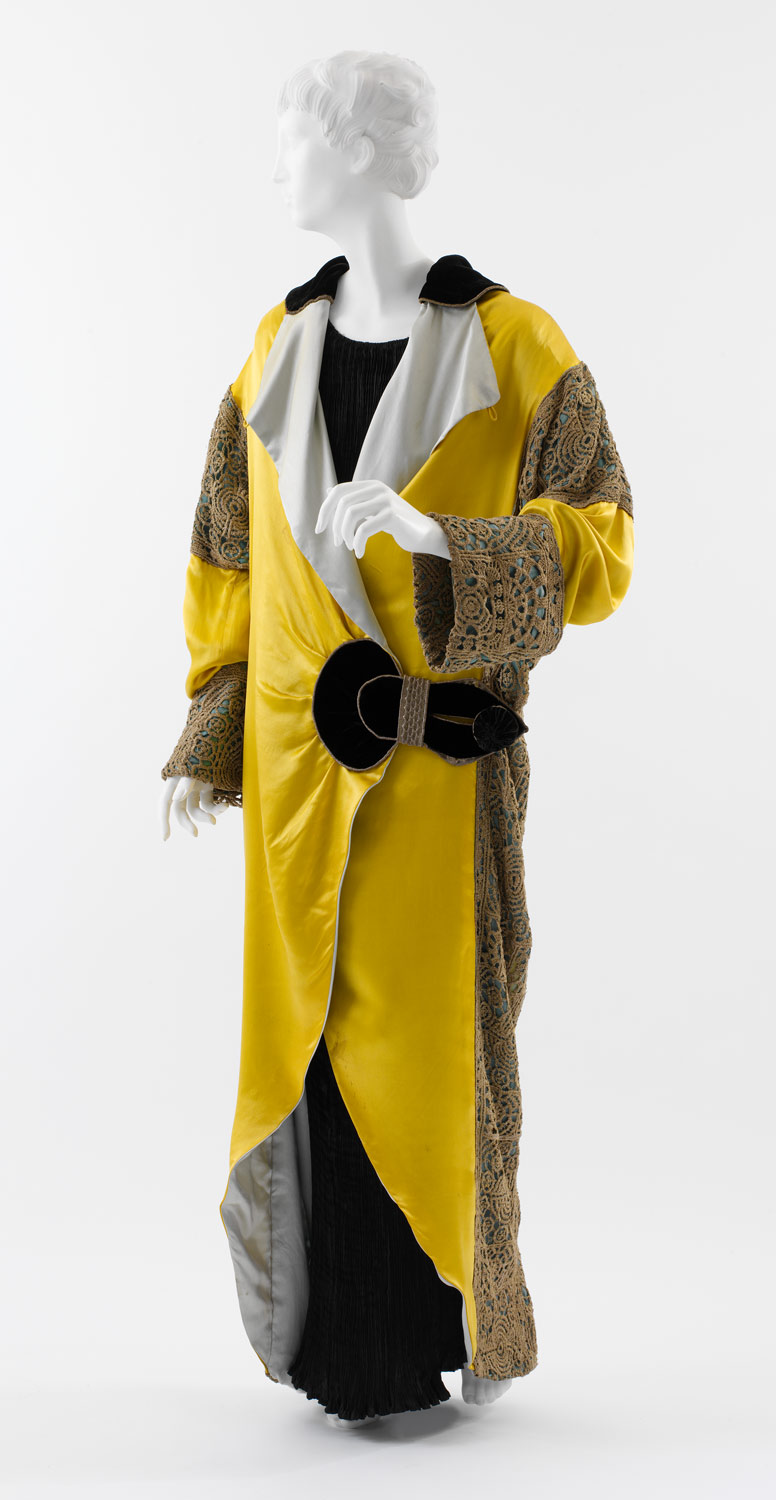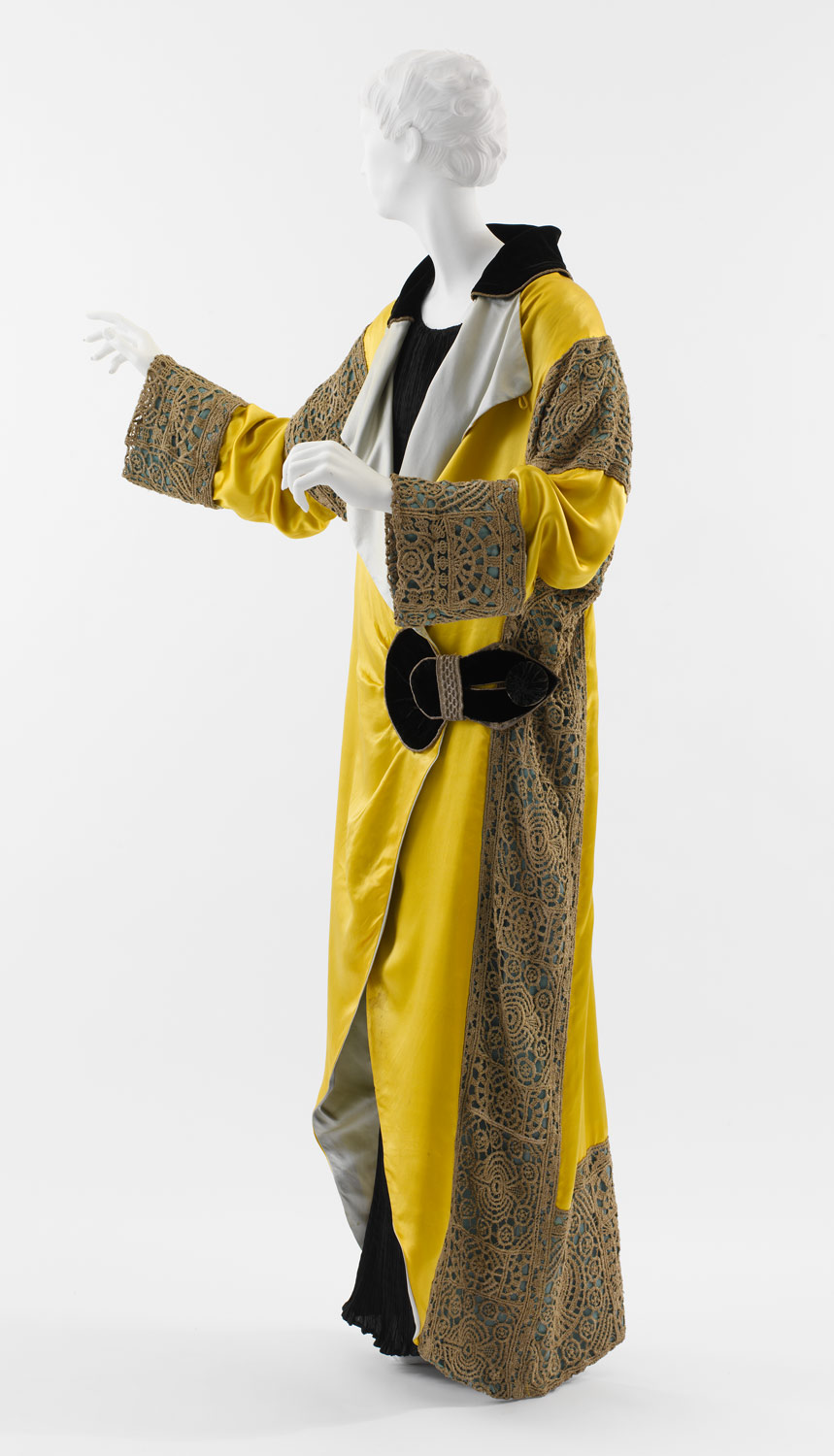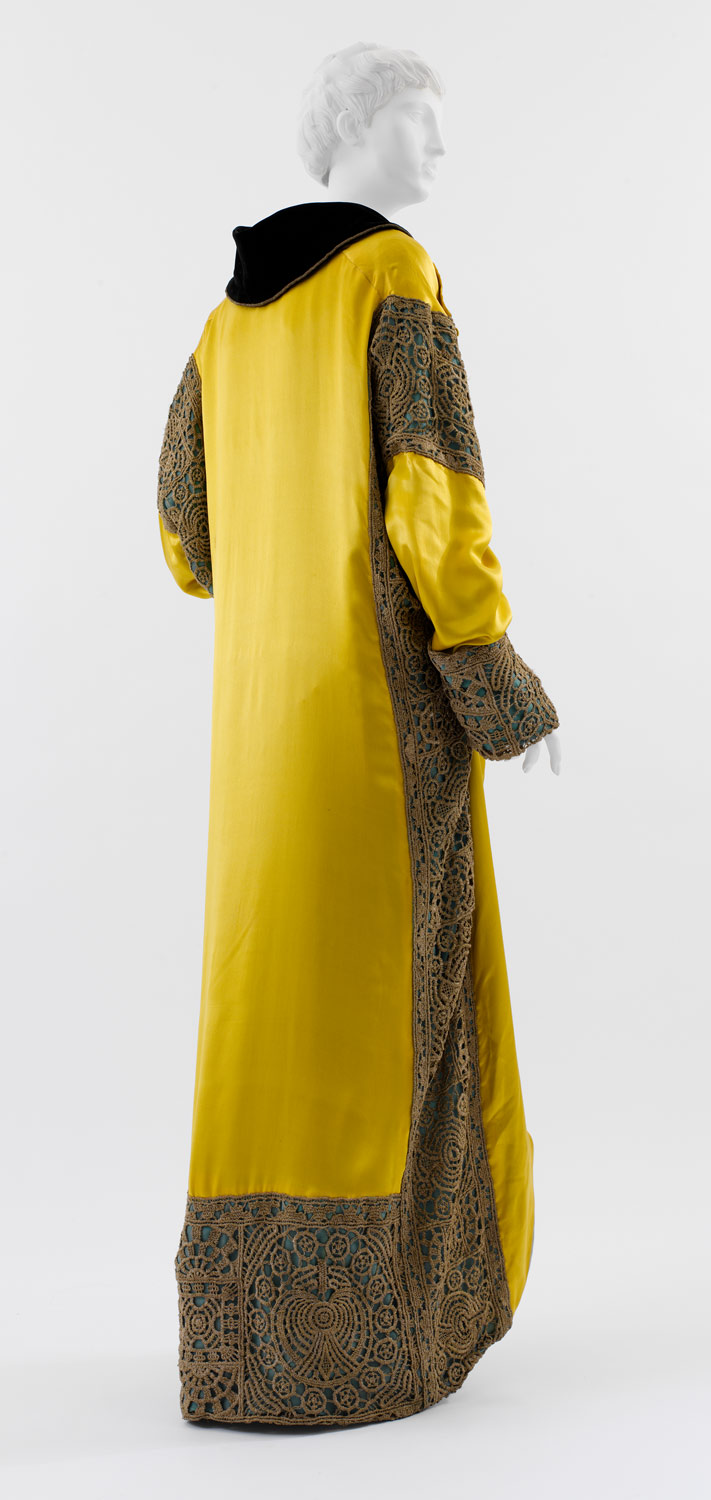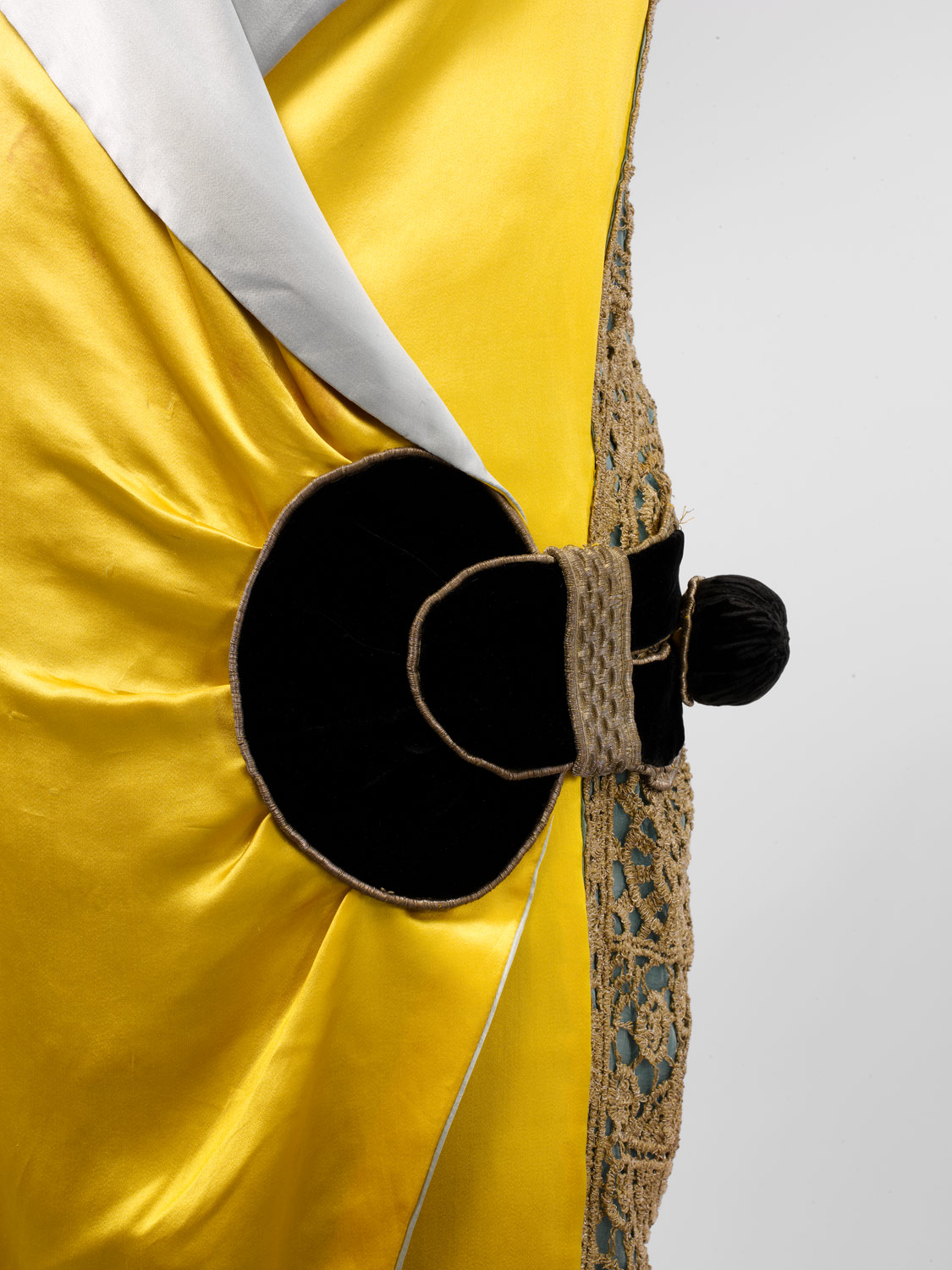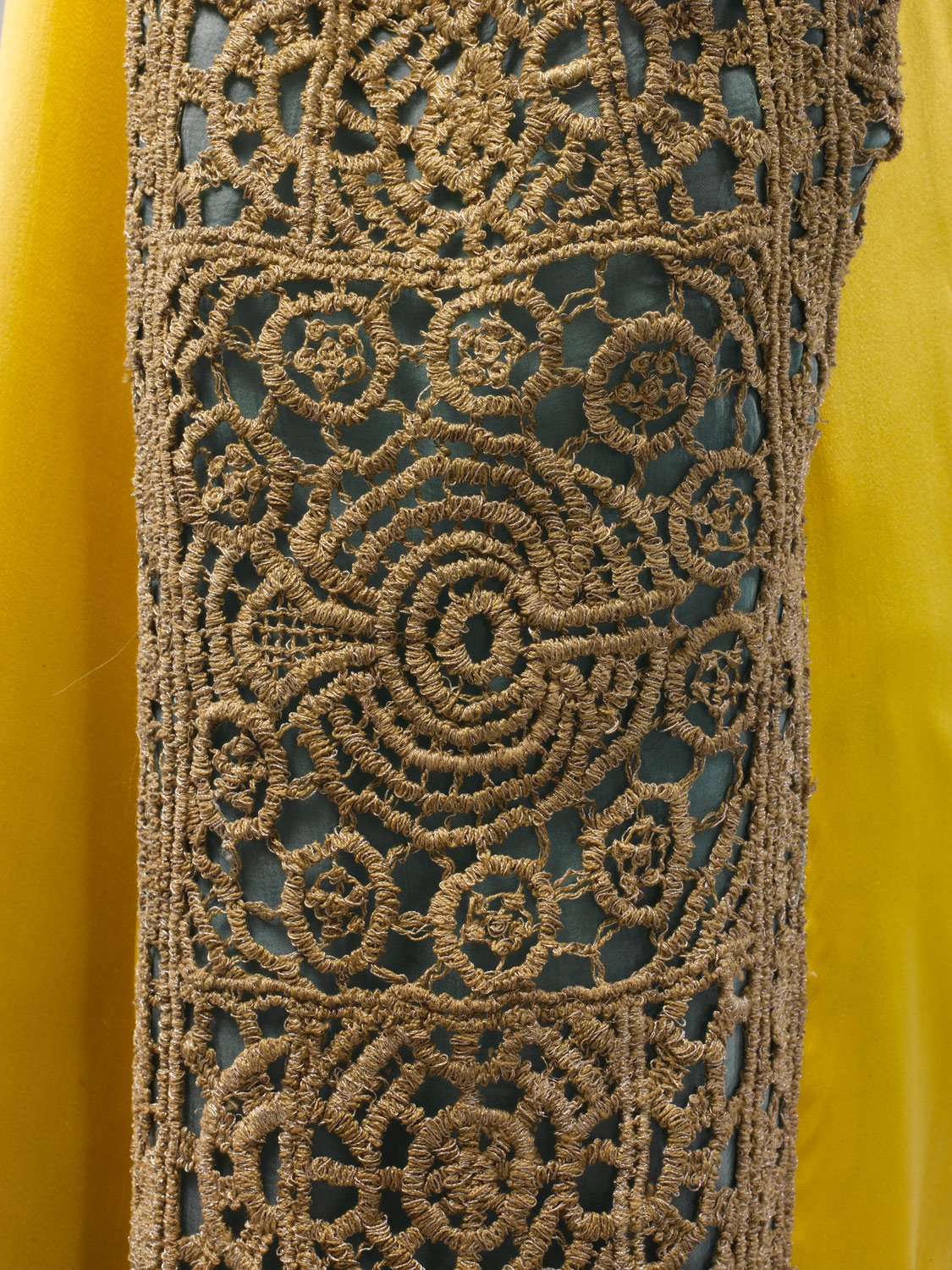 Opera coat, 1912
Paul Poiret (French, 1879–1944)
Yellow and pale blue silk satin, black silk velvet, turquoise silk satin with gold and silver filé crocheted overlay, and silver filé trapunto half–belt and trim; L. at CB 16 1/2 in. (41.9 cm)
Purchase, Irene Lewisohn Bequest, 1982 (1982.350.2)
Of all his collaborations with artists, Poiret was proudest of his introduction of Paul Iribe to a wider audience through the albumLes robes de Paul Poiret (1908). Distributed without charge to Poiret's elite clientele, the album, like that of Georges Lepape'sLes choses de Paul Poiret published three years later, was exhibited at the Galerie Barbazanges, a commercial gallery on the premises of Poiret's couture house. It was Iribe who designed Poiret's rose motif, as depicted in the dress "La Rose d'Iribe," and as used in the couturier's label.
In his memoirs, however, Poiret dismisses the suggestion that his collaborations with Iribe and Lepape implied that they were anything more than interpreters of his fully formed expressions. In his description of his relationship with the two artists, they emerge as disseminators of his designs, representing his works through their talents as illustrators, never as creators of the designs themselves. The reality, however, is likely to have been much more complicated.
The charming renderings of Iribe in Les robes de Paul Poiret, and Lepape in Les choses de Paul Poiret (and later in the Gazette du Bon Ton) conveyed a contextual reality to Poiret's exquisite creations. Comparing extant costumes to their representation, however, often reveals that accuracy was sometimes sacrificed for dramatic intention. Nevertheless, Iribe and Lepape's subtle stylistic elisions and exaggerations imbue Poiret's fashions with a beauty less seductively conveyed by the harsher documentary evidence of photography.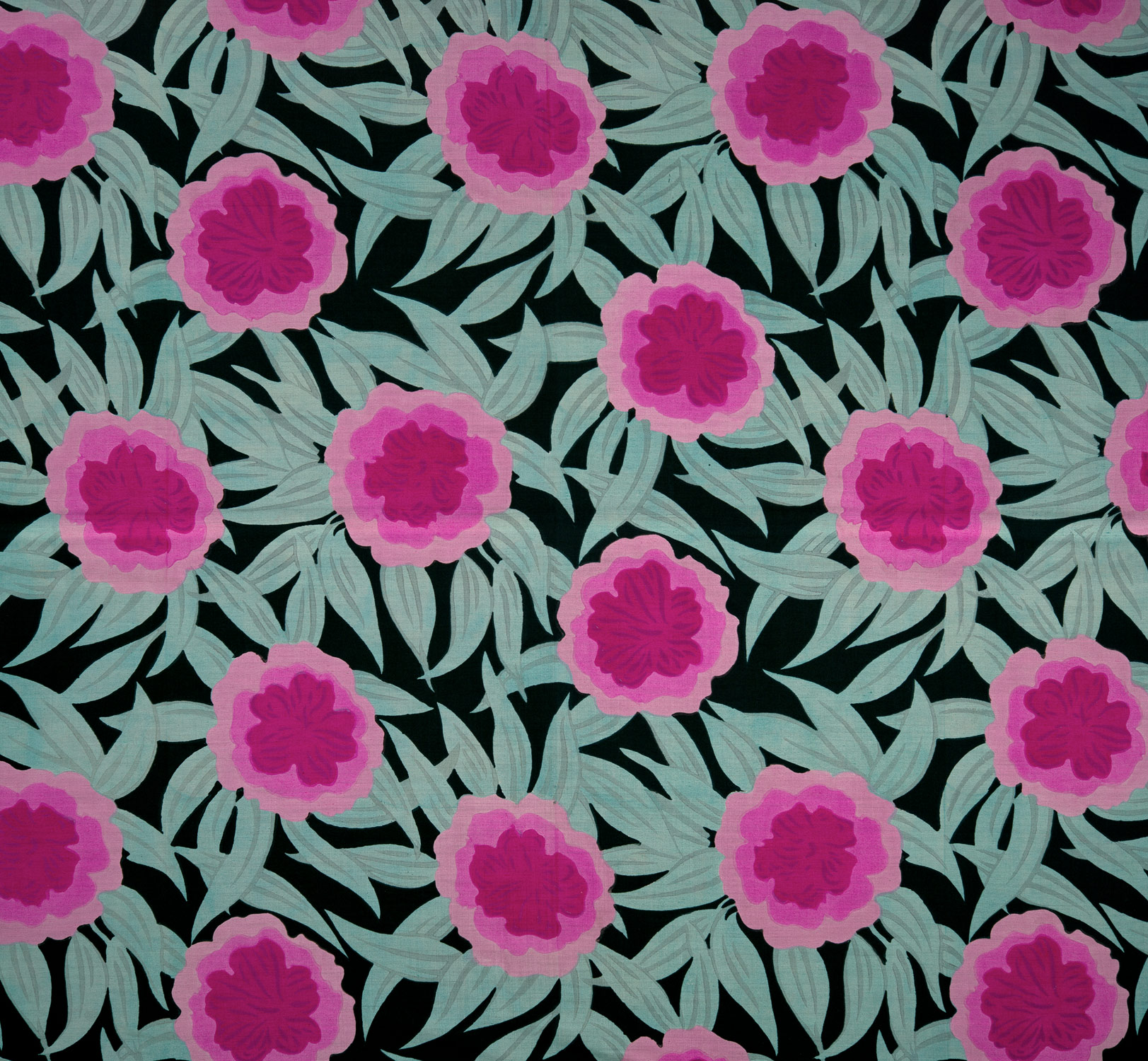 Textile, ca. 1923
Paul Poiret (French, 1879–1944); manufacturer: La Maison Martine
Printed linen; 72 x 50 in. (182.9 x 127 cm)
Purchase, Edward C. Moore, Jr. Gift, 1923 (23.14.8)
Martine, which opened on April 1, 1911, was the interior design business owned and operated by Paul Poiret, a noted Parisian couturier. The business consisted of École Martine, Atelier Martine, and La Maison Martine. École Martine (housed in Poiret's premises in rue d'Antin) was an experimental art school for young, working-class girls. Under the direction of design educator Marguerite Gabriel-Claude Sérusier, these untrained girls sketched plants and animals in local parks and zoos. Poiret bought the best of their drawings, which were adapted for use by Atelier Martine, the design studio. At first, Atelier Martine produced only textiles and wallpapers, but soon expanded to create carpets, lighting, hand-painted glassware and ceramics, and other items for interiors (including dolls outfitted by Poiret). Furniture and interior decorating services were introduced under the direction of Guy-Pierre Fauconnet. Little is known about the manufacturers of their products, but it is unlikely that the atelier was able to realize most of their designs in-house, turning instead to outside specialists: Paul Dumas or Defossé & Karth for wallpapers, Adolphe Chanaux for furniture, and Murano for glassware. One notable exception was the deep pile carpets, hand-knotted by the students. The output of the atelier was sold through the retail and interior design service of the business, La Maison Martine. The shop was located at 107, rue du Faubourg Saint Honoré; it remained there until 1924, when it moved to 1, Rond-Point des Champs-Élysées. By the early 1920s, branches had been opened in Marseilles, Cannes, Biarritz, Deauville, La Baule, as well as in London and Vienna. Martine products were actively promoted and sold in department stores in America and Germany.
Paul Poiret
In 1901, Poiret joined the House of Worth, where he was asked to create what Gaston Worth (the son of Charles Frederick Worth, the eponymous founder) called "fried potatoes," simple, practical garments that were side dishes to Worth's main course of "truffles," opulent evening and reception gowns. One of his "fried potatoes," a cloak made from black wool and cut along straight lines like the kimono, proved too simple for one of Worth's royal clients, the Russian princess Bariatinsky, who on seeing it cried, "What horror; with us, when there are low fellows who run after our sledges and annoy us, we have their heads cut off, and we put them in sacks just like that." Her reaction, however, prompted Poiret to found his own maison de couture in 1903 at 5 rue Auber. Later, in 1906, he moved his atelier to 37 rue Pasquier, and then, in 1909, to 9 avenue d'Antin. Two years later, he established a perfume and cosmetics company named after his eldest daughter, Rosine, and a decorative arts company named after his second daughter, Martine, both located at 107 Faubourg Saint-Honoré. In so doing, he was the first couturier to align fashion with interior design and promote the concept of a "total lifestyle."
While Poiret learned his craft at two of the oldest and most revered couture houses, he spent his first decade as an independent couturier not only breaking with established conventions of dressmaking, but subverting and eventually destroying their underlying presumptions. He began with the body, liberating it first from the petticoat in 1903 and then from the corset in 1906. Although constantly shifting in its placement, the corseted waistline, which had persisted almost without interruption since the Renaissance, divided the female form into two distinct masses. By 1900, it promoted an S-curve silhouette with large, forward-projecting breasts and equally large backward-protruding bottom. In promoting an uncorseted silhouette, Poiret presented an integrated and intelligible corporeality. He was not alone in this vision of dress reform. Lucile (also known as Lady Duff Gordon) and Madeleine Vionnet also advanced an uncorseted silhouette, but it was Poiret, largely owing to his acumen for publicity, who became most widely associated with the new look.
In freeing women from corsets and dissolving the fortified grandeur of the obdurate, hyperbolic silhouette, Poiret effected a concomitant revolution in dressmaking, one that shifted the emphasis away from the skills of tailoring to those based on the skills of draping. It was a radical departure from the couture traditions of the nineteenth century, which, like menswear (to which they were indebted), relied on pattern pieces, or more specifically the precision of pattern making, for their efficacy. Looking to both antique and regional dress types, most notably to the Greek chiton, the Japanese kimono, and the North African and Middle Eastern caftan, Poiret advocated fashions cut along straight lines and constructed of rectangles. Such an emphasis on flatness and planarity required a complete reversal of the optical effects of fashion. The cylindrical wardrobe replaced the statuesque, turning, three-dimensional representation into two-dimensional abstraction. It was a strategy that dethroned the primacy and destabilized the paradigm of Western fashion.
Poiret's process of design through draping is the source of fashion's modern forms. It introduced clothing that hung from the shoulders and facilitated a multiplicity of possibilities. Poiret exploited its fullest potential by launching, in quick succession, a series of designs that were startling in their simplicity and originality. From 1906 to 1911, he presented garments that promoted an etiolated, high-waisted Directoire Revival silhouette. Different versions appeared in two limited-edition albums, Paul Iribe's Les robes de Paul Poiret (1908) and Georges Lepape's Les choses de Paul Poiret (1911), early examples of Poiret's attempts to cement the relationship between art and fashion (later expressed in collaborations with Erté and Raoul Dufy, among others). Both albums relied on the stenciling technique known as pochoir, resulting in brilliantly saturated areas of color (2009.300.1289). It was an approach that not only reflected the novelty of Poiret's designs but also his unique palette. Indeed, although the columnar garments depicted in the pochoirs referenced Neoclassicism, their acidic colors and exotic accessorization, most notably turbans wrapped à la Madame de Staël, were more an expression of orientalism (as were several cocoon or kimono coats for which Poiret was known throughout his career).
Spurred on by the success of the Ballets Russes production of Schéhérazade in 1910, Poiret gave full vent to his orientalist sensibilities, launching a sequence of fantastical confections, including "harem" pantaloons in 1911 and "lampshade" tunics in 1913 (earlier, in 1910, Poiret had introduced hobble skirts, which also can be interpreted as an expression of his orientalism). As well as hosting a lavish fancy-dress party in 1911 called "The Thousand and Second Night," in which the fashions and the scenography reflected a phantasmagoric mythical East, he also designed costumes for several theatrical productions with orientalist themes, most notably Jacques Richepin's Le Minaret, which premiered in Paris in 1913 and presented the couturier with a platform on which to promote his "lampshade" silhouette. Even when Poiret reopened his fashion business after World War I, during which he served as a military tailor, orientalism continued to exercise a powerful influence over his creativity. By this time, however, its fashionability had been overshadowed by modernism. Utility, function, and rationality supplanted luxury, ornament, and sensuality. Poiret could not reconcile the ideals and aesthetics of modernism with those of his own artistic vision, a fact that contributed not only to his diminished popularity in the 1920s but also, ultimately, to the closure of his business in 1929.
It is ironic that Poiret rejected modernism, given that his technical and commercial innovations were fundamental to its emergence and development. But although Poiret's orientalism was at odds with modernism, both ideologically and aesthetically, it served as the principal expression of his modernity, enabling him to radically transform the couture traditions of the Belle Époque. While Poiret may have been fashion's last great orientalist, he was also its first great modernist.
Koda, Harold and Andrew Bolton. "Paul Poiret (1879–1944)". In Heilbrunn Timeline of Art History. New York: The Metropolitan Museum of Art, 2000–. http://www.metmuseum.org/toah/hd/poir/hd_poir.htm (September 2008)